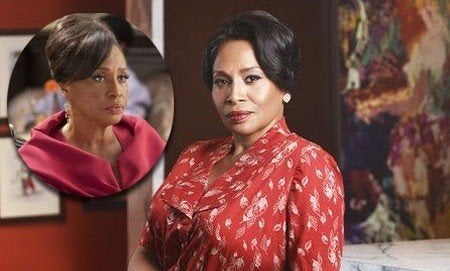 Establishing a prestigious body of work both in Hollywood and on the Great White Way is a feat that many actors and actresses aspire to do. For legendary actress and singer Jenifer Lewis, the dream is real, as she has shared the stage with Bette Midler, starred alongside Tom Hanks (in "Castaway") and more recently appeared in the Clint Eastwood-directed film "Hereafter."
The former Webster University student has added yet another title to her ever-growing resume, landing a role in NBC's newest series, "The Playboy Club" as Pearl. In conversation with The Huffington Post, Lewis opened up on her latest role, in addition to her forthcoming Lifetime film, "Five," and the idea of recording a musical album featuring her Broadway compositions.
Can you talk about your role as Pearl in "The Playboy Club"?
Pearl is the seamstress in the Playboy Club, she sews the bunny outfits. She is the mother hen of the club, and the bunnies come to me with their secrets. Pearl is warm and everybody loves her, but she will hold those secrets or she will not. And you got to tune in to see just what Pearl's gonna do.
What was the most intriguing thing about Pearl that attracted you to the role?
It's a dramatic role, and I am getting to represent African-American women of that time who were coming from out of the domestic world and empowering themselves, getting jobs and educating themselves. And I'm hoping to represent that aspect of what was going on at the time during the Civil Rights movement.
In preparing for the role, did you reach out to any of the original seamstresses from the 1960s era?
I was doing some research and discovered that Rosa Parks was a seamstress, so it just made me feel even more honored to take on that occupation in the role of Pearl.
Given your rich history of performing in the theatrical world, will fans have the opportunity to see you perform on "The Playboy Club"?
I'm really happy to play Pearl because I get to show my range of singing and acting in this role. They will discover that Pearl sings, she had a dream before she was a seamstress. She was singing before she came to the Playboy Club. They find out that she sings, and when somebody doesn't show up, they're going to say, "Go see if Pearl wants to do a couple of numbers." Another thing about the role of Pearl is that I didn't have to audition, which is kind of unheard of for a drama series.
We recently caught up with one of your castmates, Naturi Naughton, who spoke very highly of you. What are some of the great things that Naturi brings to the set of "The Playboy Club"?
Naturi Naughton comes in prepared. She's such a professional, I admire that about her. She loves what she does and that shows. It shows every time she walks on the set, and I'm really proud of her. She's a great singer, a fine actress, and I love her dearly. And by the way, Pearl is going to watch over Brenda.
Naturi's character, Brenda, is loosely based on the first African-American playmate, Jennifer Jackson. What are your thoughts on Jennifer Jackson breaking down barriers during that era?
Well, I think all of the bunnies were breaking down barriers. I think that they were empowering themselves to have a job during that time, a job where you can make your own money. The '60s were the time for breaking down all barriers. Now there was a real Pearl at the Playboy Club -- her name was Betty -- and I'm of course basing my character on her. So all of these characters have gone before us, and we now have a job to represent. They weren't just bunnies, these were real women.
Going back to your research and preparation of the role, what were some of the notable characteristics that stood out about Betty?
That she was warm, and that they did have a mother figure to go to. And things were hard during those times. For her to have had the wisdom and the experience of life, they came to her. I did see pictures of her, she was very warm, she was very classy. She dressed so well! She was immaculately dressed. Just by looking at her, you could see her soul through her eyes.
In addition to "The Playboy Club," you're also scheduled to star in your second Lifetime film, "Five." Can you talk about the concept behind the film?
The series is called "Five," and there are five short films being directed by Demi Moore, Jennifer Aniston, Alicia Keys and others. It's all about finding the cure for breast cancer, and it's airing during breast cancer month. It's also Mental Health Month in October. And those are three of my causes: AIDS, breast cancer and mental health. The film that I did with Alicia Keys is called "Lili," and character's name was Pearl also.
How was it to work beside Alicia Keys, who's making her directorial debut?
Alicia Keys called me and asked if I would play the role of Maggie. She's a concerned mother of a dysfunctional family who then has to deal with breast cancer. I was really proud of Alicia, she was right there in the pocket. And it really gives me hope for the next generation coming up as directors and being in those power roles. I asked her why she wanted to direct, and she said that Barbra Streisand was one of her idols, so she has just taken it on.
Did she come to you for any type of advice or direction?
I will say this: she was very respectful and, once again, like Naturi, she was so very prepared. Alicia was doing things I've never seen a director do. She was detailed in her work. And I listened, I leaned my ear over to her. I wanted to know what she wanted me to do.
Do you have any intentions of returning to Broadway following your role on "The Playboy Club"?
I would like to return one day to Broadway in either an original musical or play. Two of my dream roles would be to play Dolly Levi in "Hello Dolly" and Momma Rose in "Gypsy." It's a great role for a powerful singer and a powerful personality. Most certainly I would love to tackle that.
Can fans expect you to put out an album of your Broadway musical compositions?
Most definitely. Give me a couple of years and I'll get you an album. It'll be Jenifer Lewis being Jenifer Lewis. I'm sure it'll be all the songs that I've written, which consist of many kinds of songs. So it'll probably be something like Jenifer Unleashed, something of that ilk.
"The Playboy Club" airs every Monday at 10 p.m. (EST) on NBC.
PHOTO GALLERY
The Playboy Club
Watch the first episode of 'The Playboy Club' in full
:
REAL LIFE. REAL NEWS. REAL VOICES.
Help us tell more of the stories that matter from voices that too often remain unheard.