Jenna Bush Hager and Barbara Bush know exactly what it feels like to be hounded by the press. (The former first daughters made headlines for their teenage behavior back when their father, George W. Bush, was president in the 2000s.) But let's face it, things have gotten way worse for first families over the years, and the Bush sisters blame the way the world consumes and spreads news for the shift.
″[It's changed] the way we talk to each other," Jenna said. "The discourse can be so ugly because there's nobody ― it's not like face-to-face. People who don't have the guts to say something cruel to your face can sit somewhere and write it and that's too bad, you know? As a mom, I think, it enables people to talk in a way that I wouldn't want my girls to listen to."
What frightens them the most about social media is the fact that future first children will have a higher level of scrutiny than they ever did. Jenna and Barbara are specifically concerned for Sasha and Malia Obama, who are currently experiencing their first few months outside of the White House after their father's time as president. 
Ahead of Donald Trump's inauguration in January, Jenna ― who has two young daughters, Mila and Poppy, with her husband Henry Hager ― sat down with Barbara to write a letter to the Obama girls, urging them to stay true to who they are and lead inspired, fulfilling lives. 
"Explore your passions. Learn who you are. Make mistakes — you are allowed to," they wrote, in part. "Continue to surround yourself with loyal friends who know you, adore you and will fiercely protect you. Those who judge you don't love you, and their voices shouldn't hold weight. Rather, it's your own hearts that matter." 
That point relates directly back to their thoughts on social media and how they're not sure what kind of experience Sasha and Malia will have amid the growth of technology and communication. 
"The letter was definitely a battle cry to make sure we give them the privacy we think they deserve," Jenna said, adding, "The reason we connected with Sasha and Malia so much is that we saw ourselves in them. Things have changed so much now that it's harder to see that, I think."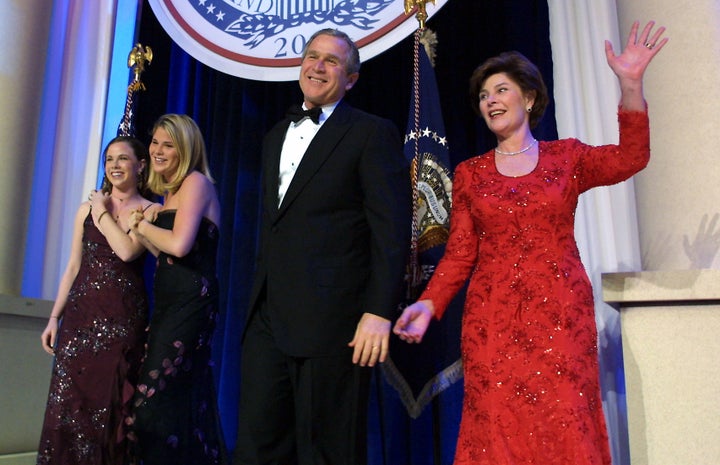 Speaking of things changing, Jenna and Barbara are very aware that the current climate we're living in is a tough one. That's one of the reasons why they decided to write Sisters First, in an effort to prop women up and rally around them. Following the election last year, the Bush twins thought that telling their story could help others support one another in trying times.
"No matter what political party you're in, the year for women has been a difficult one. And we thought, 'You know what? If every woman had a sister, whether that means a colleague or a friend ― it could be a man ― just somebody that empowers them, then maybe we would be in a little bit of a better place,'" Jenna told HuffPost. "There's so much divisiveness and negative energy so we wanted to add a little bit of our positive, which is that women can really be incredible if we're doing our job right."
Barbara related it all back to prematurely judging people, saying they relished in the opportunity to share special tidbits about their famous family. 
"You create a caricature of the people that you see but don't get to know," Barbara explained. "And so it was fun for us to share our stories because it did build out other sides of ourselves and people we love, and people that many people know but don't necessarily know personally." 
Sisters First is out now. Watch the full Build Series interview with Jenna and Barbara below. 
REAL LIFE. REAL NEWS. REAL VOICES.
Help us tell more of the stories that matter from voices that too often remain unheard.
BEFORE YOU GO
PHOTO GALLERY
The Bush Family Tree