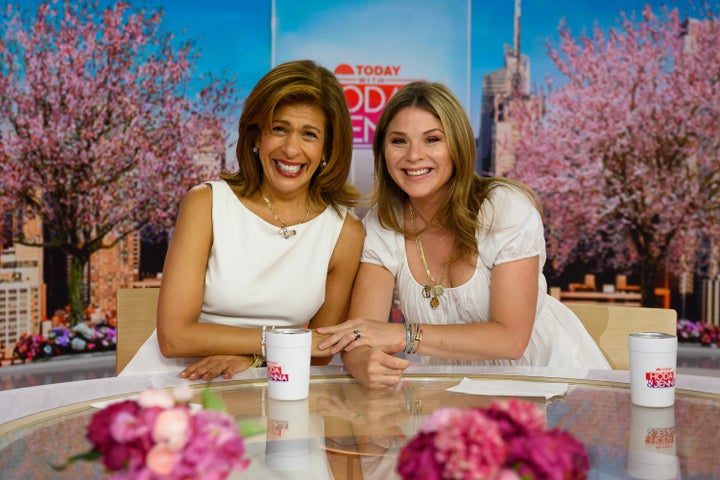 On Wednesday's episode of "Today With Hoda & Jenna" the two co-hosts spoke about the phrase "brutally honest," and how they aren't fans of the term due to its negative connotation. But both women agreed that they like plain old honesty — especially when someone can communicate their feelings authentically and openly, regardless of how scary or messy it may seem.
To exemplify this, Bush Hager got real about not always being a great friend to Kotb.
"There was a time where I was feeling a little bit — remember? — I was feeling a little sad with you," Bush Hager began. "Not because you'd done anything, but because I didn't do anything. And I was holding it and holding it, until I exploded."
"I can't believe you are bringing that up," Kotb responded, hinting at the gravity of the incident.
Bush Hager then asked Kotb for consent — which she got — before relaying more details about the situation, which seems to have taken place somewhat recently.
"When Hoda's daughter wasn't feeling well, I just wasn't there for her the way I wanted to be. And I didn't know how to be. ... I felt terrible about it," Bush Hager said, appearing to get emotional.
"I didn't know what to do. So I just said it. I said, 'I feel like I haven't been there for you,'" she recalled.
Kotb — who was absent from "Today" for a brief period starting in February because her 3-year-old daughter, Hope, was hospitalized — told Bush Hager that her honesty meant "everything" to her at the time.
"It was, first of all, one of the most beautiful statements," said Kotb. "And it touched me deeply."
With those words, Bush Hager began to cry. As she wiped away tears, Kotb showed a great deal of compassion for her friend.
"I think there is something that is a relief, and release, when we tell the truth," Kotb said. "It's hard to say it, because often in life — and I've been guilty of this exact same thing — you just kind of plod along until it dies on the vine. … But there's always a little wedge unless you say it."
Kotb then gestured to Bush Hager and herself, saying, "This kind of honesty is beautiful."
Popular in the Community