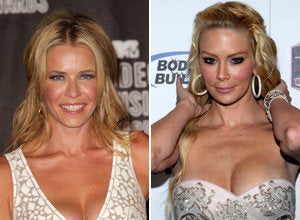 Late on Wednesday night, former porn star and actress Jenna Jameson sent out a pair of angry tweets directed toward comedienne Chelsea Handler, calling her out for what she considered unethical comedy -- and body issues.
"Chelsea handler makes fun of peoples kids... Probably because she's a dried up old whore," Jameson tweeted. She then added, "Just cuz I say it like it is...... Don't hate...... She talks massive shit.. Ok, whatever...."
While Jameson's tweets were vague, she may have been referring to an interview that Handler did in December with Katie Couric for Glamour, in which she referenced both Jameson and jokes about children.
"I don't like the word raunchy. I'm irreverent and I say things that a lot of people wouldn't say, and some of it probably isn't in the best taste," Handler said. "But when I hear the word raunchy, to me that describes Jenna Jameson. Look, I'm never going to please everybody."
As for children, she said: "I think talking about children and their looks is not nice. Like, unattractive children. I don't do that. And I don't talk about people who are dying. I think that's inappropriate."
Popular in the Community