The actress, who had a recurring role as Noah Solloway's (Dominic West) sister, Nina, revealed she won't be back for Season 4. But if the Showtime drama continues on for an additional season, Esposito says we will see Nina again.
"The Affair," which typically shoots in various New York locations, has set up shop in Los Angeles for Season 4. Filming is currently underway on the series, which chronicles what happens after a struggling novelist and a Montauk, Long Island-based waitress start an extramarital relationship. And although Esposito doesn't have a clue about the new storyline, she will be watching closely. After all, she was a fan of "The Affair" even before getting cast as Noah's sister.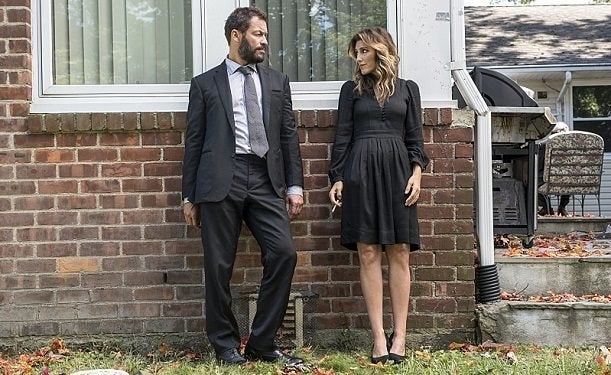 "I was originally only supposed to be on for a scene. I was like, 'I don't care how big it is. I just want to go be on the show!'" she said.
Nina ended up being featured in multiple episodes, providing stability to some of the characters, who often found themselves in complicated situations.
"I think she was a voice in the show that people really wanted to hear — someone telling it really clearly to Helen (Maura Tierney), to him [Noah]," Esposito said. "So, I think that's why she did well."
Another show Esposito won't be returning to is "NCIS." Earlier this year, CBS revealed that Esposito's series regular character, Special Agent Alex Quinn, wouldn't be back for a second season.
When asked if she would ever do a guest spot on the long-running series, Esposito said, "Probably not. It was fun. It was nice. I met some really nice people. It was not the right fit. It just wasn't."
One series she'd love to join, though, is Hulu's Emmy-winning "The Handmaid's Tale," starring Elisabeth Moss.
"I can't even with that show. I will come on. I will hold the boom [mic]. I will do craft service. I don't care. It's so well done. Elisabeth Moss is a joke, she's so good … It kills me, the direction … It's so current to what's happening. It's so important," she said, also praising Hulu and the show's producers. "I love it. I've watched it three times already."

Even if "The Handmaid's Tale" won't take her on, it sounds like Esposito, who also starred in CBS' "Blue Bloods," is eager for new career challenges.
"If someone else offers me a cop role, I'm going to shoot myself … God knows I appreciate work. But let's think outside the box a little. I can do other things. We can all do other things," she said. "The writing has to get better for females. I'm not saying let someone do it for me, but we all have to get involved say, 'No we all want better.' Anything that has more than one-dimensional characters would be amazing."
Check out our full Build Series interview below.