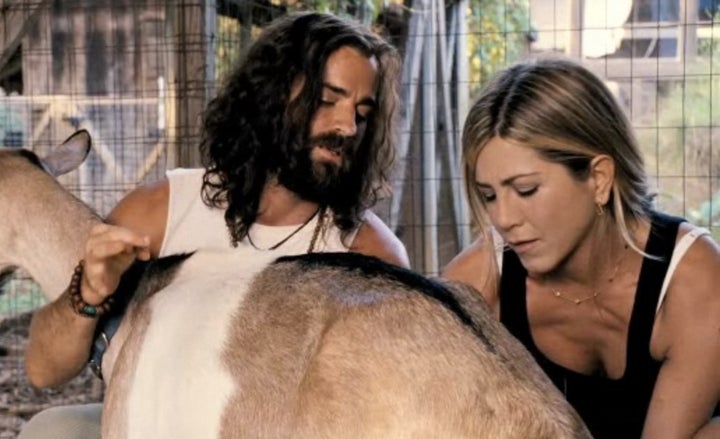 Justin Theroux looks into her eyes and whispers softly but intently. "Wrap your fingers around the base of it, work the shaft down to the tip and then... flick the tip," the bearded Theroux tells Jennifer Aniston.
Man, who knew milking a goat could be so romantic?
The film that launched a million tabloid covers has finally hit the web trailer junket, as a first look at the David Wain-directed romantic comedy was released late Thursday to gossip fanfare far different than any original studio marketing division could have anticipated. Aniston plays one half of a couple that moves down south from New York, finding themselves at a commune far different from the urban lives to which they were accustomed. Theroux plays one of the members of the commune, a one-with-nature dude who coaxes dairy from animals and plays guitar for the ladies on the farm.
Oh yeah, Paul Rudd is in the movie, too. Actually, he's one of the leads, playing Aniston's husband. His job loss -- and subsequent misery during a short stint working for Ken Marino, his brother -- is the event that springs the couple toward the commune, where they meet hippies such as Alan Alda, Malin Ackerman and Lauren Ambrose.
A fun comedy set for February, we're almost more excited for the junket and the magazine stories that will follow.
WATCH
:
Calling all HuffPost superfans!
Sign up for membership to become a founding member and help shape HuffPost's next chapter