Speaking to InStyle in her first major interview since announcing her divorce from husband Justin Theroux, the actress is once again challenging the notion that she's Hollywood's perennial sad sack.
"It's pretty crazy. The misconceptions are 'Jen can't keep a man,' and 'Jen refuses to have a baby because she's selfish and committed to her career,'" Aniston told Molly McNearney, the co-head writer for "Jimmy Kimmel Live!" (and wife of host Jimmy Kimmel), for InStyle's September issue. "Or that I'm sad and heartbroken. First, with all due respect, I'm not heartbroken. And second, those are reckless assumptions."
"No one knows what's going on behind closed doors. No one considers how sensitive that might be for my partner and me," she continued. "They don't know what I've been through medically or emotionally. There is a pressure on women to be mothers, and if they are not, then they're deemed damaged goods. Maybe my purpose on this planet isn't to procreate. Maybe I have other things I'm supposed to do?"
Earlier this year, Aniston and Theroux revealed in a joint statement that they'd separated in 2017 after two years of marriage and many more together.
After meeting on the set of 2007's "Tropic Thunder," the two went on to become one of Hollywood's most beloved pairings, which unfortunately resulted in almost constant speculation over whether they intended to start a family.
The couple never did have kids together, but in a candid 2016 essay for HuffPost, Aniston hit back at the tabloids for the "absurd and disturbing" objectification of her body and the assumption that she needs a child to be complete.
"For the record, I am not pregnant. What I am is fed up," she wrote. "I'm fed up with the sport-like scrutiny and body shaming that occurs daily under the guise of 'journalism,' the 'First Amendment' and 'celebrity news.'"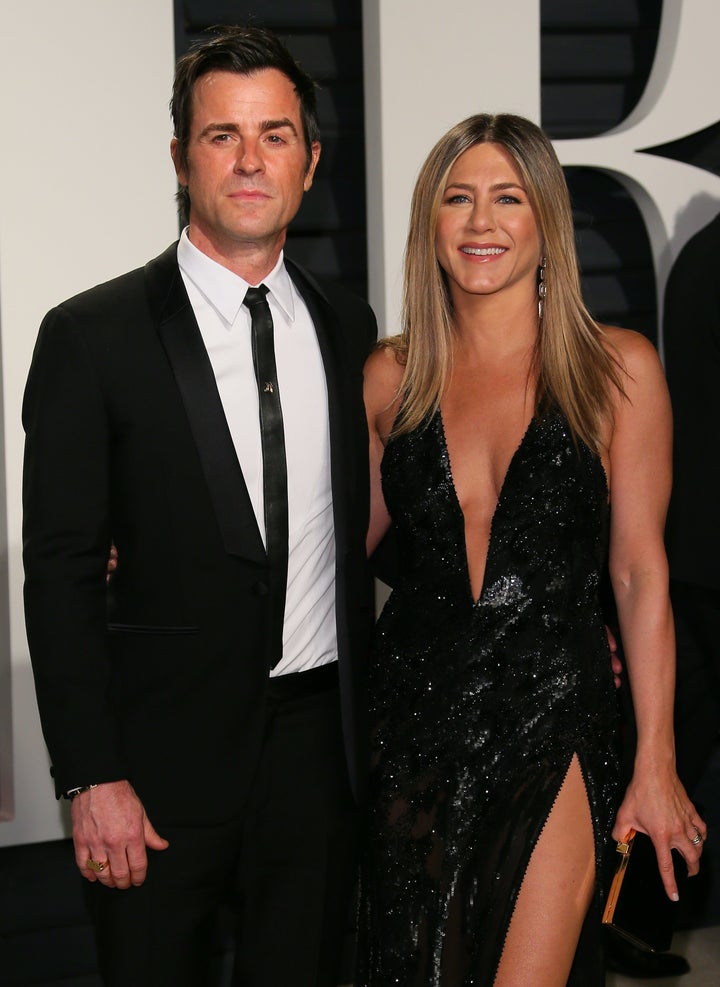 The "Friends" alum says she's faced her "fair share of sexism in the media" over the course of her career, which has been marked by relationships with fellow famous types like her ex-husband, the actor Brad Pitt, and the musician John Mayer.
"When a couple breaks up in Hollywood, it's the woman who is scorned," she told InStyle. "The woman is left sad and alone. She's the failure. F that. When was the last time you read about a divorced, childless man referred to as a spinster?"
Still, Aniston has maintained a sense of humor about her own celebrity, laughing off an initial question about the rumors swirling about her personal life.
"When are you getting back together with Brad?" McNearney jokingly asked. "Did Justin ever wear your jeans? And when are the twins due?"
"You're the only person who could start an interview like that and actually send me into hysterics, not hives," a laughing Aniston replied.
Even if Aniston were to experience the pain and heartbreak the tabloids claim, she says, it's not something she'd ever advertise on the cover of a magazine.
"There are definitely moments of not being balanced and poised, but I do that all in my own personal space," she said. "For the most part I can sit back and laugh at the ridiculous headlines because they have gotten more and more absurd. I guess they're feeding into some sort of need the public has, but I focus on my work, my friends, my animals, and how we can make the world a better place."
Calling all HuffPost superfans!
Sign up for membership to become a founding member and help shape HuffPost's next chapter
BEFORE YOU GO
PHOTO GALLERY
Jennifer Aniston and Justin Theroux