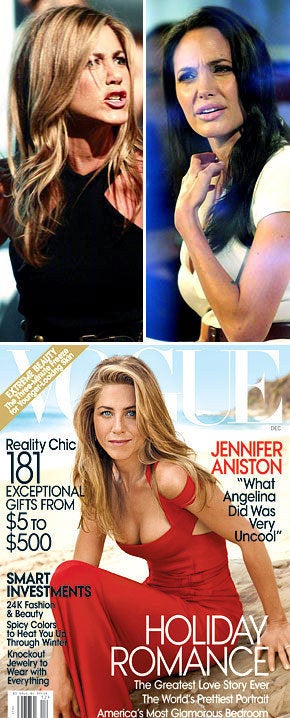 Jennifer Aniston is on the December 2008 cover of Vogue (READ WHOLE THING HERE) and speaking out about Angelina Jolie.
Aniston asked the reporter, Jonathan Van Meter, to turn off the tape recorder when first asked about her ex-husband Brad Pitt's partner. Here's what she did say on the record:
On being bothered that Angelina recounted a detailed timeline of how she fell in love with Brad Pitt on the set of Mr. & Mrs. Smith: "There was stuff printed there that was definitely from a time when I was unaware that it was happening. I felt those details were a little inappropriate to discuss. That stuff about how she couldn't wait to get to work every day? That was really uncool.

On if she ever speaks to Brad: "[We've exchanged] a few very kind hellos ... and congratulations on your babies... [We] had an amicable split ... The marriage didn't work out."
"The marriage didn't work out... Pretty soon after we separated, we got on the phone and we had a long, long conversation with each other and said a lot of things, and ever since we've been unbelievably warm and respectful of each other."
Anistonays she's been "unbelievably lucky in love," but adds, "Whoever said everything has to be forever," she says. "That's setting your hopes too high. It's too much pressure. And I think if you put that pressure on yourself ... that's unattainable."
On her romance with John Mayer: "People need to mind their own business! Did you ever think Claudia Schiffer and David Copperfield made sense? Love just shows up....
"It's funny when you hit a place in a relationship and you both realize [that] we maybe need to do something else, but you still really, really love each other. It's painful. There was no malicious intent. I deeply, deeply care about him; we talk, we adore one another. And that's where it is."

On when Mayer bragged about dumping her: "Trust me, you'll never see that happen again from that man."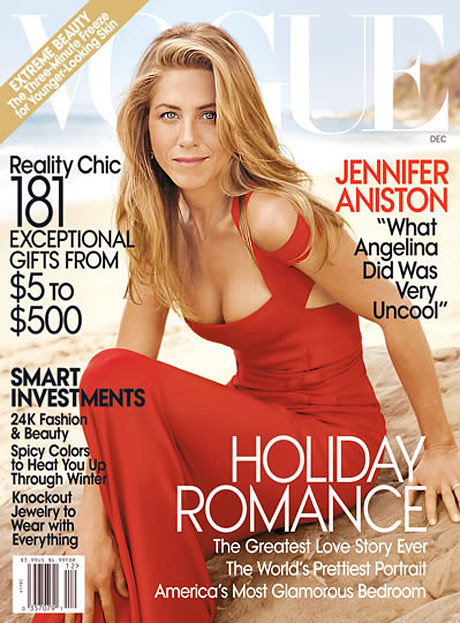 Popular in the Community