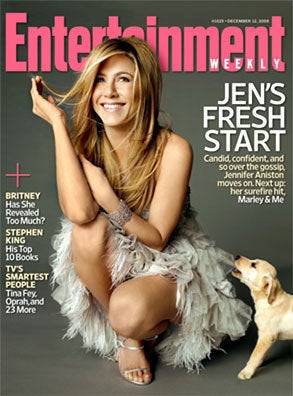 Jennifer Aniston continues her push for this month's "Marley & Me" and graces the next issue of Entertainment Weekly, excerpted on E!. Inside she disses her last magazine cover, that of Vogue.
The cover (seen below) pulled out a quote from Aniston regarding Angelina Jolie.

On her Vogue quote ("What Angelina did was very uncool") being taken out of context : "I was just surprised that Vogue would go so tabloid. I was bummed. But you almost expect it. Big deal. Done. Next."
On the rumors that she's carrying boyfriend John Mayer's baby: "Oh my God, it's hysterical . It's almost going to take away the fun from actually being able to say one day, 'I'm pregnant!'"

On motherhood being in her future: "I'm on the verge of it in some way--or it's something I long for."

On Her Split With Pitt: "'The Hollywood fairy tale romance'--that's what's put onto it. It's Luke and Laura. But if you strip away all of the glitz and the glamour and the headlines--the shock and awe of it--it's just people living their life. S--t happens, and it's as normal as any other human being if you take away the headlines. It's just not as interesting without the headlines."

On What She Perceived as a Hit Piece By the New York Times' Caryn James in 2006 [here]: "It was so venomous. It was like, who f---ing s--t in her Wheaties? How do these people get the opportunity to just spew s--t? They don't know anything. You know, career choices -- you just do what you do. Not everyone's a winner. Not every episode of Friends was great. Not every guy you choose is great. Just across the board, there's so much expectation."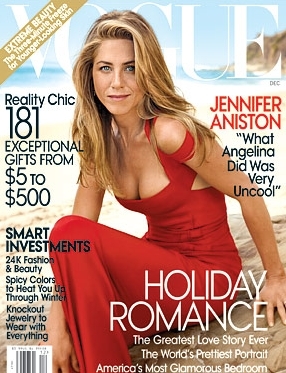 Popular in the Community