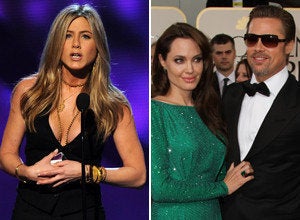 Jennifer Aniston recently talked about her chance encounter with Perez Hilton in a parking garage, during which she confronted him about his meanness.
Now Perez tells his side of the story. In an interview with Life & Style, he says Jen opened up to him about Angelina Jolie and Brad Pitt. Perez also claims Jen said she is dating and happy - a sentiment she conveys in a new interview with People.
Life & Style's press release follows; read the whole interview in the new issue.
For the first time, Jen Aniston opens up about her feelings toward Angelina Jolie-- to famous gossip blogger Perez Hilton! Jen recently told Ellen DeGeneres about her August run in with Perez in an LA parking garage and now, he's finally revealing the details of their conversation including what she now thinks of Angelina Jolie --exclusively to Life & Style.

When Perez asked Jen point-blank if she hates Angelina, "Jen said, 'Look, that was so long ago, and we've moved on and we're all adults,'" Perez tells Life & Style. And Perez believes Jen. "I believe what she has to say. I think she really has moved on."

Jen is even in touch with ex Brad Pitt. In his conversation with Jen, Perez tells Life & Style, she reaffirmed, "I still talk to Brad and everything's fine." But it seems Jen is more than just fine. In fact, when he asked her about dating, she revealed that people who assume she's lonely have it wrong. "She told me that she dates a lot," Perez tells the new issue of Life & Style, on newsstands now. "And just makes sure not to go anywhere public."