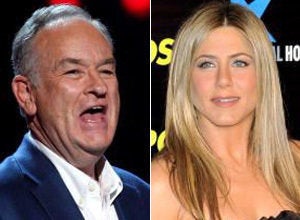 Jennifer Aniston has shot back at Bill O'Reilly following his comments about her comments about single motherhood.
It started when Aniston said women no longer need a man to have a baby. "Women are realizing more and more knowing that they dont have to settle with a man just to have a child."
After that, O'Reilly, while supporting single moms, said, "She's throwing a message out to 12-year-olds and 13-year-olds that, 'Hey, you don't need a guy! You don't need a dad!' That's destructive to our society," he said.
Now Aniston has responded. Speaking to People magazine, Aniston said
"Of course, the ideal scenario for parenting is obviously two parents of a mature age. Parenting is one of the hardest jobs on earth. "And, of course, many women dream of finding Prince Charming (with fatherly instincts), but for those who've not yet found their Bill O'Reilly, I'm just glad science has provided a few other options."
Aniston is promoting 'The Switch,' in which she plays a woman who has a baby using a sperm donor.
Popular in the Community