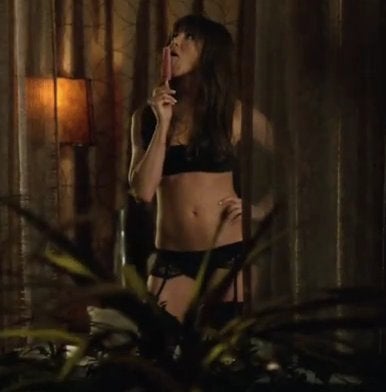 So this is a new way of looking at Jennifer Aniston. In, ahem, more ways than one.
America's sweetheart since her days on "Friends" and reigning romantic comedy good girl, Aniston exposes a new side of herself in the upcoming comedy, "Horrible Bosses." She plays one of three horrible bosses (along with Kevin Spacey and Colin Farrell) that make the lives of stars Jason Bateman, Jason Sudeikis and Charlie Day awful -- and drives them to murder.
Aniston's orthodontist is perhaps the funniest boss of them all, a sleazy orthodontist who spends much of the film sexually harassing Charlie Day's character. Which goes to show how far out of the ordinary her taste is; after all, she was once in a loving relationship with Brad Pitt.
In fact, Aniston filmed a version of one of the film's scenes entirely topless and exposed, which is something new for her; whether it stays in the film or not still has not been decided.
The dark comedy hits theaters July 8th.
WATCH
:
Popular in the Community