Jennifer Aniston has been famous for decades at this point, but even she has trouble with some of the gossip, rumors and attention that comes with being in the public eye.
The "Friends" star spoke about what's helped her cope over the years, telling People that "self-awareness is key" and opening up about therapy in an interview for the outlet's July 5 cover story.
"I've really gotten a lot out of therapy. Just being a public person, there's a lot of amazing things that come with that," the actor told the magazine. "But there's also a lot of tough stuff, because we're only human, and we tend to walk around with bull's-eyes on our heads."
"Sometimes you can't help family members or people sending stuff over going, 'What is this? You're having a baby? Are you getting married?'" Aniston said, referencing the constant speculation that surrounds her relationships and private life.
"It's like, 'Oh, good gosh, when and how many years will it take for you to ignore that silliness?'" she said.
When Aniston reunited with her ex-husband, Brad Pitt, for an unexpectedly flirty table read of "Fast Times at Ridgemont High" for charity last September, it sent fans into a spiral and reignited relationship rumors.
"It was absolutely fun. Brad and I are buddies, we're friends," she said on SiriusXM's "The Howard Stern Show" Wednesday.
"There's no oddness at all except for everyone that probably watched it and wanted there to be," Aniston said. "We had fun and [the table read] was for a great cause."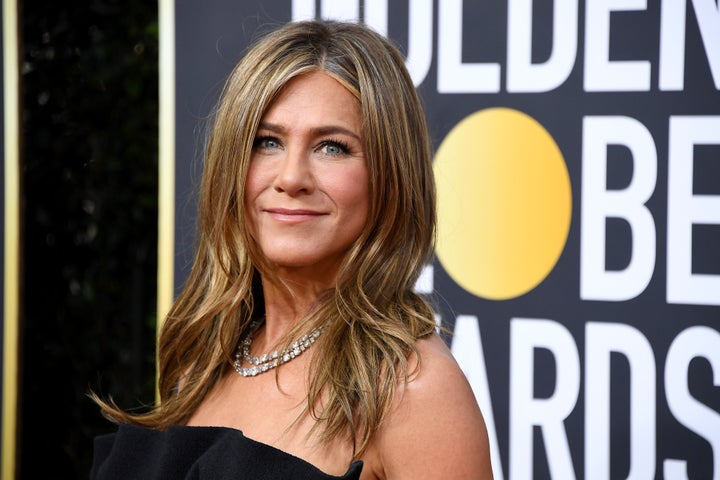 "David was great [but] we were in relationships. It was always never the right time, and it wouldn't have worked," the "Morning Show" actor told Stern, who refused to believe the two hadn't "consummated" the relationship. "The beauty of that was, whatever feelings we had, we just literally channeled everything into Ross and Rachel. I think maybe that's why it resonated."
"I would proudly say I banged Schwimmer if that happened," she said with a laugh. "He reminded me of my high school boyfriend, to be quite honest."
Popular in the Community