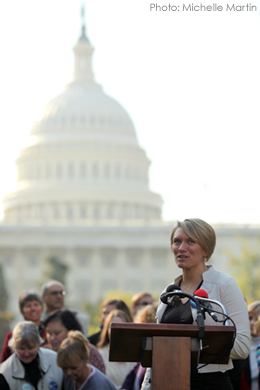 There is a certain mix of exhaustion and elation that comes after a long day on Capitol Hill. I can't help but feel inspired and motivated to keep going in the fight against toxic chemicals after Safer Chemicals, Healthy Families "Stroller Brigade."
I spent the day with Actor Jennifer Beals (from The L-Word and Flashdance), teachers from Maryland, a stay-at-home mother from Montana, environmental justice organizers from Texas, cancer survivors, and hundreds more as we marched our "Stroller Brigade" to Senator's offices.
People from all walks of life took time off of work, away from their families and traveled to D.C. for a shared common goal: to ask Congress for leadership on meaningful laws on toxic chemicals.
Even though we have a federal law on chemicals, it does virtually nothing to protect your family from toxic chemicals in the products we buy, and the places we live, play and work.
In fact, earlier this month our federal law, the Toxic Substances Control Act (TSCA), turned 37 years old. And unlike the other environmental laws that passed in the 1970s, TSCA is the only one never to be updated and authorized.
The problem is we know a lot more about chemicals, their health effects and how they behave then we did back in the 1970s.
In response, hundreds of people from all walks of life gathered at the Capitol this week to ask Congress to do something about this important issue. There has been movement to update our laws, but the bill before the Senate - the Chemical Safety Improvement Act -- as drafted, doesn't adequately protect public health from toxic chemicals.
Over 80 Congressional offices heard our message -- we want reform of our federal laws on toxic chemicals to be meaningful and real. We want reform to protect pregnant women, children and vulnerable communities. It's really quite simple.
What good is it if we pass a law that is as bad as the one already on the books?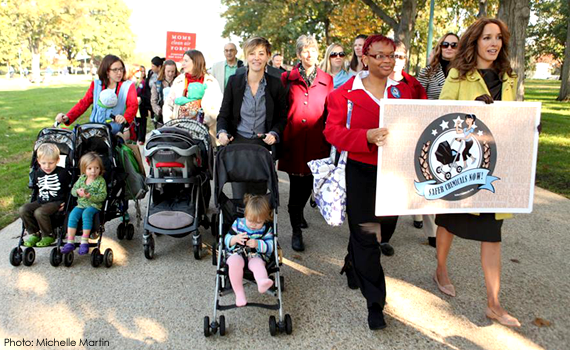 Jennifer Beals, actor, mother and advocate, was a hit with the crowd. She spoke from the heart and shared her frustrations with the status quo.
Like many of you, I started my journey in the quest for strong laws on toxic chemicals because quite simply I am a mother and I am tired of feeling like I have to have a PhD in toxicology in order to be a competent parent. I am tired of being a detective, hunting the Internet for clues as to what product is safe and what product is not safe and why.
The chemical industry may have well-dressed lobbyists hitting the Hill daily, but when hundreds of parents come together to speak up about an issue as important as protecting our families from toxic chemicals, Congress listens.
The movement and wave of activism that is coming from all corners of the country is a force to be reckoned with. This group isn't going to sit down either. The Stroller Brigades will continue in everyone's home state.
So watch out Congress: until real reform happens, we're going to keep fighting, and our movement will continue to grow.
Related
Popular in the Community