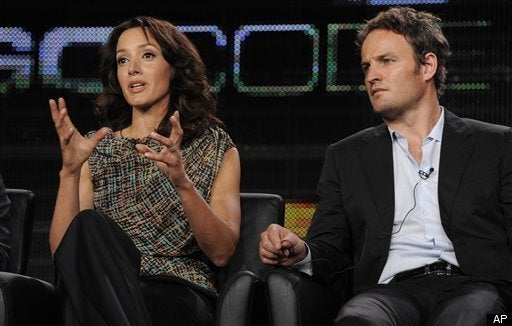 On Fox's new show The Chicago Code, premiering February 7, Jennifer Beals plays the no-nonsense Police Superintendent of Chicago, fighting corruption and City Hall.
In real life Beals, known for iconic performances in Flashdance and The L Word, is also fighting City Hall in Chicago. "Chicago doesn't recycle," she says emphatically. "At the Art Institute of Chicago -- one of my favorite museums -- they won't let you bring in plastic bottles and they don't have any recycling containers. You just have to throw them away. How can that be?" Beals, a native of Chicago, is talking to the Illinois Governor's office to see what can be done. "The notion of throwing out a plastic bottle is so awful to me," she confesses. "There is a real correlation between art and architecture and recycling. But my friends are cynical, saying, 'Good luck with that recycling thing.'" She has thought it through, though, and talks about ways to make recycling financially feasible for all.
Jennifer Beal's character on The Chicago Code is similarly strategic. Superintendent Teresa Colvin is smart, focused and dedicated to rooting out the mob bosses who run the city. "Hopefulness based in reality is something that Teresa nourishes," says Beals thoughtfully. Both the actress and the character reflect the city in which they grew up and which they both appear to love. Beal reflects, "Chicago is two opposites -- a brazen earthbound confident persona of a city, not dependent on either coast. But it's also very sophisticated and connected to the rest of the world. And people have a great deal of access to their political system." The show is shot in Chicago, a place Beals knows well having grown up on both the South Side and North Side, or "Cubs and Socks" as she puts it.
Portraying a woman leading the Chicago police force required a great deal of research on Jennifer's part: "I tried to imagine what it would be like to be superintendent here. I asked male officers what it would take for them to accept a woman superintendent. They said it was important for me to have come up in the system and to truly understand it." And, she adds, "It was a balancing act every day. Teresa leads with a more masculine leadership approach. She's not as inclusive as she could be, not as nurturing. She goes in with guns drawn. I had to figure out how she could stay close to her team without seeming weak or sexually inappropriate."
The show is complex, character-driven and smart. And Beals' character has some fascinating interactions with her former beat partner played by actor Jason Clarke. "It's interesting to see how she negotiates power," comments Beals. "She and her ex-partner clearly respect each other and will tell each other the truth even if it hurts. They also clearly love each other but you're not sure how."
Because Chicago's backroom politics are part of the action, the city doesn't come off in the best light. But Jennifer Beals says that's fine with her, "Any Chicago native who thinks Chicago is cast in a golden light has lived under a rock." And yet she clearly loves the city and was excited to spend time in her hometown while filming the first 13 episodes, spending time with her mother and childhood friends. The show is written and executive-produced by The Shield's Shawn Ryan, who grew up in Rockford, IL.
Beals laughs when asked if her fiercely loyal fans from Showtime's The L Word will flock to see her on a cop show. "I don't know, but I think they'll like the uniform," she says. Now that the first episodes of the show are completed, Beals in busy reading scripts, swimming, caring for her daughter and learning to play the piano. She is also, she says, researching recycling.

Popular in the Community