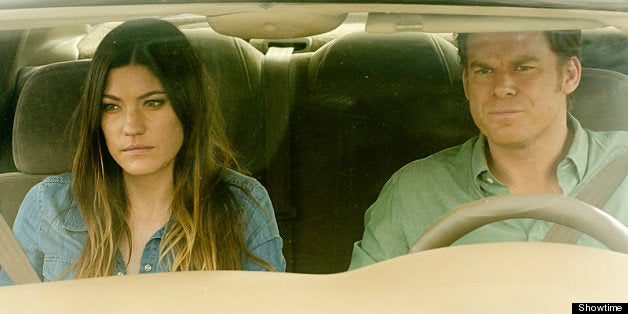 Note: Do not read on if you have not yet seen Season 8, Episode 4 of Showtime's "Dexter," titled "Scar Tissue."
Things will never be the same for Deb (Jennifer Carpenter) and Dexter (Michael C. Hall) Morgan. The fourth episode of "Dexter" Season 8, the show's final season, ended with Deb going off the deep end in more ways than one.
"In the first four episodes of this season, Deb is searching for her bottom, and I think she's surprised to see just how low it actually is. She hits it when the car hits the water. When she looks back, she is able to see Dexter as this living, breathing person and it makes him real in that instant," Carpenter told The Hollywood Reporter. "It makes all of the other stuff secondary to that. As long as he is alive, there is hope for ... if not a real brother-sister relationship ... at least an understanding, and there's hope for her having a real ally in her life."
The incident will change Deb, who has been struggling with killing LaGuerta and forgiving Dexter.
"It's like reading the last paragraph in a chapter of a book -- it gives her a start to a new one. I'm not sure that Deb actually has the foresight to or even the tools to plan for what that might look like. Dexter numbs her ability to make plans because he's forever changing the landscape of every situation. At the end of Episode 4, that repair certainly looks possible, not only with Dexter, but within herself. I think Deb is able to see him anew, not fresh and clean, and the slate certainly hasn't been wiped clean, but it's a possibility to change the picture drawn on it," she told THR.
"Dexter" recently had its final Comic-Con panel and brought out several past players: Erik King (Sgt. Doakes), Julie Benz (Rita Bennett) and Lauren Velez (Captain LaGuerta). John Lithgow also made an appearance via a video message. During the panel, the cast discussed the end of the show and looked back on the past eight years.
"When we meet Dexter, we believe what he's telling us, but I always believed his voiceover is not the bottom line in terms of what he believes or what is motivating him. I think we're meant to be suspicious of his claim that he's 100 percent psychopath," Hall said, and then noted, "I've always been on Dexter's side myself."
Carpenter told the Comic-Con crowd that her hopes were for Deb to die. "I wanted her and [I] want her to die. As an actor, it's because I love her," Carpenter explained. "It's a little like how [Dexter] treats his victims. I want her to go to the bottom of her abyss where all her secrets lie so I don't spend the next eight years [thinking about Deb and having her in my head]."
"Dexter" airs Sundays, 10 p.m. ET on Showtime.