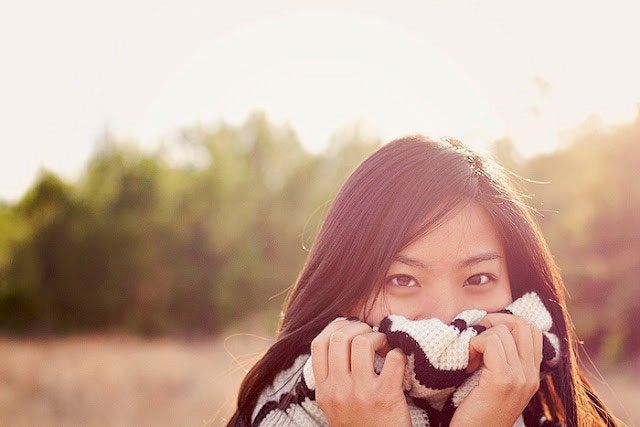 Pinterest superstar Jennifer Chong has twice as many followers on the image-sharing site as San Francisco has people.
Chong, a California-based graphic designer who joined Pinterest in 2010, was one of the now 2-year-old site's earliest users. She has used the site as inspiration for her work over the last two years, accumulating a loyal following that "repins" and "likes" her photos of wacky fonts, striped sweaters and recipe ideas.
Chong recently spoke with HuffPost and explained how she accidentally became a Pinterest superstar -- and the controversial pin that got her followers riled up.
When did you start your Pinterest account?
I started my account about two years ago, and I was probably one of the first on there. Victoria Smith is a blogger who invited a bunch of bloggers to join Pinterest. There was this thing she had called "Pin It Forward," and you were basically supposed to pin things that represented "what home is to you." I think she invited a couple hundred bloggers. It was an open invitation; the only requirement was that you had to have a blog.
Do you notice anything different between the Pinterest of today and the Pinterest of the past?
Besides the differences with the user interface, layout, design, etc. -- overall there are just more brands on Pinterest versus the beginning, when it was mainly used by individuals.
So why did you start using Pinterest on the daily?
I'm a graphic designer and I also do freelance photography on the side. So for me, Pinterest is a great way to get information, and now slowly I use it for everything, like to find recipes, which is probably one of the most popular things that people "repin."
How long was it before you thought, "Wow, I have a lot of followers. Is this going somewhere?"
You know the funny thing about that is, when I first started Pinterest, I had the notifications turned on, and it tells you every time someone repins or comments. I found it to be cumbersome getting so many emails through my main inbox, so I ended up turning off the notifications. I would just casually look when I was on my Pinterest account.
Then in the fall of last year, I was telling a good friend of mine, "Oh you should try Pinterest; I think you would really like it." When she joined she said, "Hey, do you know you have a lot of followers?" At the time I think I had maybe 300,000 -- and I don't really know how I got that many! But this year, I think it started really picking up once the Mashable article [about Pinterest's most-followed users] came out.
What's your Pinterest schedule? Do you set aside specific times to pin?
It's really as I see things. I read a lot of blogs and I've found a lot of things throughout the day while doing research. People ask me how long I spend on Pinterest, and I can't really say I spend a certain amount [of time]. I don't sit down and say, "Oh I''ll spend an hour on Pinterest." It's like the way I use email: When I see an email come in, I respond to it (usually!). But I never only check my email during a certain time.
So what are some of your favorite or most popular pins?
It's so hard because I wouldn't pin it if I didn't love it, but I can say more specifically pins that I know that are really popular.
One thing I pinned that was really controversial -- and that I think I have the most comments on -- was an infographic that's a comparison between eating bacon and eggs verses a bagel and cream cheese for breakfast. A lot of things I post because I'm a designer -- not necessarily because I'm speaking towards a certain side. And people were like, "You shouldn't eat bacon!" They get really into it. But to me, it's not about the numbers. It's just about what I like ... and that just happens to be what other people like, too.
What about other social media? Do you tout your Pinterest account with Twitter or Facebook?
No, not really. I have a Twitter, but I don't really tweet. I do blog, but I wouldn't say that I'm a "blogger." The blog has always been a creative outlet for me to post inspiration on. And actually, when Pinterest came around I noticed that I stopped posting on my blog as often and pinning more. I do try and blog consistently, but it's more my own photography or my own work.
Obviously you can't follow all of the people that follow you. So who do you follow and why?
For the most part, the people that I follow on Pinterest are people whose blogs I already like, or some of them I know personally. Mostly it's brands or people that I already admire.
What are some of your favorite accounts to follow?
What makes this social media website different than Facebook, Twitter or Tumblr for expressing creativity?
There's a couple of things. I don't link my Facebook to Pinterest, or anything really to Pinterest. I think every social media tool has a reason. Twitter is all about your thoughts and its not really there for seeing something visual, whereas Pinterest is all about the visual -- and I think that's why I'm really drawn to it.
There's a lot of comparison of Tumblr to Pinterest, and I think that Tumblr is really different. It does display posts very visually, but my problem with Tumblr is that I've always found it really difficult to find the original sources [for pictures].
And we have to ask … Do you actually do any of the DIY or crafty pins you post?
Not that many, because I don't have the time to do it! I've probably done one or two.

This interview has been condensed and edited for clarity and length.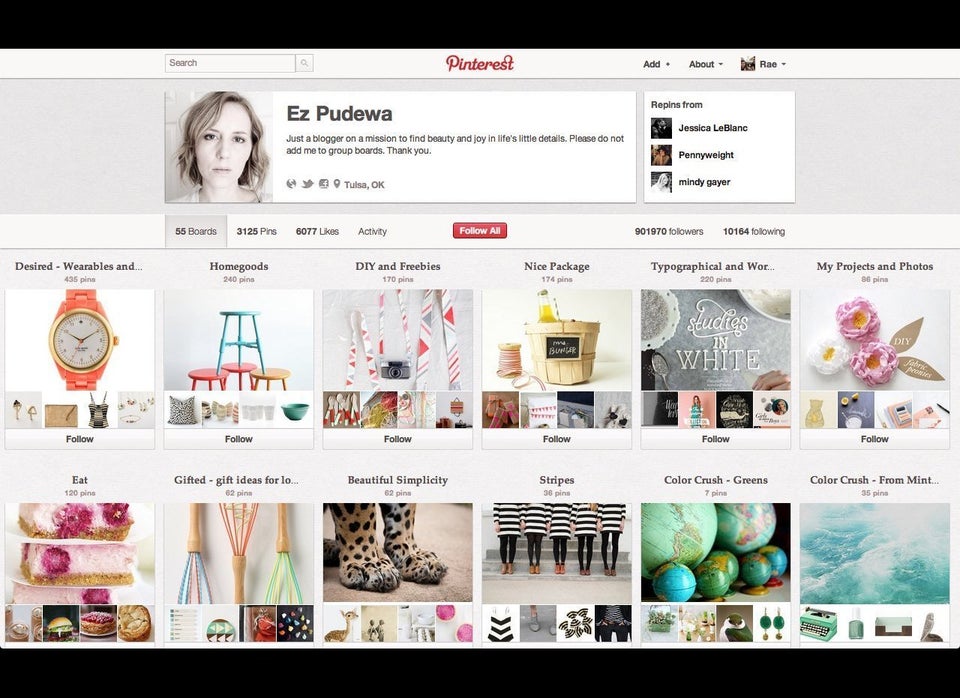 Most Popular Pinterest Users