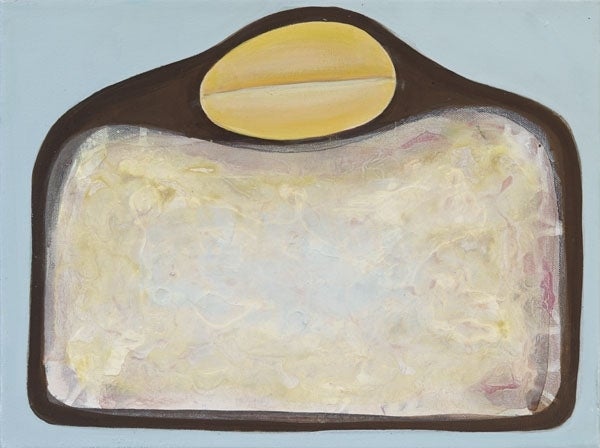 One of the most famous metaphysical moments in film history is the scene from Goddard's 2 Ou 3 Choses Que Je Sais d'Elle (2 or 3 Things I Know About Her) from 1968, when the camera zooms in on a stirred cup of coffee evoking the macrocosmic milky way and then, as the stir settles, the microcosmic splitting of a cell (https://www.youtube.com/watch?v=i0i8XR9Cztc). Jennifer Coates' current show at Freight & Volume, titled 'All U Can Eat' operates in a similar cosmic-comic vein, building on ideas posited by William Irwin Thompson in his book "The Time Falling Bodies Take to Light" (St. Martin's Press, 1981). We are the inheritors of a lineage of mystical symbolism and complex cosmology stretching back to the neolithic and paleolithic periods. With wry humor and a sense of the absurd she finds these mythic energies embedded in some of the most degraded and cast off of places: the toxic and synthetic chemistry of our fast and mass produced food.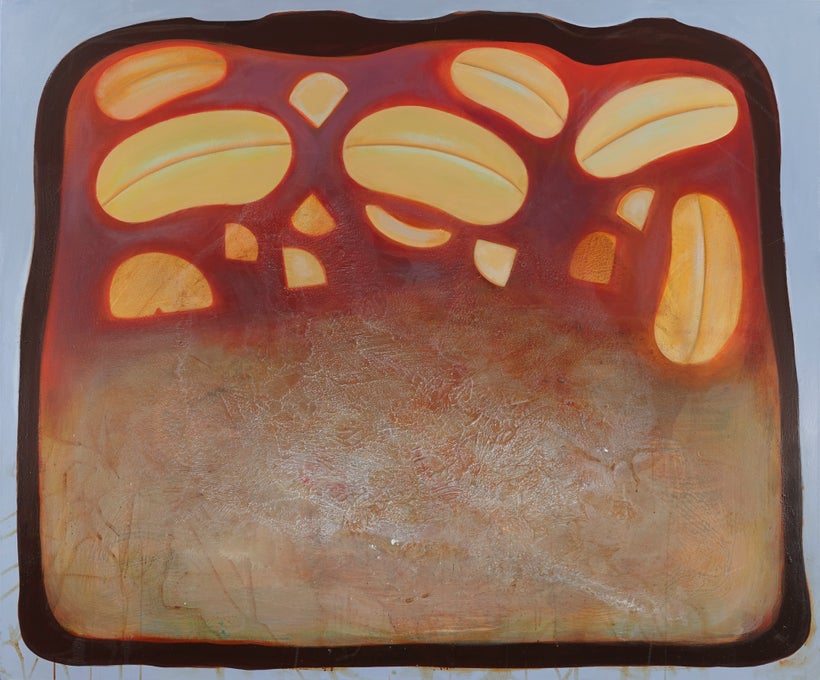 Coates has described the process of standing and marveling at the strangeness of food: the shapes the food has been made into, the strange hallucinogenic colors injected into the everyday. She finds inspiration in direct and blunt pictures of food, such as those found on carts and in delis. Everything is hyperreal, made for seduction and enticement, 'food presented for maximum excitement' she says, 'the dumb view'.
From an essay by Coates in the exhibition catalog, describing the cross section of a candy bar;
Notice the close bunching, the enclosure of the stones around a dark opening. As you eat the fattening snack you pass into the tomb of the dead, you cross a threshold into the netherworld....Now perverted with sugars and chemical what-nots, these bearers of formerly transcendent meaning are distributed to the masses in colorful, plastic-based, hard-to-recycle, non-biodegradable, landfill bound wrappers. However the residue of holy intention remains. Please consider communing with your ancestors next time you enter the Snickers.
In articulating visual antecedents for the foods she paints, Coates isn't seeking the empirically provable or scientific, but rather operates in the realm of poetic imagination, allusion and pleasure in the strangeness of reality. Her paintings press the absurdity that we might think ourselves anything like our ancient forebears and the vanity in believing that we might have really changed at all.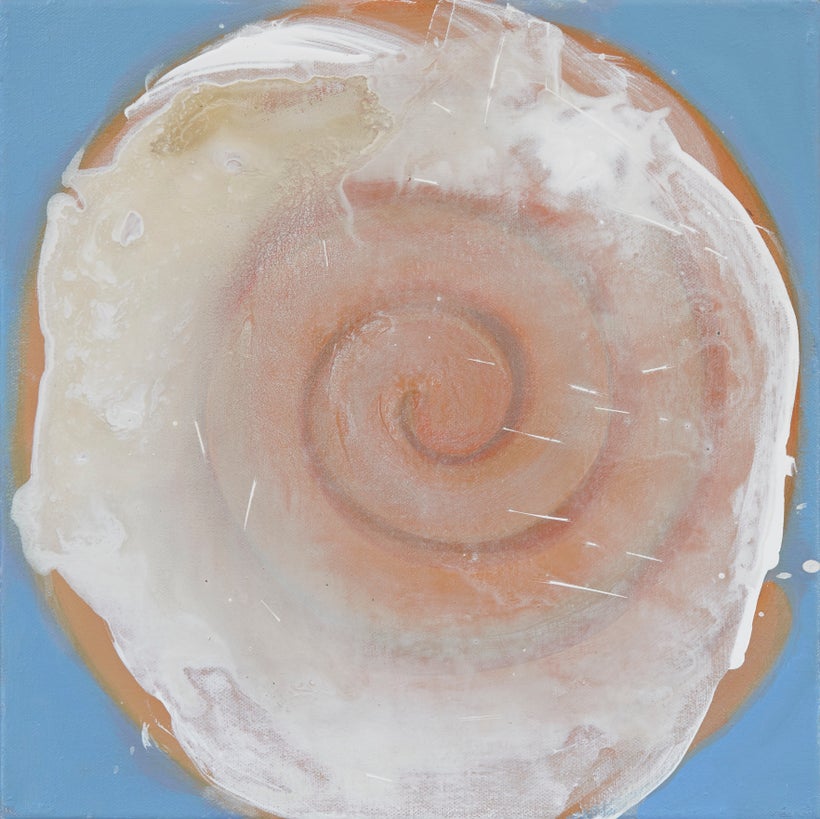 'Cinnamon Roll', epitomizing this approach, is formed of the archetypal and universal symbol of the spiral, emerging from beneath a sugary white pastry glaze, or is that a spill of translucent mother's milk? It is a dark and apocalyptic humor that can link an image of the ultimate interiority and mystery with something to be gobbled up in less than a minute.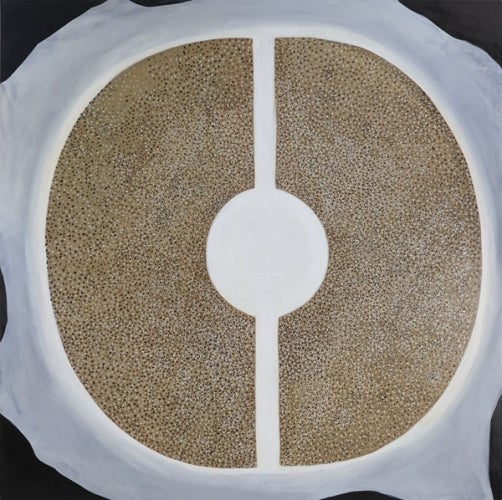 'Everything Bagel' is hilariously related to images of 8000 year old Israeli Yoni stone carvings that Coates researched. The opening of the bagel-yoni is filled with a smear of cream cheese and the bagels surface scattered with seeds, thus comically completing the sexual-creative cycle.
'TV Dinner II' does triple duty as a dinner tray, a primitive mask and also some kind of cheesy sci-fi computer panel, a Retro-Futurist fantasy.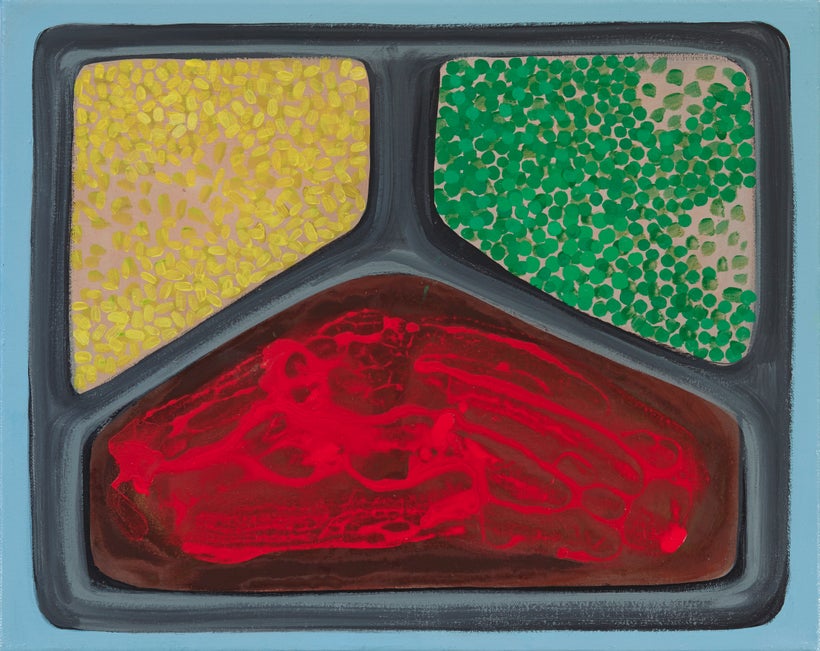 Some of the paintings, such as 'Large S'More,' recall in their messy acrylic paint explosion the primal gestures found in abstract expressionist painting. In fact, Coates' work, by playing with paint in as many ways as possible, is littered with sly and humorous references to art historical styles and antecedents, from pointillism to, most obviously, pop art.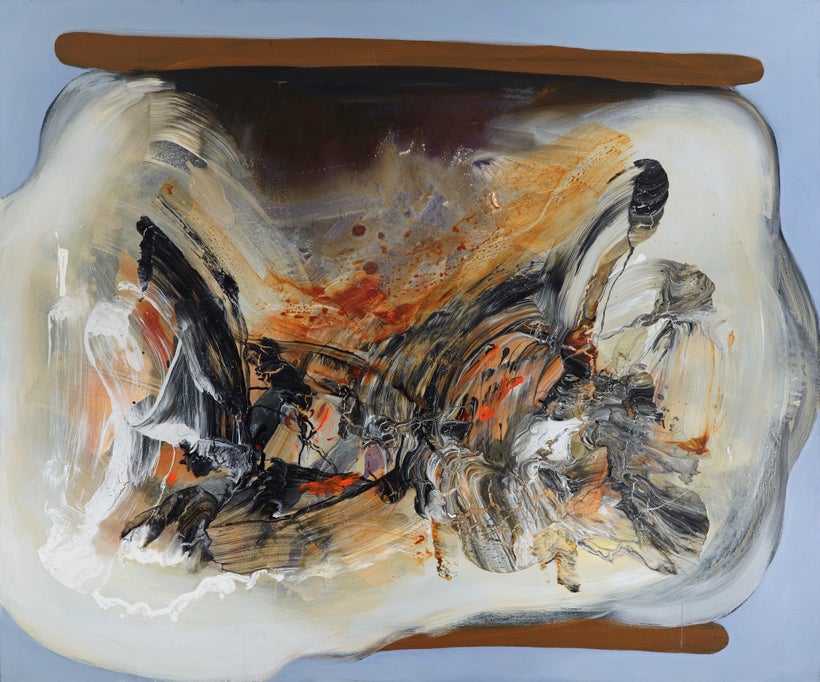 'Scooby Doo Popsicle,' which reads as a large Animistic mask, is described by Coates as a fecal Color Field painting. Her self-deprecating attitude helps this viewer move past the slightly shallow aspect of art world in-jokes, to the idea that the art world construct might be one more cosmic joke of the unconscious.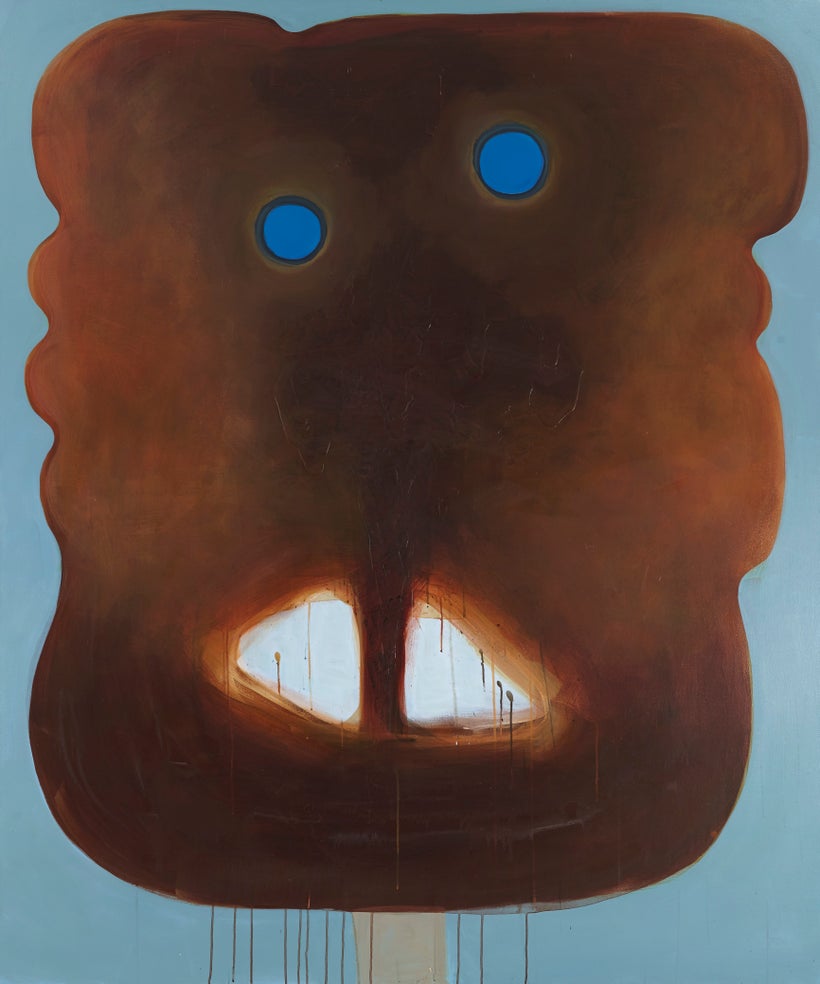 'Pink Lion Cookie,' the largest piece in the show at 72x96" is both a power animal on the gallery-cave wall and the bulging cave wall itself. However, if the gallery-goer-initiate eats the lion cookie will they gain its attributes? And what would those attributes be? The power of the lion? The feminine power of pink? Or is it a seduction into a short-lived sugar buzz, articulated as colored microdots? And then, how does that sugar buzz relate to the hallucinogenic trance of the Shaman? Is that the other-worldly transformation that we've really been after all along?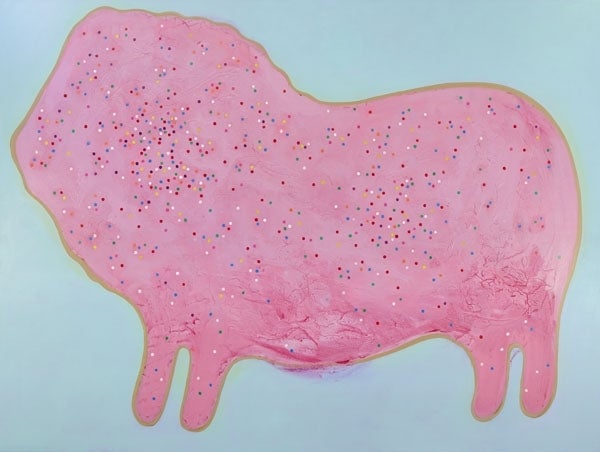 One of the most visually satisfying aspects in Coates' work is the particularity and obsessiveness she brings to certain forms so that they are as dynamic up close as from a distance. This specificity feels both neurotic and meditative and serves as a lovely counter to the forcefully iconic and frontal presence of her paintings. And, to see the loving care with which she renders a pasta tube, such as in the psychotropic-looking 'Small Rigatoni Casserole' is to imagine that the making of these paintings is in itself an enactment of the magical rituals they invoke and that Coates is an Archaeologist-Painter-Shaman of our hidden, everyday mythology.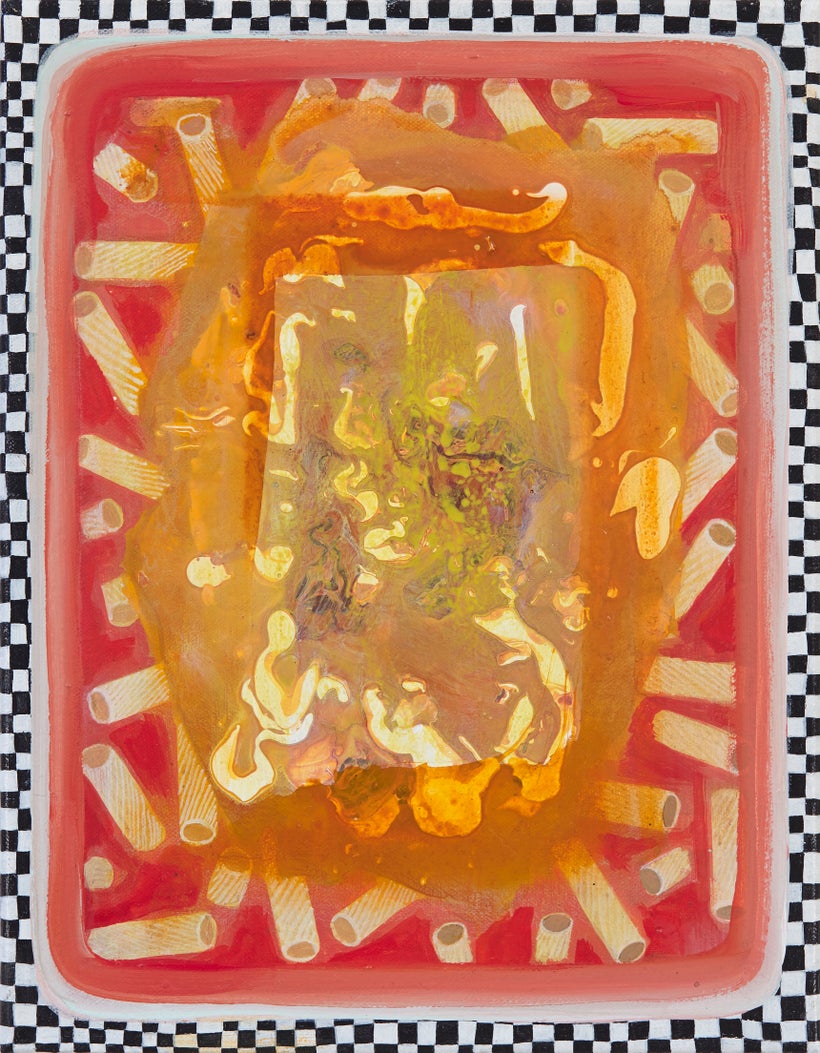 Jennifer Coates, "All U Can Eat" is on view at Freight & Volume, 97 Allen St, NY, NY, 10002 through April 16th, 2017.
All images courtesy Freight & Volume unless otherwise noted.
Calling all HuffPost superfans!
Sign up for membership to become a founding member and help shape HuffPost's next chapter
This post was published on the now-closed HuffPost Contributor platform. Contributors control their own work and posted freely to our site. If you need to flag this entry as abusive,
send us an email
.