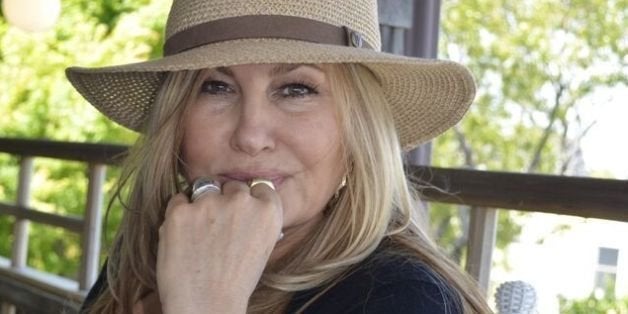 "I'm so vain, all I could think was I should have stopped at 'American Pie,'" said Jennifer Coolidge, after watching a clip reel of highlights from her career. (Her role as Stifler's sexy mom popularized the term MILF in common parlance.) "I didn't need to be all those other fat-faced ladies."
It's as a versatile, scene-stealing character actor, though -- the shy beautician in "Legally Blonde," a gold-digger in "Best in Show" -- that Coolidge earned the Faith Hubley Career Achievement Award at the 17th annual Provincetown International Film Festival.
On hiatus from "2 Broke Girls," Coolidge will lend her comedic talents to playwright Marisa Smith's "Saving Kitty," currently in rehearsals. Performances will begin July 9 in Cambridge, Massachusetts. She flew across Cape Cod Bay and spent an afternoon at Provincetown's Land's End Inn, where she sat down with The Huffington Post to look back on her brilliant career:
It's a beautiful day to be in Provincetown, drinking a glass of rosé, don't you think?
I couldn't agree more. I came in on Cape Air, and there was this really handsome pilot. I was in the seat behind him and you can literally touch the pilot. I thought about giving him a neck massage. It's just so intimate in there. Also, he had a little bobblehead dinosaur on the dash, which I just thought was so charming.
Those are some small planes. Does that make you nervous?
Not really, but they ask you your weight before you get on. And I'm thinking, could my lie take everyone down? Could I possibly bring us into the sea because I lied about 20 pounds?
You know, you're very quotable -- on and off screen. My friend Trish's Tinder profile, all it says is "We both love soup." She gets a great response.
Maybe that should be my Tinder. I'd love to be dating someone. But how do I do that? They say you can't really use these apps and things as an actress. It's really hard for me to meet someone. I don't want to date actors. Been there done that. Only one actor per household, please.
Are there any Christopher Guest projects in the works that you might be involved in?
Well, I did these PetSmart commercials with him in January and he said he was going to do something this summer. And I thought, I hope I don't have anything going on this summer! But you know that's about as good as it gets, working with Christopher.
He really likes women and gives them great parts. Think about the roles he's had for women like Catherine O'Hara and Jane Lynch. It's hard to find guys that really like girls. He thinks women are funny, you know? I so very much hope I get to work with him again.
Not that I'm complaining, but you don't take a lot of serious roles. Any reason?
I can't get the serious roles. People don't see me that way. I was in a taxicab one time in New York City and the driver scolded me the entire ride. I had this amazing role in "Bad Lieutenant," with Nicholas Cage, directed by Werner Herzog, and I played a sort of drug addict. And that taxicab driver: "You're supposed to be a funny lady. I don't want to see you like that!"
You were a pretty funny lady as a pageant mom on a recent episode of "Inside Amy Schumer."
It was so much fun to work with her, as you can imagine. I just saw Amy in New Orleans. We're both obsessed with that city. I went to see her do standup and it was by far one of the best shows I've seen in my life. It was this mind-blowing show. I was like, "That is how it's done." It was smart and she says the kind of things that girls don't dare to say. This stunning, modelesque woman -- a New Orleans supermodel, I don't know where she came from -- was there alone sitting near me and she just laughed and laughed. It's a great compliment when the beautiful ones laugh.
Your first television appearance was in 1993 alongside another comedian, as a masseuse on "Seinfeld." I once told my third-grade teacher that it was my favorite TV show and she called my mother to tell her that it's not appropriate for someone my age. My mom told her, "Mind your own beeswax."
Good for her. You have a cool mom. [Laughs] You know, that show really legitimized my career. Even for my own mother, who was dying of cancer at the time, who said, "You know, you might not be a loser after all." It was such a big deal at the time. I think it was my big break.
You got to be Jerry Seinfeld's girlfriend.
And then people who would never have let me in the door thought, "Oh, Jerry let her in."
Not a bad guy to open the door for you.
Yeah, thank you, Jerry. ... And I've never seen him since. [Laughs]
This interview has been edited and condensed.
Calling all HuffPost superfans!
Sign up for membership to become a founding member and help shape HuffPost's next chapter