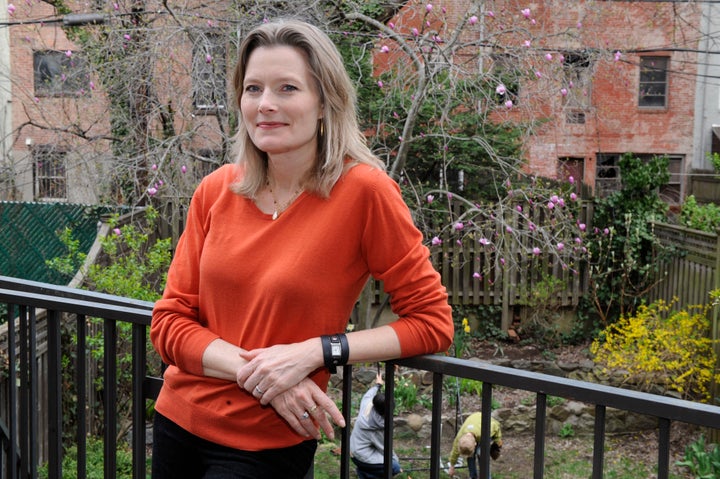 Jennifer Egan's had the kind of career most writers can only dream about.
The literary world has embraced her with accolades like a National Book Award finalist nod and a Guggenheim fellowship. She's been a regular contributor to The New York Times Magazine for nearly two decades, and her short stories frequently grace The New Yorker. Her novel The Invisible Circus was turned into a feature film starring Cameron Diaz. Her most recent work, last year's A Visit From The Goon Squad, earned her the holiest of honors: A Pulitzer Prize in Fiction.
Since winning the prize, Egan has been crisscrossing the country staging readings, giving guest lectures and speaking on panels with peers like Jeffrey Eugenides. Her work will be popping up at this year's Litquake, too: Catch a live performance of her short story "Sisters of the Moon" this Thursday (sadly, Egan herself won't be making an appearance).
We recently caught up with the Brooklyn-based author to hear about her experiences growing up in San Francisco and why she finds the city, which acts as the backdrop of much of her work, so inspiring.
You moved here from Chicago when you were seven. What's your first San Francisco memory? My stepfather's company put us up in the St. Francis hotel for a week. I remember the first time I looked out the window over Union Square. The palm trees, the sense of pastel colors and a different light. It was like Dorothy waking up in Oz. It felt like a really different place in every way.
What was your favorite thing to do growing up? I always have loved running along the Marina to the bridge. That area has changed radically. I love the omnipresence of water; it's something I really miss. Water is theoretically omnipresent in New York City too, but you never see it because there are no hills. In San Francisco, someone is constantly aware of water surrounding the city. I also always loved Broadway when it was a little wilder. It was a gigantic thoroughfare for decades. I write a lot about Broadway in Goon Squad.
How did living in San Francisco shape your work? I grew up in the 1970s, and my friends and I felt very keenly that we had missed the 60s. We were bummed out about it. I grew up feeling like I wanted to grow up ten years earlier, and I wanted to reconstruct every sense of what that moment was like. I made a study of what the counterculture consisted of, and it led me into other queries, like the impact of mass media on peoples inner lives, the longing for transcendence as a basic human yearning, the human tendency to wish ourselves in other times and places.
Can you elaborate on how the city differed in the 60s from the way you experienced it? The whole city was in a 60s hangover. There were tons of hippies still wandering around, but the feeling was that things had turned a bit. A lot of people who were seriously experimenting with mind-expansion through drugs had ended up with drug problems. There were a lot of runaways, people struggling...this once optimistic, hopeful feeling had evolved without purpose. There were still tons of drugs around, but that exalted sense of hope and possibility was not really there anymore. It was really an in-between moment, a sleepy moment. It wasn't the big city that it is now. San Francisco felt a little more dreamy.
When you set a story in San Francisco, what are some of the key characteristics you showcase? I tend to rely a lot on place in my work, and what seemed most essential to San francisco was the fog. The sense of this place where a curtain of fog is pulled over and pulled away and then pulled over...the fog rolls in so fast, and it brings with it a feeling that something different is happening. That chilly, foggy, fast-moving feeling. It's always been a place where certain extremes were tolerated and explored. The counterculture, the punk rock stuff. It's a city where extreme inquiry has always had a place. That seems very basic to San Francisco for me, and it dates back to the Gold Rush.
So why did you leave? I left to go to college [at the University of Pennsylvania]. I did come back one summer after my sophomore year, and for me, it just felt known in some way. I felt like I wanted something different. I love the infinite variety of New York, how its the epicenter of so many worlds.
Will you ever move back? I've had my fill of it. I love to visit, but I don't want to do it again. I love how close New York is to Europe; I love the seasons and I dont think i could live without them. They're the way I track the passage of time.
Aside from the weather, what do you love about Brooklyn that San Francisco doesn't have? The number one thing I love is the sheer crowded anonymity of it. I love my own biography disappearing, being absorbed in whats around me and surprised by it.
And vice versa? The sheer sensory experience of San Francisco is unlike anywhere else. Not just the physical beauty, but the textures, the feel, the wind, the ocean. It's a monumental feeling unrivaled by anywhere else. Its a world class, gorgeous city. And the coffee is great.
Who's your favorite San Francisco author? Ken Kesey. I think he qualifies, at least spiritually. Sometimes a Great Notion is a masterpiece.
Do you think the literary scene is different here than it is on the East Coast? Based on the little I have seen, it seems tighter and more supportive in San Francisco. I can't speak for anyone but myself, but for me it feels fragmented in New York, inevitably looser. My sense from doing some readings in San Francisco--and this could be idealism--but to me it seems like a very supportive, interwoven, more cohesive group of writers. It feels wonderfully kind and actively supportive. I will be back and back and back.
What are some of your must-dos when you come back to visit? I have kids who are ages eight and ten, and a lot of our activity involves them. It's a great city for kids. We love the street performances at Fisherman's Wharf, Pier 39. Touristy stuff is so fun with them. The aquarium, the new science museum. I try to fit in a run if i can. Oh, and we always go see the Giants play. My kids love San Francisco. They both talk about wanting to move out there...maybe they will bring me back.
And the inevitable: Any advice for fellow writers? Don't write when it moves you--that's a loser. Try to make it habitual, even if you just start with 15 minutes a day, two pages a day. Make it such a part of your routine that not doing it feels strange. You have to be willing to write badly. You can't say, "I'm going to write habitually, and it's going to be good." It's unpleasant to write badly, but it's much more important show up on a regular basis so that you're there when the good stuff comes."
Related
Popular in the Community