"The Affair" is one of those shows that sucks you in and doesn't let go. The Showtime series' interesting way of storytelling ― jumping from male and female perspectives of certain situations ― makes you question the truth behind every scene, and that's exactly why Jennifer Esposito wanted to be a part of it. 
The actress, who's known for "Crash" and shows like "Blue Bloods," "Samantha Who?" and "NCIS," plays Noah Solloway's (Dominic West) sister Nina on "The Affair." Although she's only been featured in six episodes throughout the first three seasons, Esposito's character has impressed viewers, and there's no doubt people want to learn more about her and Noah's backstory. 
"Yes, we do want to know more about Nina!" Esposito said during a chat with The Huffington Post on Build Series this week. "Bring her back, Season 4. I would love it. I don't know anything now, but people were writing, 'We need Nina's point of view' ... We'd love to see Nina and her point of view, oh my God."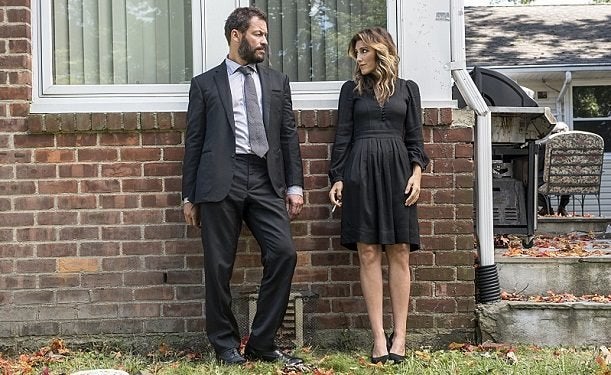 Esposito was offered a part on the series after Showtime learned what a big fan she was. The 43-year-old actress was willing to do just about anything to be involved with "The Affair," which also stars Ruth Wilson, Joshua Jackson and Maura Tierney. 
"I'm an enormous fan of the show," Esposito said. "I remember when it was on, I was like, 'I don't even know what to do with myself.' I remember speaking to my manager, saying, 'I don't care what I play, I don't care if I'm making treats for the crew, I just want to go and witness [it].' I think the writing is some of the best writing on TV ― I was blown away." 
She couldn't share much about the upcoming Season 3 finale, but Esposito did tells fans to expect the unexpected. 
"[I know] nothing. I'm just like you, I cannot wait," she said of watching the end of the season like any other viewer. "Every time I think I have it figured out, they switch things up. And that's just great writing. They're not afraid to make their leads be flawed ― very flawed ... and so many people shy away from playing those kind of characters or writing those kind of things, but they're human and that's why I think it's so great."
"So, I couldn't tell you [about the finale]," Esposito added, "It could go anywhere." 
"The Affair" finale airs Sunday at 10 p.m. ET on Showtime. Watch Jennifer Esposito's full Build Series interview below: 
Calling all HuffPost superfans!
Sign up for membership to become a founding member and help shape HuffPost's next chapter
BEFORE YOU GO
PHOTO GALLERY
The Ten TV Shows America Couldn't Get Enough Of In 2016