Jennifer Garner revealed she had to face some wild wardrobe challenges while filming "Daredevil."
In a new interview with Glamour, the actor shared how achieving her superhero look for her character Elektra in the 2003 film came with a price, including having to sport "chicken cutlet fake boobs."
"I was just this close to a wardrobe malfunction at all times," Garner shared of her body-hugging costumes. "There's not enough tape in the world to make this stuff safe."
The 51-year-old explained how her clothes were so tight that she had to be "cut out of and sewn into the pleather pants every time I had to pee."
Garner described the painstaking process of being removed from the pants as a whopping 45-minute ordeal.
For the record, she said she tried to minimize the lengthy process noting she "definitely held it" as long as she could while filming.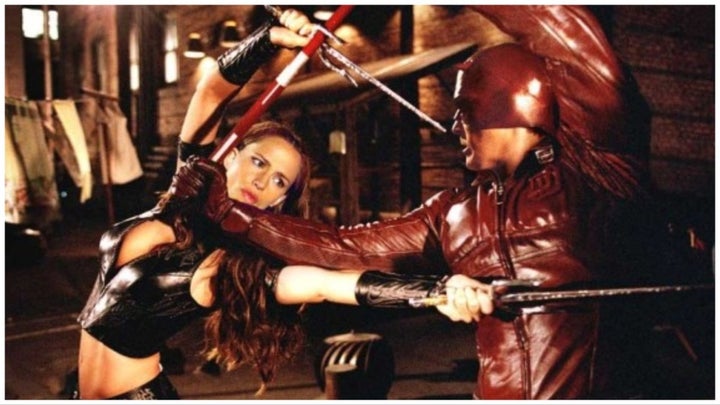 Elsewhere in the interview, the Marvel Cinematic Universe alum revealed she had to wear "so many chicken cutlet fake boobs" in order "to make Elektra's boobs."
"I think there were like three on each side of different sizes, and everything was pushed up and out," she added.
"I also had endless fittings ― endless fittings for the Elektra costume. The costume designer, James Acheson, would see me every Saturday. I would put the wig on, I would go to his studio… He would just build Elektra's look on me bit by bit by bit," Garner continued.
She said she was "so involved with the fittings" because of the complex nature of her character's costumes, so "I was able to advocate for myself what I was going to need to be able to move."
"I was in stunt rehearsal by then and [knew] what kind of support I needed in my shoes and support I needed in flexibility, [the support] I needed in the pants or whatever they were, to be able to fight because I fought. I fought a lot," she explained.
The "Alias" actor also first met her ex-husband Ben Affleck on the set of "Daredevil." The former pair share three children: 17-year-old Violet, 14-year-old Seraphina and 11-year-old Sam.
"Daredevil" spawned the spin-off "Elektra" about the dagger-toting assassin in 2005, but the movie ultimately tanked, earning a dismal 11% rating on Rotten Tomatoes.
Popular in the Community