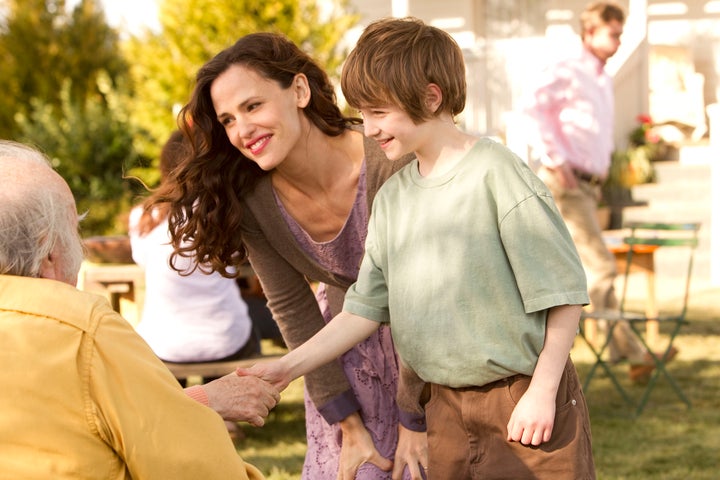 But it's her real, not fictional, parenting that she's been talking about in interviews lately. She made entertainment website headlines with her red carpet declaration to CNN this week that she is has "helicopter" tendencies, blaming that on "the times we live in now."
It is something else she has been saying, though, more nuanced than that headline, that caught my ear. With each child, she explained, she's become less intense, more relaxed. With six-year-old Violet, and three-year-old Seraphina, she said of her two oldest children with husband Ben Affleck, she really did "walk around with five different kinds of diaper cream, and seven changes of clothes." But with five-month-old son Samuel, she said "I toss a diaper in a purse and I'm good to go. I can figure the rest out as I go along. You just realize that none of it is that important. If the clothes are a little bit dirty, the kids are going to be all right."
She repeated much the same thing in a promotional video for the film, released on YouTube. Asked "What kind of Mom is Jen," by interviewer Andrew Freund, she answered:
It evolves all the time. With my first child, I was a little more like Cindy Green in this movie who is just obsessively trying to make sure her child is happy at every moment and control his environment and make sure he has everything he could possibly need, just a little bit neurotic, as many first time moms can be. Then you kind of learn to let go of some of that, that when you are working the hardest sometimes you are making it hardest for your child, and just to let them be a bit...you chill out a bit.
In other words, every child in the family gets a different version of the same parent -- a little greener (pun intended) a little wiser, a little more tired, or enthusiastic, or laid back.
This is not new to the age of helicoptering, of course, My sister is clearly the most stable of the three siblings in my family, because, she half jokes, my mother more or less ignored her and let her raise herself. I, in turn, regularly apologize to my oldest for being subject to my learning curve.
So while I had thought of this before, I had never thought of it the way Garner presents it -- in terms of the hovering that is emblematic of this latest generation of parents. We tend to paint today's parents with a broad, often inapplicable brush -- they hover, they bubblewrap, they infantalize.
But maybe it's more complicated than that.
Is "helicoptering" the way we parent nowadays? Or is it how we parent our older children?