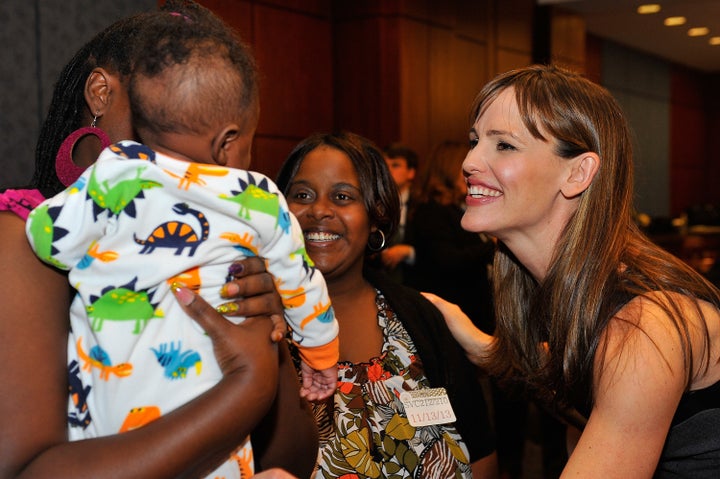 Jennifer Garner is willing to put her politics aside and work with President Donald Trump, if it means bettering the lives of some of the country's most at-risk youth. 
The liberal actress, who most recently campaigned for Hillary Clinton this past election, has made it her mission to support early education for poor rural children. As a board member of the Save the Children foundation for nearly a decade, Garner regularly visits Washington, D.C., to make appeals on behalf of communities like the rural West Virginia one she grew up in. 
This past week the "Alias" star ventured to the capital once again to meet with politicians and deliver a speech in front of the National Governors Association. A potential sit-down with the first daughter Ivanka Trump about funding for child care was even in the cards, until plans fell through. 
Unlike some of her Hollywood counterparts, Garner thinks bridging ties between the Trump administration and these communities is essential, considering the demographics of who voted him into office. For years, she's tirelessly worked to to fund reading and literacy programs and she has no plans on stopping now. 
"People felt like Trump really understood them, that he was going to come in and create jobs for them," Garner told The Washington Post. "They felt like they needed something to just turn everything upside down."
"I'm looking forward to helping him make good on what they saw as promises, a mandate from him, that he was going to make their lives better," she continued. "If he's willing to help the poor kids who got him elected, then let's do it. They certainly think he's going to." 
The Golden Globe winner acknowledges that many would prefer to "turn their back to this administration . . . [and] just wouldn't even want to engage," but she considers the cause a chance to make Trump follow through on the promises of his campaign. In Garner's eyes, childhood education is a "bobblehead issue" that many are happy to advocate for, but rarely back up their words with funding. 
"Everyone's nodding and couldn't agree more, and shaking your hand and want their picture," she said of about politicians support for children's issues. "But when the vote is cast, nobody's out there screaming and yelling for poor kids." 
With a handful of new movies on the horizon, three children at home and service trips around the country, Garner has a lot on her plate, but she joked that if invited she would happily broach the issue with Trump himself. 
 "Send me a ticket to Mar-a-Lago. I'm ready to go down and have a steak and a good chat," she said. "I really think it's great, if he's willing to help the poor kids who got him elected." 
REAL LIFE. REAL NEWS. REAL VOICES.
Help us tell more of the stories that matter from voices that too often remain unheard.
BEFORE YOU GO
PHOTO GALLERY
Jennifer Garner's Style Evolution