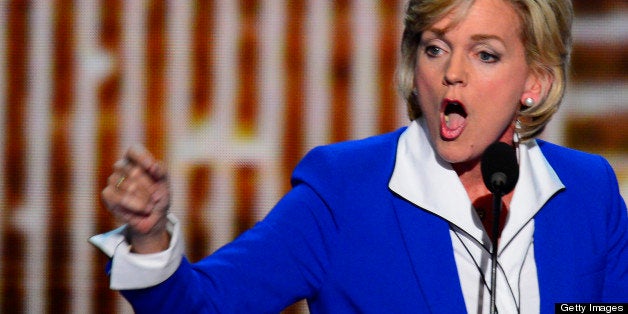 Fresh Dialogues recently sat down with Berkeley's Jennifer Granholm to find out about her big idea: An Amazing Race for clean energy and clean jobs. Let's face it, President Obama is struggling to get anything through Congress right now, never mind a national energy policy, so Granholm plans to create policy... from the bottom up.
Leveraging her experience in Michigan, where she attempted to transform the state's "rustbelt" image to "greenbelt" by investing heavily in clean energy and green jobs, she's seen the strategy's economic impact and is eager to keep the momentum going. This time, on a national basis.
Modeled after the Education Race to the Top (RTT), her clean energy idea is to offer a pot of money to incentivize all 50 states to compete and raise their clean energy standards to 80 percent by 2030. Just think: The Amazing Race for Clean Energy.
Her proposed budget? A cool $4.5 billion. According to her calculations in this video, that's less than one tenth of 1 percent of federal funding (and close to the RTT budget for education), however in today's economy, funding prospects look grim.
Granholm's Clean Energy Race to the Top sounds like a smart idea, but in these times of brutal belt tightening and sequestration, securing that funding looks like mission impossible. It will be fascinating to watch the debate unfold here and at her energetic TED talk; and see if she gets any traction for it during this congress.
It might not be perfect time for a Clean Energy Race to the Top, but don't expect the idea to wither and die. Granholm may be keeping a relatively low profile as a law professor at UC Berkeley these days, but if there's another Clinton (or Obama) in the White House in 2016 or beyond (I'm talking Hillary or Michelle), we may see Granholm taking a cabinet role. She's earning her stripes for a position as Energy Secretary, and that could one day make her big idea a reality.
REAL LIFE. REAL NEWS. REAL VOICES.
Help us tell more of the stories that matter from voices that too often remain unheard.