The Hunger Games actress became an internet darling this past year as everyone identified with her self-deprecating humor and brutal (yet sincere!) honesty. "If I don't have anything to do all day, I might not even put my pants on," she told Glamour in a 2012 photo shoot interview. Jennifer Lawrence "eats like a caveman," and it's one of her favorite parts of the day. She's the anti-Hollywood starlet -- and adored for it.
So, for all of you who don't have a Jennifer Lawrence Google alert set up already, we give you a roundup of her most lovable moments of the past year:

1. When she photobombed Sarah Jessica Parker.
2. When she tried to open mints.

(Popsugar)
3. When she realized Jeff Bridges was standing nearby.
4. When she did this on her way to accept an Oscar.
5. And then this, supposedly after a photographer made fun of her.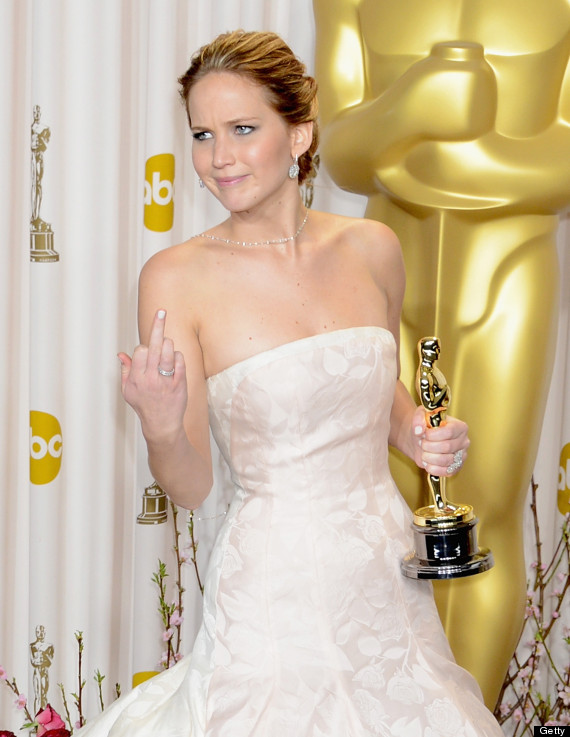 6. When she saw her family after the show.

(ET)
7. When she told Jimmy Kimmel about her latest doctor's appointment.

(Image: YouTube)
8. When she expressed this feeling perfectly...
Yeah, Silver Linings Playbook technically debuted in 2012, but we caught it after the new year, OKAY?
9. And got to say and do this.
10. When she was reminded of her first big role -- a high school mascot on Monk.

(YouTube)
11. When she announced that she was hungry.
12. Like, really hungry.
13. When we learned how much she likes pizza.

(Aol On)
14. When Jack Nicholson told her she looked like "an old girlfriend" ...and maybe a new one?

(ABC)
15. When she told us about shooting Catching Fire...
16. And shared her favorite part about filming with Josh Hutcherson.
17. When she spoke out against harsh body image standards...
18. And we realized we'd never catch her touting weight-loss fads.
19. When she spoke the truth about skincare.
20. When she was chosen as the face of Dior and said this.
21. When she was sitting in an interview with Jon Stewart.

(Image: The Daily Show)
22. When she told USA Today, "If anyone wants to know the weirdest thing, it's getting your hair cut and seeing it on the news..."
23. When she told Entertainment Weekly that farts are hilarious.
It gets better: "This is something my brothers did that now the boys at work are obsessed with. You cup it, and then you throw it in someone's face and say, 'Take a bite out of that cheeseburger!'"
24. When she shared her views on the performing arts with Vanity Fair.

(Image: YouTube)
25. When she told Glamour that she hates exercising.
She explained further: "I don't diet. I do exercise! But I don't diet. You can't work when you're hungry, you know?"
26. When she admitted to stalking John Stamos.

(Image: Conan)
27. When she made David Letterman sit under a pink blanket.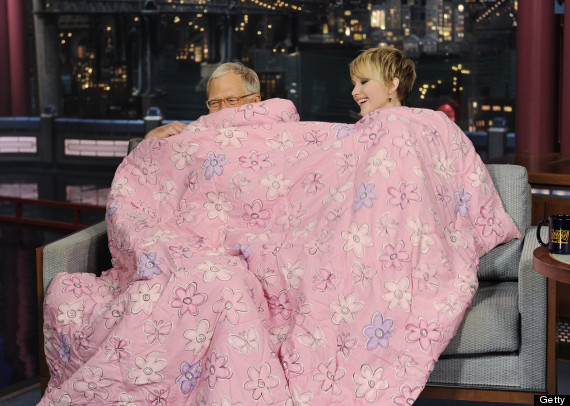 28. When she told Vogue about mothers.
29. When she made this awesome face...
30. And this one.
31. Seriously, this girl has the best facial expressions.
32. But she's still, like, really pretty.
Maybe we'll all start to hate her in 2014 -- as she fears -- but we can all agree that in 2013, at least, J-Law was a delight to watch.
REAL LIFE. REAL NEWS. REAL VOICES.
Help us tell more of the stories that matter from voices that too often remain unheard.
BEFORE YOU GO
PHOTO GALLERY
Jennifer Lawrence