Hoping to own Jennifer Lawrence's bra from "Silver Linings Playbook?" Well, you better hurry up -- time is running out!
Lawrence's teal sports bra and blue long-sleeved shirt -- the costume she wore during a dance practice scene in the film -- are up for auction on Nate Sander's website. With the current bid at $1,641, the winning bidder can expect to pay a hefty price for the worn clothes.
The online auction is set to close Thursday at 5 p.m. PT.
UPDATE: Sold! There were 14 total bids placed on J-Law's "Silver Linings" bra and pullover, with the winning bid coming in at $3,175. Her pants received 15 bids, going for $3,493. Her tank top (which is from Express, apparently) went for $624, and her coat went for $4,652.
"The whole world seems to be captivated by Jennifer Lawrence," Sanders said in a statement. "We estimated that each of her wardrobe pieces would bring between $500 to 1,500, but what happened is that dozens of bidders from all over the world furiously bid against each other. The highest item was her coat from the movie which sold for over $4,500. Even a simple tank top sold for over $600."
Or would you prefer one of these bras?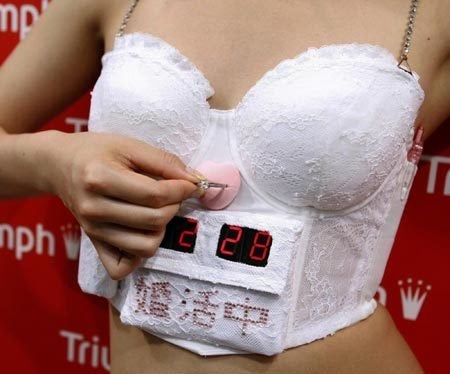 13 Bizarre Bras