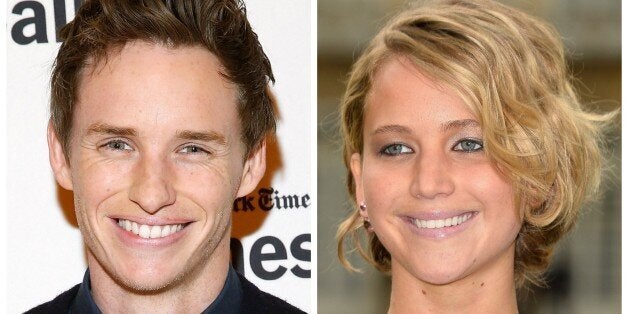 Ah, nothing brings two people together like good, old-fashioned reality television.
When Jennifer Lawrence sat down for a Q&A with Eddie Redmayne for Interview magazine's February 2015 issue, she quickly found out they had a lot more in common than their successful acting careers. Lawrence, an outspoken aficionado of reality television, thought she was "going to cry" when Redmayne confessed that he too was a "Real Housewives" fan.
The "Theory Of Everything" star, who just won a Golden Globe for his performance in the film, told Lawrence about the stark contrast between playing his character, physicist Stephen Hawking, and his everyday life:
"I come home from trying to pretend to know about astronomy and physics all day and turn on 'The Real Housewives.'"
And that's just about when 24-year-old actress lost it: "Oh my god! I feel like I'm going to cry!"
"I've been a closet lover of faux-reality TV since 'The Hills,'" Redmayne continued. "It's bad."
When Lawrence asked Redmayne what his favorite "shitty reality TV show" is, he replied with an MTV throwback:
"I'm a bit vintage. I go back to 'The Hills.' Occasionally Audrina [Patridge] or Whitney [Port] will be on a website that I shouldn't be looking at, and I'm like, 'You know, I just want to check that they're doing all right, because it's my youth.'"
(Hey Eddie, just in case you're wondering what the "Laguna Beach" cast is up to ... we're just going to leave this here.)
Popular in the Community