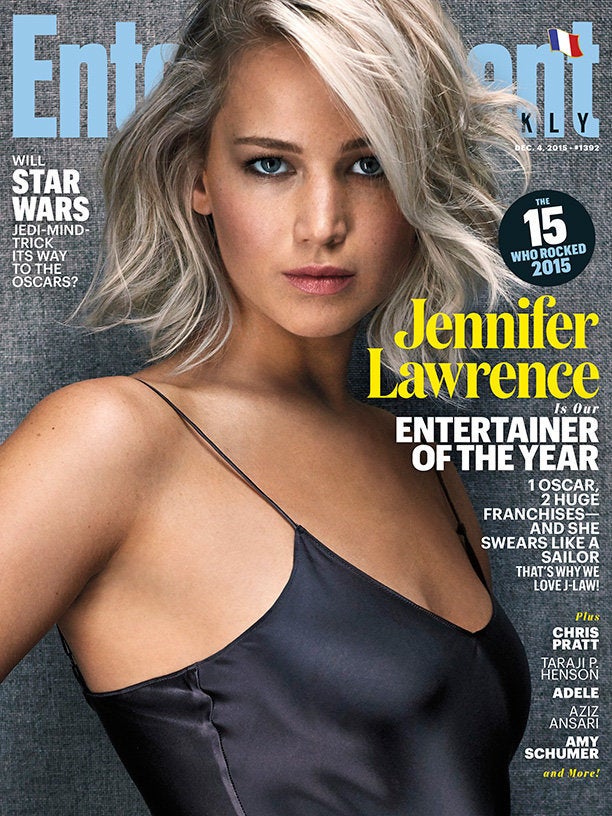 Well, who else would they give it to?
Entertainment Weekly has named actress Jennifer Lawrence as the Entertainer of the Year. In 2015, the 25-year-old manned the final chapter of the epic "Hunger Games" saga,  starred in "Joy," another David O. Russell-helmed vehicle with some serious Oscar potential, and completed a screenplay with fellow funny woman Amy Schumer. 
In fact, Schumer is probably the only other contender for the honor, considering the comedian's banner year. 
The issue hits newsstands Tuesday. In the accompanying interview, in typical JLaw fashion, the actress is unafraid to speak her mind when it comes to handling success, famous friendships and how "everything in [her] life needs to be real."
On saying goodbye to "The Hunger Games" 
"It's crazy … I  signed on to these projects when I was 20 years old. I remember being like, 'Oh, my God, I'm going to be 25 when I'm finished.' It seemed so far away. It does feel over. It didn't for a while and I didn't think it would ever sink in, but it has now."
How fame has changed her life
"I can speak from personal experience. People start to feel a lot less guilty when you become bigger or have more money ... People feel less guilty because it's like stealing a Snickers from Duane Reade. People forget about the personal drain or attack that you feel."
What it's like to be in her squad
"I have a very small circle. The moment I feel like someone is using me or is in it for the wrong reasons, I have zero guilt about just cutting them the f**k out of my life ... My bulls**t detector is phenomenal. None of my friends bulls**t me. Everything in my life has to be real."
Why her "Hunger Games" co-stars know her the best
"There's just crazy s**t you would never tell anybody, but you do because you're sitting on a set together for 16 hours a day. Josh [Hutcherson], Liam [Hemsworth] Woody [Harrelson] -- we know each other. These people know more about me than anybody on the planet! So it's bizarre for it to end. It does feel over."
REAL LIFE. REAL NEWS. REAL VOICES.
Help us tell more of the stories that matter from voices that too often remain unheard.