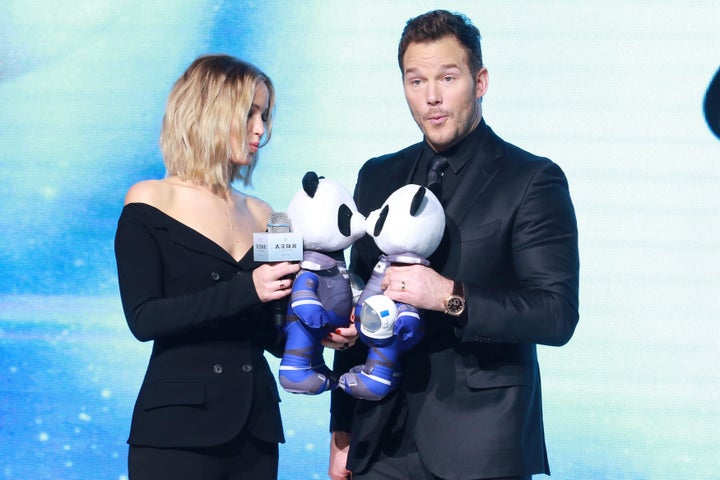 For most people, the prospect of sharing a sex scene with Chris Pratt would elicit responses like jumping for joy, shouting from the rooftops, submitting an announcement to the local paper, etc. 
What did Jennifer Lawrence do? Well, why don't we let the "Hunger Games" actress explain that in her own words. 
In a recent Hollywood Reporter roundtable interview with fellow actresses Cate Blanchett, Brie Larson, Charlotte Rampling, Carey Mulligan, Kate Winslet, Jane Fonda and Helen Mirren, Lawrence opened up about how far she's willing to go on camera. 
She went on to mention that her recent sex scene for the movie "Passengers" with Chris Pratt might surpass her time in the Ozarks, in terms of making her uncomfortable.
"I had my first real sex scene a couple weeks ago and it was really bizarre," she told the group of actresses. "It was really weird ... everything was done right; nobody did anything wrong. It's just a bizarre experience."
Best thing to calm JLaw's nerves? Alcohol, and lots of it.  
"I got really, really drunk," she continued. "But then that led to more anxiety when I got home because I was like, 'What have I done? I don't know.' And he was married. And it was going to be my first time kissing a married man, and guilt is the worst feeling in your stomach. And I knew it was my job, but I couldn't tell my stomach that. So I called my mom, and I was like, 'Will you just tell me it's OK?' It was just very vulnerable.  And you don't know what's too much. You want to do it real, you want everything to be real, but then … That was the most vulnerable I've ever been."
We need to hear Chris Pratt's side of the story. 
Here's hoping "Passengers" won't fall into "The Mexican" trap -- too much star power, kind of crappy movie.
PHOTO GALLERY
Celebrity News & Photos
Calling all HuffPost superfans!
Sign up for membership to become a founding member and help shape HuffPost's next chapter