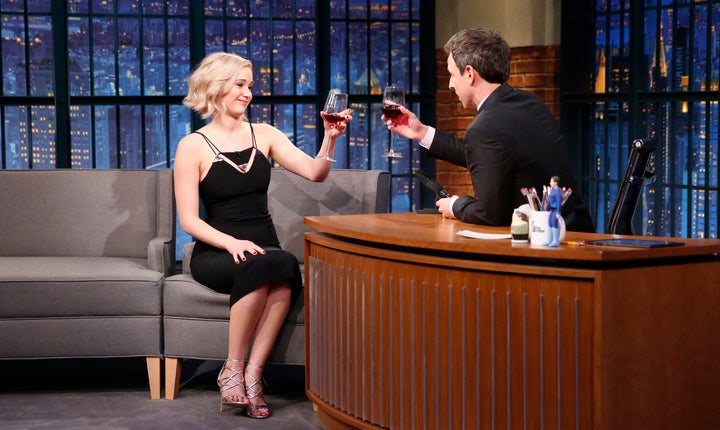 Jennifer Lawrence hasn't shied away from talking about her first sex scene, which just so happens to be with Chris Pratt. 
Last month she revealed to The Hollywood Reporter that she got "really, really drunk" before shooting the steamy scene for the upcoming sci-fi romance "Passengers" and said that the whole situation was just "bizarre." 
Last night on "Late Night with Seth Meyers," the "Joy" star opened up about the scene even more to host Seth Meyers, admitting that she was nervous for multiple reasons, one of which was coming across as a little too eager in the bedroom. 
She explained, "With sex scenes, you don't know what to do. You're like, is it enough? Is it -- your worst nightmare -- is it too much? Are they going to be like, 'Whoa, whoa, whoa!'"
Prior to the sex scene talk, JLaw told Seth about a time years ago when she had a huge crush on him, only to find out he was engaged (to Alexi Ashe).
"Years ago, I did 'SNL.' You were working there, I don't know what you did," JLaw told Seth. "I had a really big crush on you and so I had this whole plan, all week I was like, 'He's going to ask me out, he's totally going to ask me out.'"
She continued, "Then later in the week I was like, 'I'm going to ask him out.' I had created the romance in my head because I'm delusional. And so I was like, 'OK. You know what? I'm doing it. I'm doing it!'" 
Luckily, the "Joy" actress and Golden Globe nominee learned that Seth was, in fact, in a serious relationship with his fiancée. 
"And thank god I talked to the wardrobe lady and I was like, 'I think I'm going to ask Seth Meyers out. I'm going to give him my number,'" she said, adding, "And she was like, 'Honey, he's engaged.'"
Everything worked out for the best though, as Seth and Alexi are now married. 
PHOTO GALLERY
Jennifer Lawrence: 100 Sexiest Pics
Calling all HuffPost superfans!
Sign up for membership to become a founding member and help shape HuffPost's next chapter