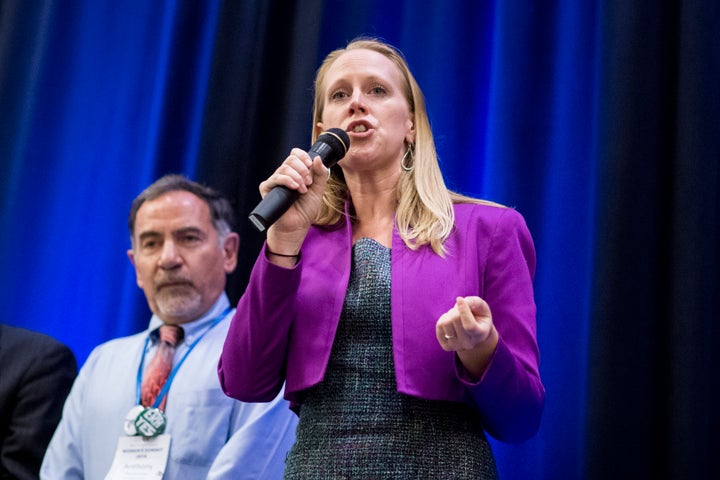 Progressive activist Jennifer Lewis quietly clinched the Democratic nomination for Virginia's 6th Congressional District in June, handily defeating three opponents, including an establishment favorite with twice as much campaign cash.
Lewis, 36, a mental health professional and prominent opponent of the Atlantic Coast Pipeline, maintains that she can defeat her Republican opponent, state Del. Ben Cline, by appealing to voters of all parties ― as well as disenchanted nonvoters ― fed up with money in politics and hungry for affordable health care and clean water.
Lewis, a Waynesboro resident originally from upstate New York, supports Medicare for all, a $15 per hour minimum wage, legal marijuana, tougher bank regulations and an end to corporate "personhood."
HuffPost spoke with Lewis about her political evolution, primary victory, plans to win in a Republican district and priorities if she is elected.
How did you become progressive?
A lot of it has to do with my upbringing. Growing up on a dairy farm, you're connected to the land that provides for you and your family, so you want to take care of the land as much as you can. I'm currently on the Headwaters Soil and Water Conservation District's board and I've always seen the importance of taking care of the environment.
I also grew up with that feeling that things aren't fair in our society. Financially speaking, we were not well off at all. I grew up getting free lunches at school. I grew up with the sense of always seeing the rich getting richer and the poor staying stagnant or getting worse.
How did you win your primary?
We had an intense ground game. We did a massive get-out-the-vote campaign where we printed off these Post-it notes that had all the details of the primary and what time you could vote and a little bit about me.
We put stickers on everyone's doors. I put up 470 myself the day before the primary in Staunton. I went home with bloody, blistery feet at the end of the day.
And our platform spoke to a lot of people in the 6th District who haven't seen their status in society change in the last 25 years under the representation of Bob Goodlatte.
We're speaking about equality for all, health care for all, good education for all, rural broadband for all. We are this very inclusive campaign that resonated with a lot of people who are ready for bold, progressive change in their lives and in their district.
"We're talking about issues that affect people's everyday lives, and that is resonating with people."
I understand why people voted for Donald Trump. I really do. People were sick of the establishment candidates, sick of the establishment politics, and they unfortunately believed Donald Trump that he was gonna drain the swamp, that he was an independent candidate who wasn't attached to special interests. Unfortunately, that hasn't panned out.
We've got this great opportunity to talk to discouraged voters who are upset about the continuing issue of the pay-to-play system, even with Donald Trump ― perhaps even more so with Donald Trump.
People are ready for a change.
I have already heard from people outside the party who are already supporting me. Yesterday, I heard from a conservative Republican who is throwing support behind me because of the immigration issue. He can't get behind a candidate who is for separating kids from their parents at the border.
Just one other thing I would like to point out: Less than half the population in the district shows up to vote. That's why I'm so eager to get out there this summer and this fall and knock on every door I can knock on.
Why not run as a moderate?
We have all of these thoughts and ideas about how the political system works. But Trump threw all of that out the window when he won. Most of the pundits got it wrong. Everybody thought Hillary Clinton had it in the bag. And she didn't.
People are ready for a change. I am getting a lot of support from libertarians who love my stance on private property rights and eminent domain, and also that I want to legalize hemp and marijuana. We're talking about issues that affect people's everyday lives, and that is resonating with people.
When I talk to people, I'm not introducing myself as, "Hey I'm a progressive running for Congress." I'm saying, "Hey, I'm Jennifer Lewis. What are some issues you care about? Let's talk." And that just opens up the conversation, and then I can talk to them about how I would fix that problem. Being a farmer's daughter is obviously helpful in breaking down some of those walls of farmers thinking they can't talk about some of those issues.
You've vocally opposed the Atlantic Coast Pipeline, which is backed by many Virginia Democrats, including Gov. Ralph Northam (D). How much support do you expect from the Democratic Party of Virginia?
Interestingly enough, all of the district's county Democratic committees have signed the letter asking Northam, [Lt. Gov. Justin] Fairfax and [Attorney General Mark] Herring to stop these pipelines.
I am actually representing more of the Democrats and Democratic committees than the governor, unfortunately, on this issue. I support our governor on a lot of the other issues he's working on. It's just this one issue that I disagree with him on.
Republicans, independents and libertarians see that as: I don't blindly follow a party.
I will always put the 6th District ahead of everything else. The folks of the 6th District have said loudly and clearly that they don't want these pipelines.
"Everything else that we care about ― whether it's health care, whether it's the pipelines, whether it's education ― you can trace it all back to money in politics."
Is your opposition to the pipeline rooted in a concern for the environment or for property rights?
It's one-third private property rights and the use of eminent domain and it's one-third the environment. Here in Augusta County, I'm on the Headwaters Soil and Water Conservation Board. We are called the Headwaters because our water goes to everybody downstream and provides safe, clean, pristine drinking water for millions of people downstream from us. We have this unique responsibility to make sure that the water we send to everybody else is safe and clean and they're not gonna get sick from it.
But then the other one-third of why I'm against these pipelines is the political corruption of it all. You see Dominion [Energy Virginia] writing these checks to Republicans and Democrats, and then they get friendly legislation. The running joke is Dominion owns Virginia. It's not a funny joke. It's very sick and it's very wrong. It's not how democracy is supposed to work.
The reason that campaign finance reform and anti-corruption stuff is my No. 1 issue in this campaign is because everything else that we care about ― whether it's health care, whether it's the pipelines, whether it's education ― you can trace it all back to money in politics. And we need to get rid of that corrupt pay-to-play system and restore democracy so that each vote counts and nothing else.
Do you have a second priority beyond campaign finance reform?
When I go around and talk to voters, health care is people's No. 1 issue. And again, I go back to ― if we fix the campaign finance reform, we will fix a lot of the health care issues.
The reason that we have such high drug prices is the pharmaceutical lobby. And why don't we have health care for all? It's because of the insurance lobby. That's why I made campaign finance reform my No. 1 issue, because all the issues follow that and are all connected to that.
Would you welcome Bernie Sanders to campaign with you?
Would you vote for Nancy Pelosi as speaker?
I really respect Nancy Pelosi and her service and dedication to this country 100 percent. However, I think it's time for new leadership. Change is always good, and a breath of fresh air is what the Democratic Party needs.
This interview has been edited and condensed.
Before You Go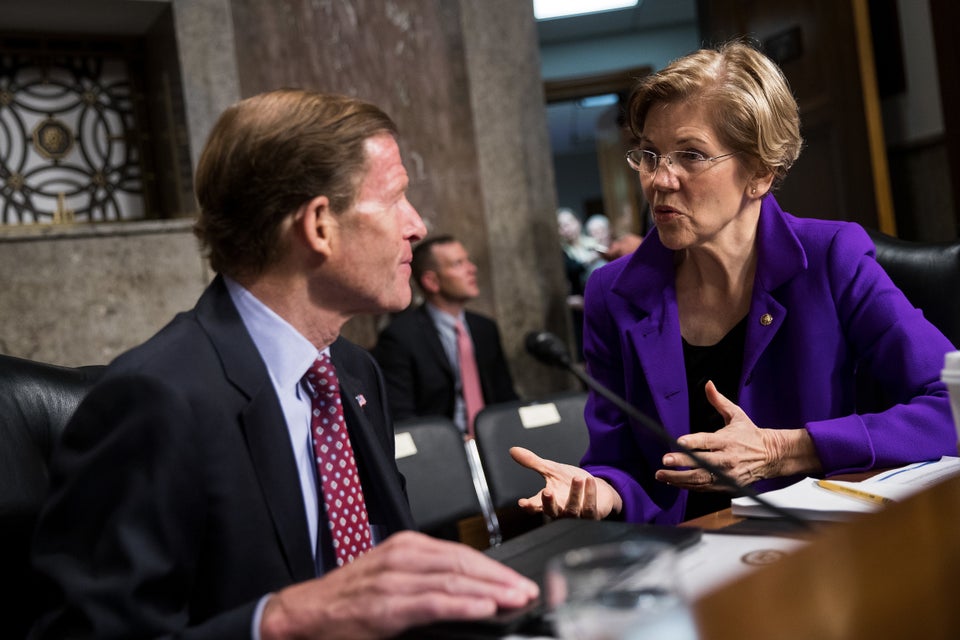 2017 Scenes From Congress & Capitol Hill
Popular in the Community