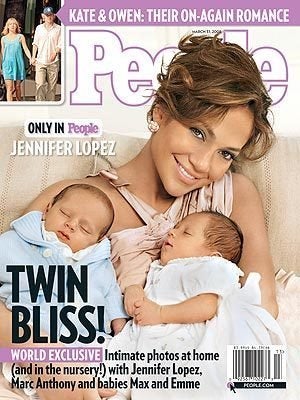 Thursday at 7 am People.com debuted its new cover with Jennifer Lopez and newborn twins Max and Emme on the cover. Lopez and husband Marc Anthony reportedly got up to $6M for snaps of the twins, born February 22 on Long Island. One condition of the photo sale was reportedly that the glossy would stop referring to Lopez as JLo. In recent weeks People has featured expensive photospreads of Christina Aguilera and Nicole Richie with their babies on the cover, but none as hyped as the Lopez spread. All day Wednesday People.com featured a breaking news banner of sorts, telling readers to come back Thursday at 7 am for their first look at the "world exclusive."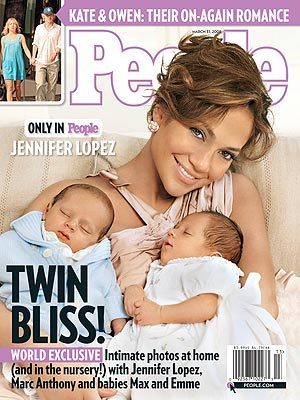 From the article accompanying the cover photo:
This week's issue of PEOPLE, on newsstands Friday, features 12 pages of new photos of the pop star with husband Marc Anthony and their 1-month-old bundles of joy inside their Long Island home and nursery.

The happy new parents spoke candidly to PEOPLE about the pregnancy, addressing everything from Jennifer's weight gain to rumors of infertility. For all the details, pick up the new issue, on newsstands Friday.
Also of note, the picture of rekindled couple Kate Hudson and Owen Wilson holding hands on the top of the cover reportedly got $100,000.
Popular in the Community