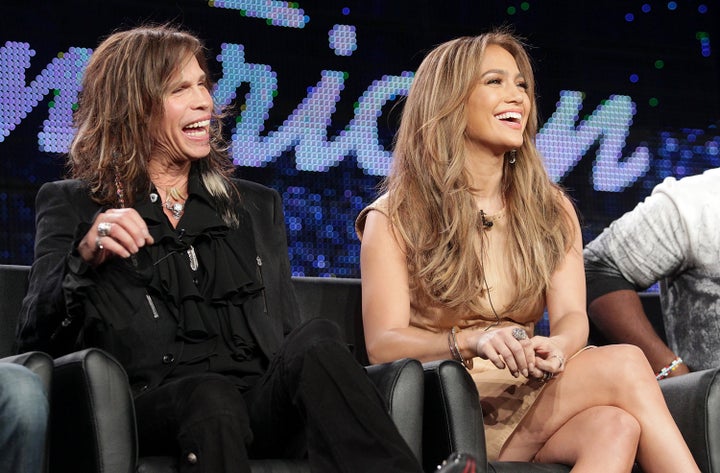 Can't wait until the next season of 'American Idol' to get your Jennifer Lopez and Steven Tyler fix? You don't have to, thanks to Ryan Seacrest and Clear Channel Radio.
The media company announced that Seacrest will host its brand new music fest -- dubbed the iHeartRadio Music Festival after the popular phone app -- at the MGM Grand in Las Vegas on September 23 and 24, according to The Hollywood Reporter.
With Seacrest on board, the next logical additions to the set list were his 'American Idol' buddies Lopez and Tyler, both of whom are set to perform at the inaugural event.
Clear Channel says it will continue to announce acts throughout the summer, but it looks like they've already nabbed some music royalty for the two-day festival, including Lady Gaga, Nicki Minaj, Coldpay, John Mayer, The Black Eyed Peas (who just announced they're taking a break in-between albums), Carrie Underwood and Bruno Mars.
"This is a once in a generation gathering of artists and fans from all over the country for a true, must-see music event," said Seacrest, who hosts 'On Air With Ryan Seacrest' and the 'American Top 40' radio programs, in addition to E! News and 'Idol.' "The iHeartRadio Music Festival, like the iHeartRadio digital radio service, will showcase top artists across all genres of music. Listeners from all over America will travel to Las Vegas to celebrate the next generation of iHeart Radio, while seeing the greatest musicians in the world on one stage."
So after the iHeartRadio festival, will we be seeing more of Lopez on the small screen? We're still not 100 percent certain.
While Tyler has signed back on for the next season of 'Idol,' along with 'AI' vet Randy Jackson, Lopez is still mum on whether or not she'll return.
"I don't know. I haven't been forced to make a decision and I'm glad about that because honestly I'm very on the fence about it," she told BBC Radio last month.
According E! News, sources claim it's a done deal -- Lopez will be back at the judging table and we should expect an announcement this week.
REAL LIFE. REAL NEWS. REAL VOICES.
Help us tell more of the stories that matter from voices that too often remain unheard.