Jennifer Love Hewitt plays a single mom turned prostitute in the new Lifetime series "The Client List," but her curves proved too much for some.
Fishbowl L.A. first reported that the actress received a digital breast reduction in an advertisement for the show found in Entertainment Weekly, while her natural curves remained untouched in an ad in The Hollywood Reporter.
The 33-year-old is known for her ample curves and even she admitted she was surprised to see them nearly vanish in the Photoshopped ad.
Hewitt likely isn't too happy that someone at Lifetime or Entertainment Weekly thought her boobs needed to be reduced, as she recently told Maxim magazine, "It's horrible to say, but I like my boobs. They've always served me well. They're good."
More photoshopped movie posters, ads and magazine covers: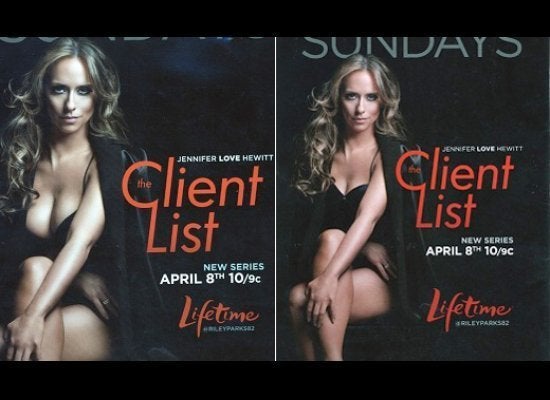 photoshop fails (CLONED)(CLONED)
Related
Popular in the Community