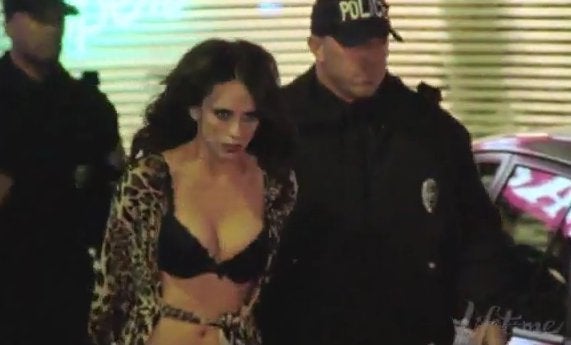 Jennifer Love Hewitt takes to the small screen as a Southern mom turned prostitute on Lifetime's 'The Client List' July 19 (watch the trailer below). The movie is based on the true story of Samantha Horton, a woman who starting turning tricks to get her family through the recession and brought down a high-profile list of clients after she was busted.
During a conference call with The Huffington Post, Jennifer talked about being empowered by playing a prostitute and said it was her favorite role to date rivaled only by that of Audrey Hepburn (in a 2000 made-for-tv biopic). She also discussed the trials of the stripper pole and preempted any criticism of her body, which looks great in an array of hooker costumes. Here is what Jennifer had to say:
On feeling empowered:
"This is real stuff we're dealing with. It's usually the male in the household that has to go out and do things for his family, and I loved how this was about female empowerment."
On becoming a prostitute:
"I definitely think this was emotionally one of the hardest thing I ever had to do. It was a world I didn't understand and it was a world I was judgmental of."
On wearing hooker lingerie:
"I didn't get that much time to work out for the project. I feel like in these kinds of movies where girls wear lingerie you wait for that moment where she takes off her clothes and reveals these chiseled abs, but that never happened in this movie. There were definitely moments when I thought, 'Oh my god I so wish I'd had some time to get to the gym,' but Sam didn't know this was coming either. It was a surprise for her."
On pole dancing:
"They teach you how to center in on your own sexuality, and what it's like to be in a power position... I was so bruised and battered. It was really, really hard but so empowering. It makes you feel so strong. I have a pole in my house now and it's a part of my workout regimen."
On playing the cheater after she has been cheated on in real life:
"For Sam it never felt like cheating. I think it felt like helping her family. Had she thought of it as cheating I don't know if she would have made a different decision. The moment when she has to come clean to her husband was very intense. Because I have been through that moment, it was a very tough scene to do. But it was the one I understood the most because I get what it feels like."
On what she's learned from being single:
"I'm learning better perspectives and balance in relationships. I think the biggest thing I've learned it is so much more important that you love yourself before you love someone else. Because two people who are really good at loving but don't have a lot of center - it just doesn't work. And you don't choose the best people for you."
On babies:
"I would love to have babies. I'm obsessed with babies. My brother's getting ready to have his first baby, and I'm so excited because I can secretly pretend to have babies."
WATCH:
Calling all HuffPost superfans!
Sign up for membership to become a founding member and help shape HuffPost's next chapter