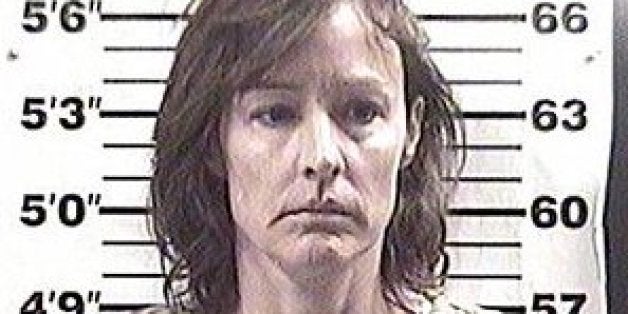 UPDATE 9-11-2014: The assault charge against Jennifer McCarthy was dismissed in March.
This isn't exactly poetic justice.
Jennifer McCarthy, the ex-wife of Pulitzer Prize-winning author Cormac McCarthy, made headlines this week when she was accused of whipping a gun out of her vagina and threatening her boyfriend during an argument about space aliens. In a statement and 911 call she released yesterday, McCarthy says she was the real victim.
The 48-year-old Santa Fe, N.M. woman says she called 911 "after having been choked, pushed to the floor and hit in the face by a drunken Mark Paleologo on Saturday morning following a silly argument the evening before."
Paleologo and deputies say McCarthy got into a dispute last Saturday with her 53-year-old lover over space aliens. McCarthy left her house and returned in lingerie, allegedly packing a handgun in her vagina. She pulled it out after some simulated sex, then asked Paleologo, "Who is crazy, you or me?"
That's when she allegedly pointed the gun at his head. Paleologo says he wrestled the gun away from her before the 911 call.
In her statement, McCarthy tried to downplay the allegations in the report:
"My call to 911 obviously de-escalated the situation and at that point I thought the matter was resolved and did not require further law enforcement attention. Consequently, I tried to protect Mr. Paleologo and minimized the attack to the officer.

At no time did I point a gun at Mr. Paleologo. At no time did I place a gun or any weapon anywhere in my body.
Unfortunately, Mark's preposterous version of events was repeated in the complaint and resulted in my arrest."
McCarthy was charged with aggravated assault on a household member.
Popular in the Community