On Saturday morning, Jennifer Scollin woke up with terrible stomach pains. She thought she had contracted a bug of some sort and decided to make an appointment with her doctor to check it out. But it turns out she was in labor. Her second child was about to be born, and she says she had no idea she was even pregnant.
Scollin and her boyfriend called emergency services, and the mom soon gave birth to a healthy, 9-pound baby boy in an ambulance parked in her driveway. "Two pushes and he was out," she told the Advocate.
According to an ABC News video, Scollin had not gained much weight while she was pregnant and had not exhibited any tell-tale pregnancy signs. She reportedly continued to menstruate until about a month ago.
Though surprise births like Scollin's may strike some as bizarre, they are actually not that uncommon. According to a 2011 blog post by science writer Jena Pincott, 1 in 2,500 women don't realize they're about to have a baby until they go into labor.
Last June, 33-year-old mom Trish Staine made headlines after the surprise birth of her third child. Staine told The Associated Press that she had no clue she was pregnant, until she went into labor, that is. Not only had her husband had a vasectomy, but she said she hadn't gained any weight or felt fetal movement in the months before her son's unexpected birth.
"I felt like I was dying. I didn't know what was going on," she told the news outlet at the time.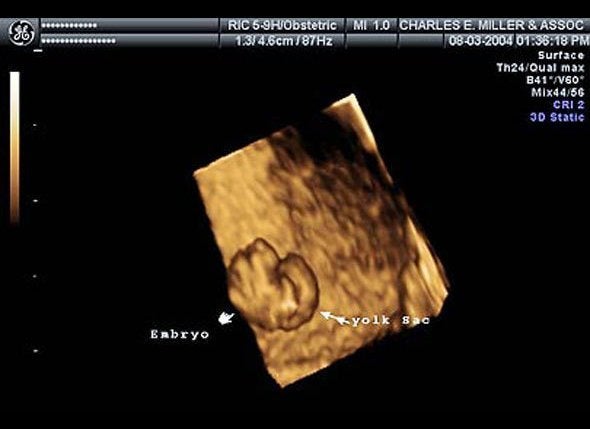 Pregnancy Week By Week