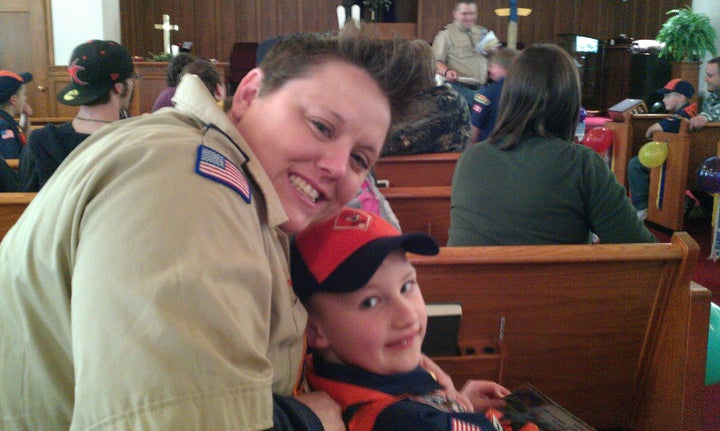 Earlier this week, a story emerged out of Ohio that a Den Mother (a parent leader of Cub Scouts, the Boy Scouts of America's program for younger boys) was forced to resign from her position explicitly because she is a lesbian woman. This is merely the latest reminder of the BSA's long-standing national policy that disallows the participation of "avowed homosexuals" as adult leaders. Similar to the United States government, this is a policy that has been codified at the national level, but is left to local Boy Scout councils to enforce.
I know this because my moms, too, are lesbian parents, and as an Eagle Scout (the highest rank the BSA has to offer) I am acutely aware of the effects this policy has on families like mine. I joined the Cub Scouts when I was just 6 years old, at the lowest rank on the totem pole: Tiger Cub. The fact that my moms were lesbians was controversial in this conservative, central Wisconsin town of 20,000, but the Cub Scout Pack (the equivalent of a Boy Scout Troop) decided to adopt a wait-and-see approach.
Two years later, my moms had become a regular presence at our Pack meetings, offering their thoughts and advice. Slowly, the other parents learned that my moms were not, in fact, insidious agents advancing some nefarious agenda; they were simply concerned with making sure their son (me!) had an enjoyable and enriching experience in the Scouting program -- and this sounded strangely familiar to the other parents.
In 1998 our Pack had grown so much that they needed another adult leader, a Den Leader, to help with the boys in my age group. No other parents stepped up, so Jackie, my short mom, volunteered and became Pack 381's first lesbian Den Mother.
A mama grizzly, if you will.
As I describe in my forthcoming book My Two Moms: Lessons of Love, Strength, and What Makes a Family, Scouting was an integral part of my development as a young man. In the Scouts, with my moms often leading the way, I learned all kinds of vital skills, personal habits, and core values that continue to define me even today, some 15 years after I joined the Cub Scouts and four years after reaching Eagle Scout.
That the Boy Scouts of America continue to engage in blind discrimination, fixated on the identity of its adult leaders instead of the content of their characters, is both disappointing and discouraging. The Boy Scouts have otherwise codified bravery into its value system, maintained a policy of religious diversity, and stressed the importance of self-enrichment instead of passing judgment on others. It provided an experience that I found to be incredibly beneficial and an experience of which my mothers were thrilled to be a part.
As the fine mothers and fathers of Pack 381 learned all those years ago, and as I suspect the parents in Ohio would have discovered, given more time, and as President Roosevelt once taught us, the only thing we have to fear is fear itself.
I learned in the Boy Scouts that bravery is not the absence of fear but the mastery of fear. But as long as this policy remains the official position of the BSA, that lesson will ring hollow. I learned in the Boy Scouts the importance of standing up for what's right.
If only the BSA were willing to do the same.
Popular in the Community