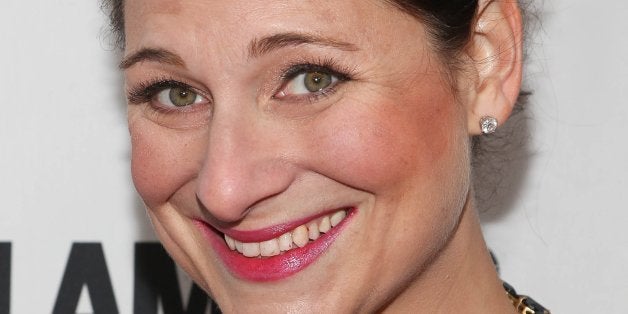 At the Book Expo America conference in New York City on Friday, author Jennifer Weiner laid out in no uncertain terms the position in which most female authors find themselves. "Women are put in the explicit position of, 'do I want respect or do I want readers?'" said the bestselling novelist. "You can't have both."
On a panel which also included New York Times Book Review editor Pamela Paul, Grand Central Publishing VP Deb Futter and William Morrow executive editor Rachel Kahan, The New Yorker staff writer Rebecca Mead led the four powerhouse women in a discussion on the complicated territory of marketing women's literature to today's audiences -- "women's literature" being that tricky animal that falls somewhere both between and in the genres of both commercial and literary fiction. Weiner, many of whose bestselling novels themselves feature the hallmark "chick-lit" design elements of pink coloring and faceless female body parts, expressed her own dismay at the differences between how men and women are sold to. "Women read everything because we're taught to," she said, as the other panelists nodded in consensus. "Men have been taught to look at bodies of work and say 'not for me' -- jewel tones: yes. Pastels: no."
She relayed the story of seeing Joyce Carol Oates' hardcover edition of I'll Take You There in a gender-neutral design, but when the paperback was released, the new cover design was flush with flowers and other feminizing details. "I saw that cover, and -- I think I got my period a little, just looking at it," Weiner joked. As the audience laughter died down, Weiner mused that while women are not dissuaded or shamed by reading thrillers by male authors, the covers of which often feature blood, bullet holes and other "masculine" imagery, "Why won't a man pick up a book with flowers (on it)?"
The problem, as the panel discussed, is not simply about feminism or political correctness or ridding the reading world of sexism. All those issues get tied up and skewed within the single driving force of publishing: what sells.
Futter remarked from the publishing perspective, "We jacket the book for the book. You have to find a balance between one way and another, and we haven't found that yet. You can't disguise a book. You have to signal what it is." She continued, "We have an obligation to sell books. We have to try to hit our target audience. Is it OK that we're marketing to women? Is that sexist or stereotypical?"
But as Kahan noted later in the conversation, the marketing of and to women through media in general, while continuing on the path of progression, does so slowly. She cited the Lean-In Foundation's recent campaign with Getty Images to integrate more realistic imagery of women in the workplace as one example of the larger issue at hand. "We're hobbled by what's out there," Kahan said. "There needs to be a shift of what we see as that shorthand. We need to change the stereotype."
Calling all HuffPost superfans!
Sign up for membership to become a founding member and help shape HuffPost's next chapter