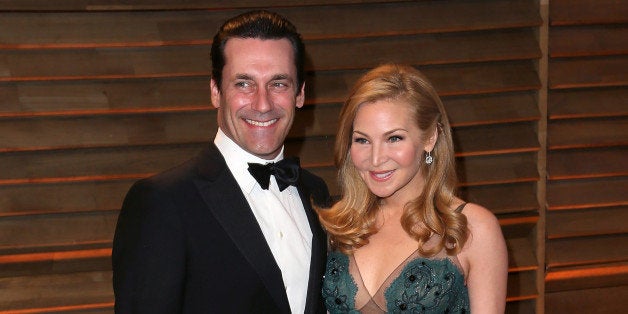 Mad Men may be off the air, but fans are still hungry for gossip about tall drink of water Jon Hamm. Hence why the actor and his longtime girlfriend, director/writer/actress Jennifer Westfeldt, publicly announced their split after nearly two decades together.
"With great sadness, we have decided to separate, after 18 years of love and shared history," the couple confirmed to People in a joint statement on Monday. "We will continue to be supportive of each other in every way possible moving forward."
A cursory Google search shows some news outlets reported this story with as much tact and grace as possible: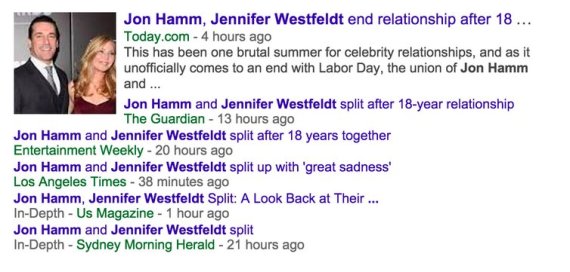 Heck, even TMZ and Perez Hilton--celebrity gossip blogs infamous for their poor taste--used acceptable headlines.
But The Hollywood Reporter took a different approach by omitting Westfeldt's name in their headline, reducing her to just being Hamm's girlfriend:
Post-Mad Men, Hamm is without a doubt more well-known. But even the most cursory IMDb or even Wikipedia search shows that Westfeldt is far more than just a celebrity ex-girlfriend. In fact, for most of their adult lives prior to Mad Men, Westfeldt was the far more successful half of the couple (namely, for writing and starring in Kissing Jessica Stein in 2001).
Of course, the good people of Twitter responded immediately:
The omission is reminiscent of the treatment of Amal Clooney, a lauded human rights lawyer who happens to be married to a very famous George. When the couple married last year, publications ranging from the BBC to the Guardian reported the story with headlines like "Film star George Clooney marries in Venice." One can understand why a site called the Business Woman Media cheekily flipped things around and used the headline: "Internationally acclaimed barrister Amal Alamuddin marries an actor."
So now seems as good a time as ever to briefly share some of Westfeldt's many accomplishments, which any reporter can easily find on Wikipedia:
Wrote the films Kissing Jessica Stein, Ira & Abby, and Friends with Kids
Directed and starred in Friends with Kids
Starred in over 25 off-Broadway plays
Won the 2003 GLAAD Media Award
Tony Award Nominee
Yale graduate
And for future reference, here are some alternate headlines The Hollywood Reporter can use about Hamm:
"Salon.com 2007 Sexiest Man Living splits from 2003 GLAAD Media Award winner"
"One time Girls guest star splits from one time contestant on The Date"
"Gap scarf ad breaks up"
"Emmy-nominee and Tony-nominee split"
"Jennifer Westfeldt and Jon Hamm split"
"Two actors split"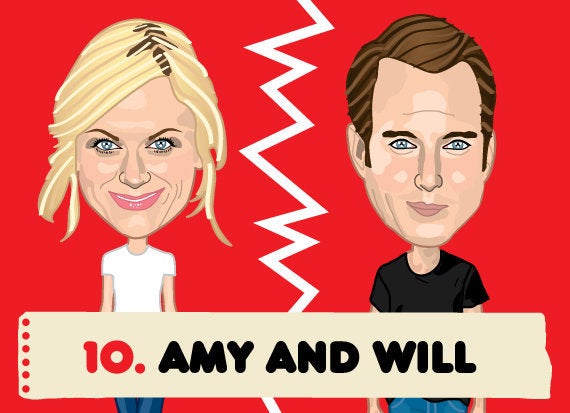 Most Shocking Celebrity Breakups