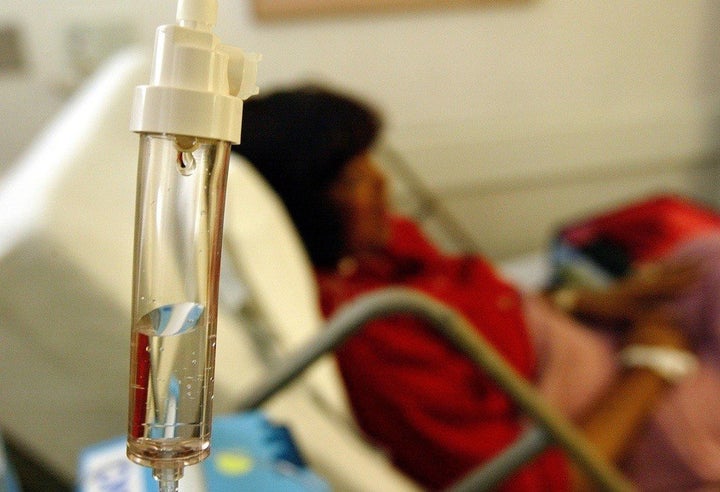 From journalist Robin Roberts to cyclist Lance Armstrong, cancer survivors often say they could not have pulled through their ordeal if it were not for the love and support of their families. This is why we had to write about the dynamic and extraordinary Jennifer Windrum. We don't know anyone who isn't deeply moved by what she's doing to increase funding for cancer research and prevention.
A self-described "social media practitioner," her work feeds into today's related wording, the power of the 140-character message, and the wide reach of other media platforms to create social change. Passion and drive launched her campaign to eliminate this horrible disease, and her message not only gets out, it draws attention to the issue. Her campaign can be used as a template for future initiatives. Whatever your passion for social change might be, you could do no better than take a leaf from her book.
Our interview with her reveals why she is quickly becoming a respected voice (and visionary) in the ongoing, international fight against cancer.
Jennifer Windrum
(Photo Courtesy of the WTF Campaign)
We love your "

WTF

? - Where's the Funding (for Lung Cancer)?" Campaign. Talk a little bit about what inspired it.
My campaign was completely inspired by my mom, Leslie Lehrman, who has Stage IV inoperable, incurable lung cancer. She has never smoked a day in her life. When I was 10 years old, I knew I was supposed to tackle something "big" when I grew up -- some kind of cause -- but as the years passed by, I kept wondering what "it" was. The minute my mom told me she had lung cancer (2005), my mission and path in life became crystal clear. My mom's future became anything but. My mom is far from alone. We literally have a public health epidemic on our hands and virtually no one cares. I won't stand for it. None of us can.
As a former reporter and now public relations, social media practitioner, I quickly realized the "true" lung cancer story wasn't being told. The facts just didn't, and still don't, add up. Sadly, it wasn't due to my poor math skills. I felt compelled to expose this story, bring about accountability and create a movement of change -- big change that is desperately needed for all of us. I knew I had to come up with an attention-getting, edgy campaign in order to cut through the clutter. A lot of people use "WTF" along with other digital acronyms, such as LOL, ROFL, etc. I wanted to tap into that relevant language in some fashion. Lying in bed one night it hit me: The double-meaning of "WTF" in today's digital language and "WTF" for 'Where's the Funding?' For those who don't know the digital "WTF," the message is still clean and simple. For those who get both meanings, it's a double-punch! Oh, the name is mother-approved. (Smiles)
Absolutely. Stigma be gone! Here's the way lung cancer rolls these days: Most people do not know that ANYONE can get lung cancer. Anyone. Yes, this includes the beautiful children who fill up your cul-de-sacs and school playgrounds. Lung cancer is no longer just a smoker's disease, as the long-held stigma leads us to believe. The
statistics
are more than frightening. 80 percent of new lung cancer cases are diagnosed in people who have NEVER smoked or former smokers who quit decades ago. 80 percent folks. Add this to the shocker list: Lung cancer is the #1 cancer killer of both men and women and represents 30 percent of all cancers.
More Americans die from lung cancer than from breast, colon, prostate and pancreatic cancer combined. Because the government, and a majority of the medical community and public have long deemed lung cancer a self-inflicted disease, using the smoking stigma as an excuse, lung cancer research has been virtually ignored for decades, leaving the 5-year survival rate at only 15 percent - nearly the same as it was 40 years ago (13.2 percent). Unacceptable. It is the LEAST funded of the four major cancers (breast, prostate, colon, lung) by a long shot.
To provide some perspective, breast cancer received $1.153 billion from the federal government in FY10. Lung cancer: $218 million. This translates to $28,660 (dollars per death) for breast cancer and $1,386 (dollars per death) for lung cancer. Negligent. One more shocker: Lung cancer is not only the least funded, it is also the only major cancer that has no early detection screening protocol. Like many "LC-ers," my mom's lung cancer was detected during a scan for something completely unrelated. Absolutely insane. This scenario makes absolutely NO sense. So, I started yelling "WTF? in a very personal and politically incorrect way after launching my campaign in 2009.
You've criss-crossed the country talking with politicians, nonprofits, and activists. What has the response been?
The response has been absolutely amazing -- incredibly supportive, overwhelming and somewhat surprising, in some respects. Of course, the name of the campaign usually becomes the first topic of discussion, followed by, "I had no idea." Since "WTF?" is a social media campaign, I criss-cross the social media sphere every day, spending most of my time on Facebook and Twitter, connecting with like-minded people -- passionate activists and advocates from all walks of life, representing all kinds of causes. The beauty of social media not only lies in the communication platforms it provides, but the access to countless extraordinary groups and individuals who are also using social media to create social change. Even more beautiful, we band together, helping to further and highlight each others' causes.
The extent to which people across the country "have no idea" about lung cancer is extremely troublesome. The general public has no clue this disease is a real threat to them, whether they have smoked or not. Even more troublesome, many in the medical field and political arena are just as uninformed. No joke, some of the very doctors treating my mom for lung cancer didn't know the disease's full story. Believe me, they know now. My mom made sure of it! The response within the lung cancer community has been tremendous. In fact, members of several nonprofits and oncologists themselves have told me that "WTF's" rogue voice is what lung cancer has needed for a long time. "WTF?" is not a nonprofit, it's a social media campaign, so I can really dig into issues, do investigative pieces and ask questions that a nonprofit (and/or its board members) may not be comfortable doing. I don't have any red tape. My job is to cut through it. There is nothing I despise more than organizational politics, egos and turf wars that prevent progress. This is an unfortunate reality in the nonprofit world (and for-profit) I believe is becoming progressively worse. Lung cancer doesn't have time for these games and I refuse to play them.
In February, I visited Capitol Hill. I was honored to have been among 75 advocates the Lung Cancer Alliance selected to attend its Fourth Annual Capitol Forum, where we met with our elected officials (or their legislative assistants) to gain support for the Lung Cancer Mortality Reduction Act. This piece of legislation is THE game-changer we need to start ending lung cancer, as we know it today. To say it's beyond time for our government to declare lung cancer a national priority and finally do something about it is more than an understatement. This is a social justice issue. So far, two of my (Nebraska) congressional representatives say they will support the legislation. Nothing is set in stone, of course. The Act will be reintroduced this month, so I will continue to advocate for support. The economy is in the tank and budgets are getting slashed. Guess what? The Lung Cancer Mortality Reduction Act will actually save lives AND money. It's a win-win. No more excuses. Now is the time for our elected officials to swallow their pride and lung cancer's outdated stigma in one big gulp. Times. Have. Changed.
Meeting with a lawmaker, and below, standing in front of the
White House
(Photos Courtesy of the WTF Campaign)
Yes, it definitely has. I honestly was stunned to hear the campaign was a finalist for "Most Creative Social Media Campaign," right up there with the "Old Spice Guy" campaign. While I knew we were making a lot of noise and building momentum in the digital space, it's hard to know exactly how far your message is actually penetrating. It's especially difficult for members of the
"WTF?" community
to know, as the majority of them don't live in the social media world to the extent that I do. I make it a point to take "WTF-ers" inside social media channels they generally don't utilize to illustrate how their actions are playing out. It's critical they know and understand the impact their voices and efforts are making.
This is my mantra to the "WTF?" community: "No more status quo, plus, community, plus, social media equals
Change
!" Never believe you don't have a voice. Never believe your voice is smaller than anyone else's. Never accept, "Well, I guess this is the way it has to be." Never settle for status quo. Never. Never. Never. Using 140 characters and status updates with, and for, a purpose can result in pure magic. "WTF-ers" have several great
examples
under their belt that beautifully reinforce this. The fact that the campaign was a finalist in the Mashable Awards is proof that the "WTF?" message is traveling throughout the social and digital media, tech and web culture walls. I am grateful for new opportunities this high-level exposure has resulted in, such as new partnerships, speaking engagements and critical connections that can only help further increase awareness and funding for lung cancer research. However, what I am most grateful for is the incredible evolution of the "WTF?" community in such a short amount of time. The only reason the campaign has been, and can continue to be successful is the "WTF?" community believing it has a voice and collectively and effectively using it.
When I first launched the campaign, many survivors/advocates weren't comfortable, or didn't feel "worthy" of publicly raising their voices against lung cancer. Many smokers and/or former smokers lived the stigma, believing they brought the disease upon themselves, and, therefore, "deserved" lung cancer. Look, NO ONE deserves lung cancer. NO ONE. Early on, we had many powerful and sometimes heated discussions about the whole "smoker/former smoker vs. never smoker" debate. It was raw discussion that needed to take place, so it did. Today, that issue is a non-issue. The shame and self-blame are gone. "WTF-ers" are mobilized. They are empowered and fighting harder than ever -- as one unified voice. I literally stand in awe and amazement at all that this incredibly loyal community has endured and continues to overcome. They always stand at the ready to go full guns on our next social media campaign and/or challenge to make a huge statement: "Lung cancer is silent no more. We won't settle for status quo." THIS kind of momentum is creating true and meaningful impact.
Where do you see your campaign, say, 5 years from now?
I would like nothing more than to be able to shut this sucker down. I don't want it to be remotely relevant in 5 years. Unfortunately, it will be. I see the campaign morphing in an organic nature -- evolving alongside the ever-changing needs that will not only finally make lung cancer a national priority, but keep it that way. Lung cancer needs to ultimately become a manageable chronic disease. We have a LONG way to go. Cure? Sure. However, in all honesty, "cure" is not a word I like to throw around. I prefer to focus on tangible BIG "baby steps." Hey, how about some early detection screening for starters? Geez. I will continue to chronicle the bad, ugly and worst of my mom's lung cancer excursion, as well as the stories of her fellow warriors in as many ways and forms possible.
My mom is living scan to scan and treatment options are thinning. However, her commitment to changing lung cancer is not. My mom's unwavering strength and willingness to so publicly share her story is an incredible gift, I think. We made a pact. We will both fulfill it. No more "ANYONEs" deserve to fight lung cancer without the help and support of the "SOMEONEs" who should be fighting for them (yes, you Congress). So, when will I really end this campaign? Most likely never. It's funny... my mom recently revealed to me (on Facebook!!) that she would never have guessed what frustrated her most about me as I was growing up would wind up being, what she calls, "my greatest asset "later in life: Pure stubbornness!
For more information on Jennifer Windrum and her her amazing nonprofit work and advocacy, follow her on her

Twitter feed

, and fan her on her

Facebook page

.
Related
Popular in the Community