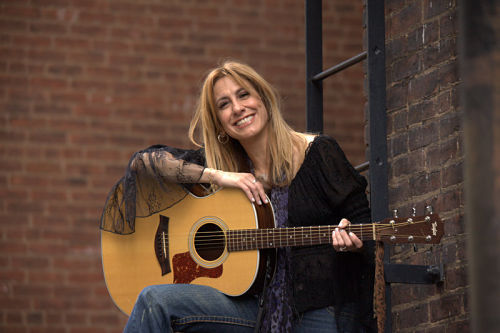 After the end of a tumultuous relationship, I began writing songs to help me heal and build myself back up again. Most of the songs on this album were written during this time period. However "Freedom," "American Dream," and "Always Shine a Light" were written during a transitional time in my life while I was in my 20s. They still feel timeless to me. Collectively, these songs tell the story about searching for myself and love in today's society. - Jenny Amlen
When fellow musicians inquire about my approach to the bass, my response has always been that I serve the singer, the song, and the soloist. Note that the singer is first and foremost! To my ears, an honest singer can sell any song - within reason- to an audience. And over the years, I have been extremely fortunate to have worked with a Grammy Award winning crooner, various Broadway belters, the terrific Texas diva Kathena Bryant, and seasoned pros aplenty, to cite a select few.
Enter Jenny Amlen. I have been her bassist on-an-off-and-on for nearly thirty years. Serving Ms. Amlen on stage and in the studio is hardly labor: when Jenny sings my instrument plays itself, and I simply take due credit -and the pay! I don't recall rendering more than three passes on any track we ever recorded together, and in rehearsals we (usually) run the song once and head to the pub where we really get down to business - hey, it's only rock 'n' roll, and we (usually) nail it the first time around anyway.
At the Sidewalk Café in the East Village, Jenny and I struggled to recall when we exactly met. It was during the waning days of the 1980s hair band era, which never really took off in New York City the way it did in LA and the rest of the Reagan's America. Yes, we wore the outlandish garb of the day - yet we knew it looked outrageous then! We did not have to wait twenty years to reflect on our youthful indiscretion. The music was brilliant as I recall, but the presentation was all wrong. At sound-checks Jenny and I routinely warmed up by hammering out rhythm & blues standards and Janis Joplin, much to the disdain of some of our overly coiffed co-workers. When I suggested that we dispense with the pageantry, I think I may have been dispensed from that band as well. Jenny quips "we did it for the money we never made!"
That was then, and this is now. Ms. Amlen has a new collection for your ears entitled Stories to Tell. It may be the end of an era or the beginning of a new one with regard to the album format. Is the long-player relevant? Is it necessary? Jenny's answer is a resounding "yes!"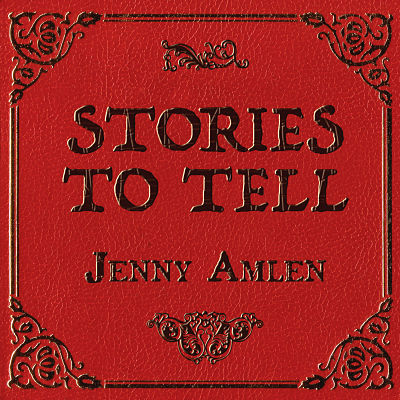 Waxed at the legendary MSR Studios on 48th Street in New York City with her brother David Amlen, who helmed the production and engineering chairs and rendered keys and guitar, along with guitar ace Seth Thomas Rosenberg as co-producer and guitarist - this slab was cut the old fashioned way - and, the right way: with seasoned players in the same room, the best gear, analog mixing consoles, and passion and laughs aplenty. I am one of three bass players on the record, along with Les July and Dennis McGann. To my ears, it sounds like a timeless classic rock album - because that's what it is!
"This album is old school," emphasizes Ms. Amlen with a noticeable measure of pride and resilience. "Yeah, I could have just put the music out online, but at this point in my life I really want something tangible as well, that's who I am. I love the idea that Stories to Tell is like a book - it's timeless. In twenty years this album will still mean something to me, and hopefully, it will mean something to the people that hear it."
At the Stories to Tell record release bash at New York City's hallowed Bitter End, Jenny and her core band of David Amlen on keys and guitar, Seth on lead, bassist McGann, and drummer Chris Reinhard tore through the repertoire. The kinetic energy between Seth and Jenny was key. The guitarist peeled off riff after riff after riff to punctuate Ms. Amlen's vocal phrases, which soared in all the right places.
"Seth and I have worked on so many projects together," notes Jenny, "he has the pulse on what is current on the scene today, which I respect and which is something I need. And he also comes from my 'classic' perspective. Seth is a great songwriter, so he understands what a composition needs in terms of arrangement and solos, and how something should be played, and he also knows how to translate that to the stage, which is what it's all about!"
Which brings Jenny and I to the subject the musician's life in the age of American Idol-ization wherein fame trumps substance trumps experience. We reminisce about all the road work we did together. Paying dues and doing the apprenticeship - which, looking back, were some of the best memories we have.
Exclaims Ms. Amlen: "remember the gig we played at (name deleted) when the bricks started falling on us?" I'd forgotten that one, but I did recall the show when a tower of speaker cabinets collapsed on me (this was in the days before compact pro sound gear) and we were both nearly crushed. We kept on playing. "All the musicians on my album have been through it all - everybody is a player, and you can't replicate that digitally."
For her promotional video, Seth and David chose the track "Changing World" which meant that I had to go before the camera and mime my bass part! Of course, my fingers are on all the wrong notes, and I'm up a register, but who's looking? Jenny appears radiant in her contemporary retro garb. Seth, David, and Chris seem miles apart, and it all works thanks to the sharp editing.
Says Jenny, "as the song title of the video implies, it's about how fast the world is changing - especially in the music business...back in the day you could meet people in clubs. Now almost all communication is done online, so the song is about how we are losing that sense of a 'human community.' And the song also relates to my view of my aging parents, and the realization of how short life is."
However, we both agree that the music keeps us eternally youthful and strong in spirit. Sitting in the press section for Rita Coolidge's show at The Cutting Room in June, Jenny and I are mesmerized by how the legendary songstress continues to evolve. After her performance, we met with Rita and chatted about how we took mental notes on her phrasing, melodies, and stage demeanor. Ms. Coolidge was duly impressed.
Now we're thinking about Jenny's next album.
For all things Jenny Amlen, visit www.JennyAmlen.Com
Jenny Amlen Stories to Tell - produced and engineered by David Amlen / co-produced by Seth Thomas Rosenberg is out now and available on CD Baby.Com, Amazon.Com, iTunes.Com, and at independent music retail, and streaming on Spotify.
Jenny Amlen Stories to Tell artwork concept created by David Amlen with graphic design by Kerry Alaric Cheeseboro
Jenny Amlen photograph by Kisoon
Jenny Amlen "Changing World" video directed by Bruce Katz, camera by Tony Gale, recorded at MSR Studios in New York City
Video link to Jenny Amlen "Changing World" - http://bit.ly/295ukDA
Calling all HuffPost superfans!
Sign up for membership to become a founding member and help shape HuffPost's next chapter