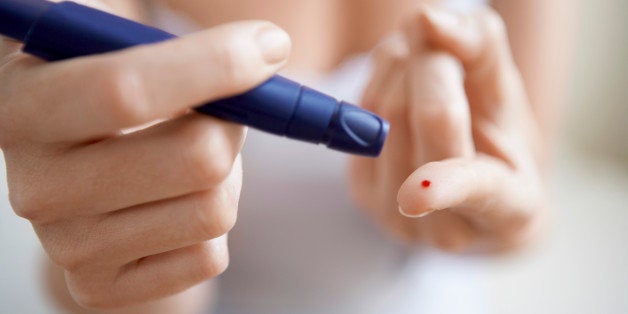 A new kind of Jenny Craig diet formulated specifically to help people manage their Type 2 diabetes has demonstrated its effectiveness in a new clinical trial -- so much so, that the commercial weight-loss company launched a new program based on the study's findings.
In general, participants who joined a Jenny Craig program lost more than three times as much weight as the control group, and 72 percent of the participants who were taking insulin to manage their condition were able to either stop taking it or reduce the dose, compared with just 8 percent of the control group.
But participants on the specially formulated Jenny Craig program for Type 2 diabetes were more successful at bringing down their blood sugar levels than those on the already-available Jenny Craig program.
"What's nice about a clinical trial like this is that all my colleagues who have patients struggling with diabetes can know there are community-based programs that are healthy" to recommend, the study's lead researcher Cheryl Rock, Ph.D., R.D., a professor of preventive medicine at UC San Diego Medical School, told The Huffington Post.
The study, funded by Jenny Craig, was published Wednesday in the American Diabetes Associations' journal Diabetes Care. Diabetes affects 25.8 million Americans, according to the American Diabetes Association, and up to 95 percent of those cases are Type 2 diabetes. Left untreated, both forms of diabetes can cause blindness, kidney failure, hearing loss and lower-limb amputation, as well as increase the risk for heart disease.
All 227 study participants were either overweight or obese and had Type 2 diabetes. Researchers randomly divided them into three groups: the control group, the Jenny Craig program, or the Jenny Craig lower-carb program that was targeted toward people with Type 2 diabetes.
The control group received "usual care," or the amount of medical attention a doctor would normally be able to prescribe for a patient with diabetes. This included two weight-loss counseling sessions, time with a dietitian, advice about exercise and general information about diabetes care. Researchers also checked in with them monthly.
The other two groups were put on free Jenny Craig programs, which included weekly diet and exercise counseling, as well as the company's prepackaged foods and a menu plan. The prepackaged foods plan, which at first provided participants with three meals and three snacks every day, tapered off as the months went on. By the end of the year, those who completed the study were down to just one meal and one snack a day, if they desired.
The only difference between the two Jenny Craig groups was that one group was put on the specially formulated plan for Type 2 diabetes -- a plan with higher dietary fat and lower carbohydrates than the usual menu. In the Type 2 diabetes plan, 45 percent of calories came from carbohydrates, while the typical Jenny Craig plan drew 60 percent from carbohydrates.
After 12 months, both Jenny Craig groups were much more successful than the control group at losing weight, shedding an average of 8.6 percent of their starting body weight (the control group lost just 2.5 percent). Both Jenny Craig groups were also more successful at keeping their blood sugar levels steady and lowering levels of triglycerides, which is fat in the blood that is linked to insulin resistance.
However, the lower-carb Jenny Craig group was slightly more successful at bringing down levels of HbA1c, a form of hemoglobin that rises when sugar in the blood rises. Throughout the course of the year, levels for the lower-carb group went from 7.3 percent to 6.6 percent, while the higher-carb group went from 7.5 percent to just 7.2 percent. Diabetes experts say HbA1c levels should optimally be under 7 percent.
That doesn't surprise nutrition professor Frank Hu, M.D., Ph.D. of the Harvard School of Public Health. Hu wasn't involved in the study, but he reviewed its findings and said they reaffirm previous research showing that a lower-carb diet is better for people who are trying to control diabetes. However, the Jenny Craig lower-carb plan is not to be confused with the popular protein-heavy Atkins diet, which draws as few as 20 percent of calories from carbohydrates. And to Hu, that's a good thing.
"[The Jenny Craig plan] was a moderately low carb diet," said Hu. "It's probably more acceptable to more patients and it may also improve their long-term adherence."
The study also reaffirms research that shows a structured program is better for people who want to lose weight.
"I think the important message from this study is that there is a need for structured program for weight loss," said Hu. "Simply telling the patient to lose weight and eat better is not going to work. It doesn't have to be Jenny Craig -- it could be other commercial programs."
However, study participants received Jenny Craig meals and counseling for free, which to Hu is the study's biggest limitation.
"In a real-world situation without free meals, the question is whether these people can have the same weight loss and improvement in diabetes," said Hu. "That's not what's studied in this report."
Rock pushed back on Hu's criticism, noting that the study was a clinical trial much like the proof-of-principle studies that researchers use to test medicine.
"In drug studies when we test effective medications, the medications are provided free of charge too," Rock said. "But at the end of every drug trial, we don't say, 'Well gee, this doesn't necessarily show the real world because people would have to buy their own medications and take them regularly.'"
To address the issue of the cost of Jenny Craig products and services, which she valued at $12 to $18 per day, Rock guessed that subjects would be spending that amount of money on their regular food anyway.
"In the real world, food isn't free under any circumstance," said Rock. Money spent on a Jenny Craig program, she said, would simply replace the money that participants might otherwise spend on "buckets of fried chicken and ice cream bars."

Related