In Part I of my exclusive interview with figure skater Jenny Kirk yesterday, Kirk offered a rare and refreshingly honest appraisal of the eating disorder epidemic now confronting the sport of figure skating. She estimated 85% of skaters struggle with eating disorders and candidly discussed her own battle with the disease.
In Part II today, Kirk sheds light on who is contributing to the prevalence of eating disorders in figure skating, and offers suggestions to mitigate the problem. On a lighter note, she shares her predictions for the Ladies competition at U.S. Nationals, and talks about her life after skating.
Lesleyann Coker: How important is body image and overall appearance in Ladies figure skating? Does pressure to look a certain way start at the earliest levels of competition and become more intense the higher one rises in the sport, or does it kick in at a certain level?
Jenny Kirk: As a skater reaches more advanced levels in skating, the pressure to look and achieve a very low weight becomes more intense. When a skater first begins in the sport,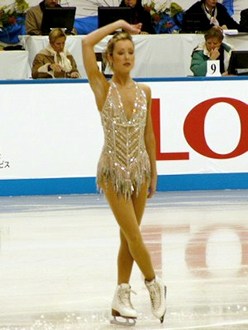 weight is generally not a topic that most people talk or worry about with a younger skater. Once a skater moves up the ranks, though, everything is picked apart -- including their costume, hair color and style, weight, attitude, you name it. This is generally when eating disorders develop.
LC: Where does the pressure for a certain look and weight come from (self, coaches, parents, fans, fellow skaters, media, judges)?
JK: The pressure to look a certain weight comes from all of the above -- other skaters, coaches, judges, the media, parents, etc. It also comes from society. Unfortunately, many skaters have really low self-esteem. After years of having their fate in the hands of judges and being pressured to look and act a certain way in order to achieve the best results, a skater's self-esteem becomes basically non-existent. Daily, there are people weighing-in on what a skater needs to fix in their skating in order to achieve the best results in the sport. And because skating is such an image-driven sport, weight is often a primary topic. At a competition, weight is usually made to be an indicator of who is ready to "fight" and who isn't prepared for the event. There were dozens of times when my coaches or those around me told me not to worry about a certain competitor because they had gained weight, which according to them meant that the skater wasn't a threat anymore. In order to avoid being counted out before an event begins, skaters want to show up at competitions looking the part of the champion. Often this means showing up as thin as possible.
LC: Why dob the United States Figure Skating Association and International Skating Union ignore the issue of eating disorders -- and to what extent do they condone or encourage them?
JK: I think because most people who are suffering with the disorder don't speak out about their struggles, USFS and the ISU can remain somewhat blind to the issue. I also think eating disorders are touchy subjects. Even when my coaches and USFS officials knew what was going on, they were ill-prepared in how to talk to me and help tackle the disorder. Many people in the sport hold the belief that although a skater may be struggling, if they are performing well and bringing in good results, the extent to which they are hurting their bodies becomes a moot point. This goes along with injuries as well. Instead of pulling a skater out of a competition because they are injured or need serious medical help because they are suffering with an eating disorder, the majority of coaches and federation officials would rather push a skater to compete than risk losing an international medal.
LC: In Italy, after several high profile deaths of anorexic and bulimic runway models, fashion designers began requiring women to maintain a certain BMI, otherwise they were rejected from the runway shows. In your opinion, should figure skating implement similar controls? Some blood tests are capable of identifying the tell-tales signs of eating disorders, such as low red blood count. Would this kind of testing be a benefit or a detriment to the sport?
JK: I don't think these tests would work in the sport because there are many people who suffer with eating disorders but are able to maintain a healthy BMI. On the flip side of that, there are some skaters who are naturally quite thin and don't struggle with any sort of disordered eating. Before I developed my eating disorder most people thought I was at an unhealthy weight, but I was perfectly healthy, just naturally very, very thin. Implementing a test wouldn't help to eradicate this epidemic in the sport. Instead, I think we really need to change the way we look at skaters' bodies and erase the belief that thinner is better.
LC: To date, you are the highest ranked US singles skater to speak openly about your eating disorder. What has been the reaction of your former teammates and why do you think most skaters are silent on this subject?
JK: After speaking out about my struggles, the reaction from other skaters was great. Unfortunately, there are so many skaters who are struggling and have struggled with this disease and suffer in silence. An eating disorder is a disease of secrecy and shame. It's really hard to stand out and say that you are doing these horrible things to your body, but I think the more people speak about their struggle and recovery the less shameful the disorder will become.
LC: Will real women with real bodies ever be able to dominate the sport again (like in the days of Debi Thomas and Jill Trenary winning National and World titles and Katarina Witt winning the Olympics)?
JK: Unfortunately, with the increase in technical demands in the past ten and twenty years and how the sport continues to evolve technically, it would be hard for skaters like Debi Thomas or Katarina Witt to achieve the results they saw during the '80s and early '90s. It is a lot harder for a woman with hips and breasts to complete the difficult triple-triple combinations that we're seeing in the sport today.
LC: What should we look for at the Ladies competition at Nationals this weekend? Who do you think has the best shot at making the Olympic team? What kind of a factor -- if any -- will Sasha Cohen be after four years away from the sport?
JK: Rachael Flatt, Ashley Wagner, Alissa Czisny, Caroline Zhang, and Mirai Nagasu have the best shot at making the U.S. Olympic team. Sasha Cohen, the 2006 Olympic silver medalist, is also slated to compete. No one has seen Cohen skate this season, so whether or not she will be competitive this weekend is unknown. Although there are many ladies who have the ability to make the team, what's exciting about this weekend's event is that there isn't a clear-cut favorite. If Cohen skates like she did at Nationals in 2006, she has a great shot at winning.
LC: What are you doing now and what are your future plans?
JK: I'm currently a college student, and last summer and fall I blogged about skating for a few websites. However, over the past few weeks I made the decision to stop blogging in order to focus on school. And while I quit skating in 2006 in order to recover from my struggle with an eating disorder, I am still a huge skating fan and will be glued to my TV to see all the action in Vancouver!

Support HuffPost
The Stakes Have Never Been Higher
Related
Popular in the Community