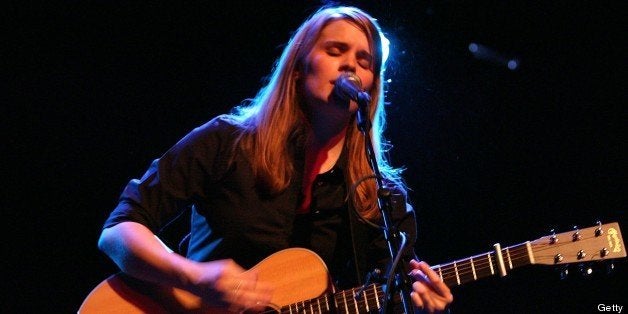 Folk singer Jenny Owen Youngs made two big announcements last week. Not only did she come out as gay, but she also revealed she is engaged to be married!
Youngs, 31, came out of the closet Wednesday in a blog post on Everyone Is Gay, Towleroad reported. The New Jersey native, who refers to herself as "super gay," said she didn't want to come out because she doesn't want "coming out to be a thing that anyone has to do." She wishes sexual orientation was just something as unremarkable as hair color.
"However, I've come to realize in recent months that a big part of my desire to hide this aspect of myself was rooted in those dusty old feelings: that there is something wrong, something bad, something less-than about being gay," she wrote.
Ultimately, she decided to share her story for those who might be struggling.
I think it is damaging and isolating for young people to look out into the world and not see a representation of their experience. To encounter others who are like you is to know that you are not alone. Even if you never meet them in real life, these representatives help to contextualize you – they are proof that you are part of something. You are not an anomaly. You are not a mistake.
This summer, she will marry her fiance, Kristin Russo, a co-founder of EveryoneIsGay.com.
The 31-year-old, who first hit the alternative music scene in 2005 and is best known for her single "Fuck Was I," took to Twitter to thank everyone for their support.
In an interview with Auto Straddle, Youngs revealed she never wanted to be pigeonholed as a "gay" artist so she was hesitant to broadcast it in the public arena. Trepidation also came from the fact that she was raised in a conservative town, in a born-again Christian family. As for the larger society's perspective on homosexuality, Youngs thinks the tide is turning, but acknowledges prejudice still exists.
"Now tons of artists are out, casually out, and it's totally fine," she told Auto Straddle. "However I don't think that we're living in a beautiful utopia or anything – obviously some areas are more liberal than other areas of the planet but as far as the arts community is concerned, at least for musicians, there seems to be less of a stigma. I know of young musicians who are starting their careers now and they're not in the closet, they don't even discuss it, it's just the way that it is. In an ideal world I'd love for nobody to ever make any sort of announcement. I feel weird having even written a thing because, who fucking cares?"
Calling all HuffPost superfans!
Sign up for membership to become a founding member and help shape HuffPost's next chapter
BEFORE YOU GO
PHOTO GALLERY
Celebrities Who Have Come Out As LGBT