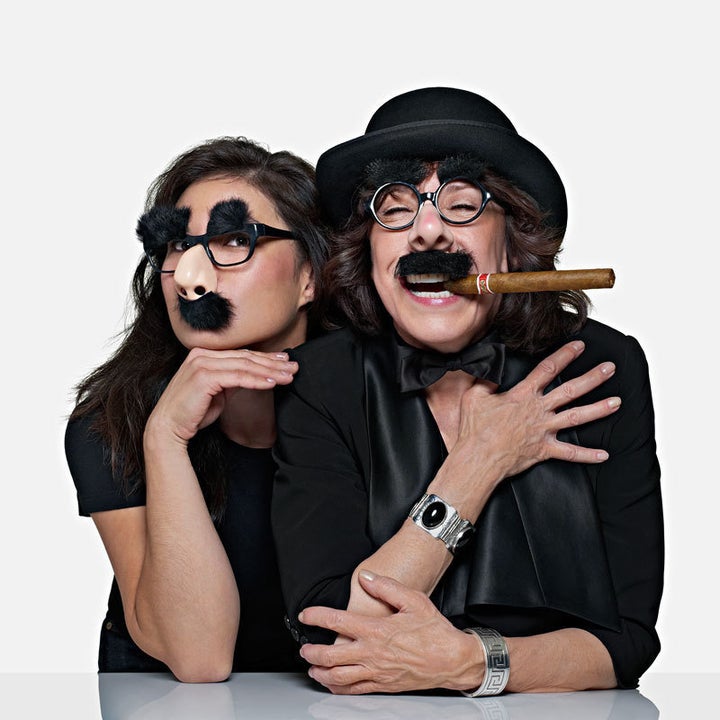 What do veteran punk rocker Iggy Pop, comedic actress Lily Tomlin and fashion designer Anna Sui have in common? They're all connected to Detroit -- and count them among 51 Motor City icons sharing memories of their hometown in a new book.
(SCROLL DOWN FOR PHOTOS)

"I said to her, wouldn't it be cool if someone did a book of all the amazing people who have came out of Detroit," Risher said. "For three months the idea just kept bugging me and I couldn't let it go so I thought I would make a list of all the people I would love to photograph from the area and reach out to them, reach out to five and if they said no, leave it, but all those five said yes."
It snowballed from there. From Eminem to Lee Iacocca, Risher was pleased to see how many of the illustrious Detroiters agreed to participate in her project.
"My little book isn't going to do anything for their career … maybe they believed in it."
She whittled down her 70 portraits to the 51 that appear in the book. They're also debuting in an exhibition opening Friday at the College for Creative Studies in Detroit, which Risher attended.
Though Risher has lived in the New York area for 15 years, she's a native of Detroit suburb Mt. Clemens, or "the Clem," as she laughingly referred to it. But she's had a long history with the city of Detroit. As a child, she came to Eastern Market on Thursdays and Fridays with her dad, who would sell produce at a stall there, as well as introduce his daughter to the rest of the city.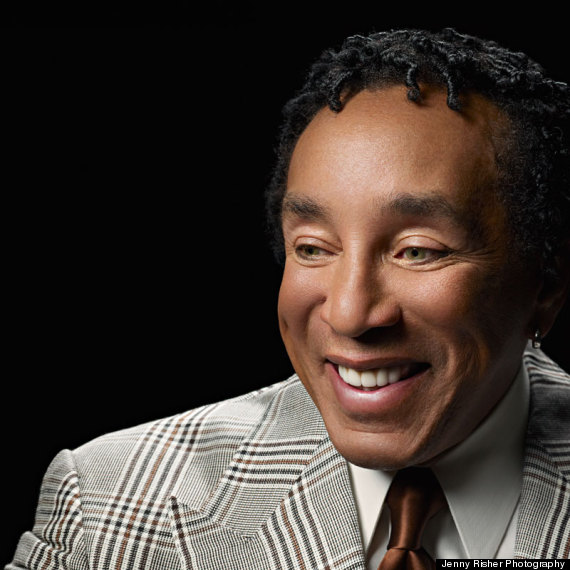 Smokey Robinson, by Jenny Risher
Later, she attended CCS after a favorite high school teacher introduced her to photography.
"I just fell in love with it," Risher said. "I never really thought about ... doing it for money."
It wasn't until she attended New York art school Parsons through a college program that she was introduced to the world of fashion photography.
"That for me open up a whole new set of possibilities, and I think that's when I realized you could have a career in photography," she said.
"When I graduated in '97 I hung out for about a year [in Detroit] and was assisting car photographers. It was fine but I just didn't feel like it was me," she said. "They would always stick me on the tires. You take these tires, and you pull of the nibs, and there's hundreds of them on a tire. And after like 20 of them, you're like, there has to be more than this. I have this degree and this passion and I'm pulling off nibs."
Risher moved to New York to pursue photography after that. But it was always her intention to return to Detroit with her four- and six-year-old sons, she said, to be close to family.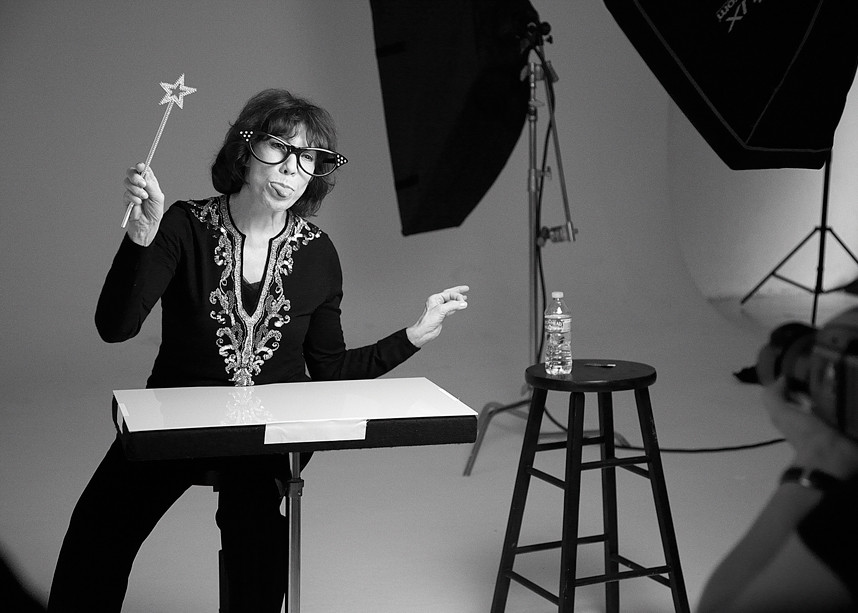 Behind the scenes of Jenny Risher's photo shoot with actress Lily Tomlin.
Risher began working with Matt Lee, a friend from Detroit who she had met through Hour Magazine, and soon began formulating the idea for a book.
"I would do the interviews, because this was definitely a grassroots project. I couldn't really afford a staff of people, so I figured out how to ask questions."
The book includes portions of Risher's interviews. She said she peppered subjects with questions as she shot, and was interested in their stories.
"Hopefully what you see [in the photos] is them relating to me or reacting to something I say," she said.
The portraits also appear in the exhibition. All but two are hand-signed by the subjects with personalized notes to the city.
"Lee Iacocca wrote 'the Motor City Mecca.' Some people wrote funny things. Eminem wrote 'stand up Detroit," Risher rattled off. "It's a way for them to be in the show without them being there. There's some piece of energy in a signed piece of paper."
Heart Soul Detroit: Conversations on the Motor City is published by Momentum Books in Royal Oak. The show of Risher's work opens with a book launch Friday at CCS's Center Galleries from 6 to 8 p.m. at the Manoogian Visual Resource Center, 201 E. Kirby, Detroit, including a performance and remarks from Motown musician Martha Reeves, one of Risher's subjects. The exhibit will be on display Jan. 25 to March 2 before moving to the Historical Museum from July 13 to Sept. 29.
Click through the slideshow below for portraits from Heart Soul Detroit, behind the scenes photos from the shoots and more stories from Risher about the project.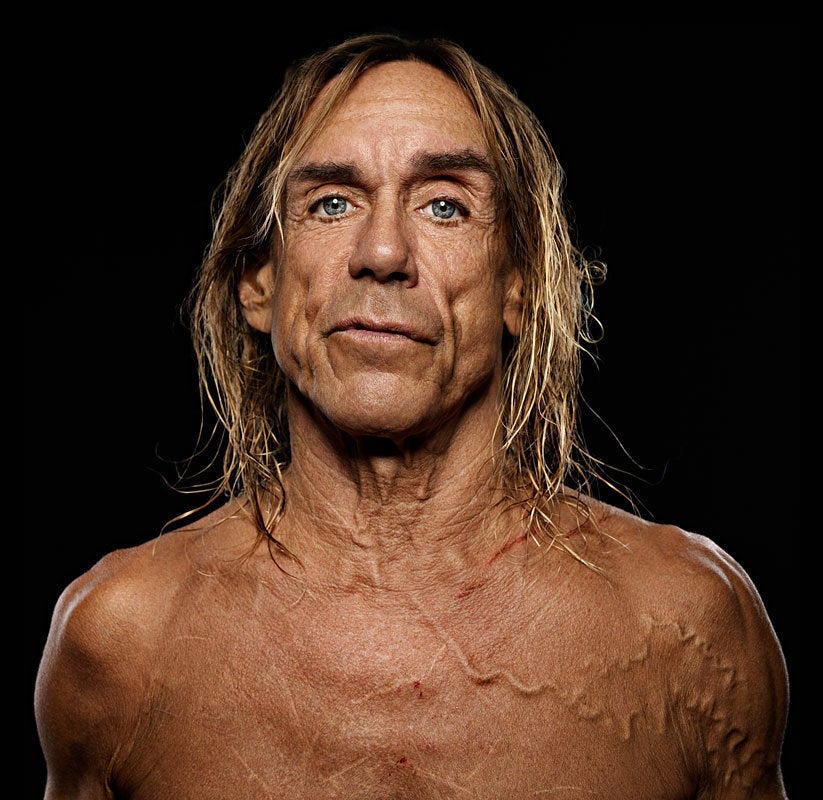 Motor City Icons From Jenny Risher's "Heart Soul Detroit"