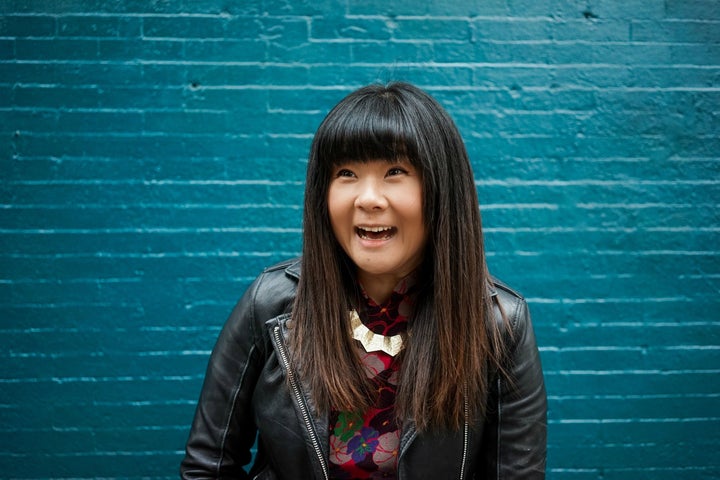 When I got on the phone with Jenny Yang, the first thing she said to me was: "Tell me everything." Then she asked what she could do to help.
This is not the way my celebrity interviews typically begin, with virtual arms open, but Yang is not a typical celebrity. She's a comedian, activist and writer who just started her first full-time TV comedy writing job in the delightfully lady-dominant writers' room of Busy Philipps' new late-night show on E!, "Busy Tonight." For Yang, her new gig is a "dream job," the perfect next step for a labor-organizer-turned-stand-up. And it's icing on the cake that the job is creating a woman-centric space in the traditionally male spheres of both late-night television and comedy writ large.
"For any stand-up comedian to develop and grow, especially even just starting in an open mic kind of circuit, you really have to be comfortable in a very male-dominated culture," said Yang, who described years of watching male comedians make jokes at the expense of marginalized people. "It's very much like childhood playground politics." The production team behind "Busy Tonight," which includes executive producer Tina Fey and showrunner Caisse St. Onge, sounds like the opposite ― a professional utopia where tears aren't shamed and body talk is always a possibility.
"Busy Tonight" is one week in, and chock full of unsteady charm. The appeal of Philipps is her lack of celebrity polish. Her Instagram stories let normal humans tag along while she sweats profusely in daily workouts, wanders around the streets of New York City and Los Angeles between work meetings, and gushes about her best friendship with Michelle Williams. The stories nearly always start with a close-up on her face and a familiar preface: "You guys … "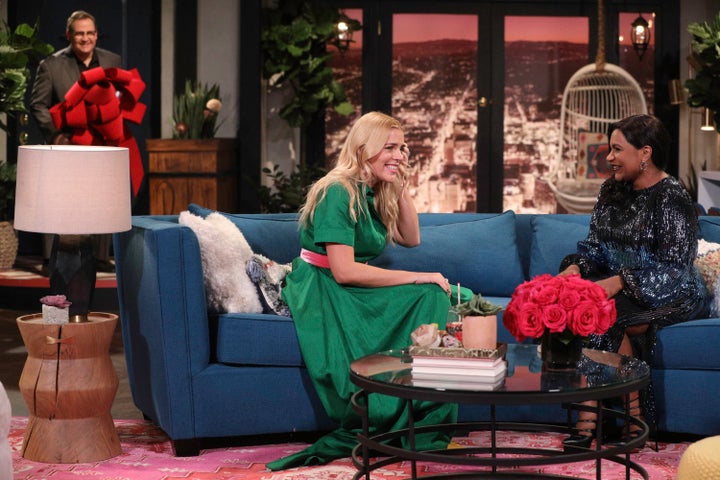 The show leans largely on this persona and the community Philipps has cultivated, with mixed results. The show's potential is apparent, but it has has yet to define a point of view. As The Ringer's Rob Harvilla described, "Busy Tonight" is a "very, very, very loose hang."
But there's still time to grow. It was her unrepentant Busy-ness ― and, let's be honest, massive organic reach ― that led Philipps to a New York Times best-selling book of essays, This Will Only Hurt A Little, and eventually, a late-night show. And it was Yang, along with fellow comedy writers Kelly Oxford and Shantira Jackson, that Phillips and her team brought on to write for it. The three women have formed a little coven; they sit in the front row when Philipps tapes, functioning as commentators during each episode. When they're not on camera, they post selfies that give a glimpse into a new kind of writers room.
I wanted to know more about what happens between the selfies backstage. So I called Yang to discuss her journey to "Busy Tonight" writerdom, why she cried in her interview, and how she, Oxford and Jackson bonded so quickly.
I've seen the first four episodes of "Busy Tonight," and I'm intrigued about the behind-the-scenes atmosphere. First of all, how did you get such a sweet gig? What was the process like of getting into the writers' room?
Oh, my God. I don't know if I can express how much this is a dream job for me. This is my first full-time TV comedy writing job, so that's No. 1. For me, everything that I've been wanting to do, as far as the next step in my career, came together through this opportunity. I have been self-employed as a stand-up comedian and a producer of comedy shows and a maker of digital content for maybe five or six years now ― which already I know as a comedian, to make a living from it period [is lucky]. About two years ago, I said to myself, "Traveling can get tiring, and I want to have more time to write, whether that's for my comedy or scripts or whatever." I just love writing. That's a core part of who I am, as well as performing. [And "Busy Tonight"] was just this amazing opportunity that came up, that like, oh, there's this late-night talk show that is helmed by a woman, which is completely rare still, and I have a chance to be a writer/performer on it. I'm like, what?
"Oh, there's this late-night talk show that is helmed by a woman, which is completely rare still, and I have a chance to be a writer/performer on it. I'm like, what?"
Caissie [St. Onge], the showrunner, was familiar with my work because I'm very online. I was in Hong Kong doing work and totally jet-lagged, and I get this little pop-up of a Facebook message from Caissie saying, "Hey, Jenny. I'm on this new show and we're looking for writers. It's a pop culture kind of thing, with Busy Philipps. Would you be interested in submitting?" I was so grateful that she thought of me, because Caissie is legendary. In my head, I was like, "I am so jet-lagged and tired from being in Hong Kong. But because Caissie says that she would like to have me submit, I'm going to do it."
There wasn't information about the show, but I trusted Caissie. I knew of Busy Philipps, obviously, because she's been acting for so long and she has such a social media presence and I knew she was super fun and down to earth and cool, just from her online persona. I was like, "Oh my gosh. Why the heck not?" I wrote up my submission packet and I submitted it. You kind of have to forget about it, but then not too long later, I got a email saying, "Hey, we would love to meet you. Busy and a couple of us would love to meet you," and that's what happened.
During the first episode of the show, Busy said that you cried during your interview. I really need to hear more about this.
[Laughs] So one of the things that makes this opportunity so amazing for me is that I do talk a lot about politics in my public persona. It's something I really care about. One of the things that I talked about in the interview with Busy and Caissie and another one of the executive producers, all three women, was that as much as I care so deeply about politics ― that was my first career ― there was something about my joy being so zapped by the intensity of the politics last year, that I just needed to sort of go into self-preservation mode.
One of the outcomes of that was the beginning of 2018, I said to myself, "The politics has taken too much of my joy. I'm not going to relinquish my joy anymore. Beginning 2018, I'm going to live my best life. I'm going to live as Opulent Jenny." I started hashtagging #OpulentJenny. My idea of opulence may not be like Busy Philipps-level opulent. I grew up very middle class. My mom was a garment worker working under-the-table wages, sewing clothing. For most of 2017, I was like, you know what? I'm going to resist [fast fashion]. And then 2018, I was like, "Fuck it. Opulent Jenny. I don't care."
End of December [2017], I walked by a Zara and I saw that there was this hooded, black faux fur coat on sale for $65. I was like, "Fuck it." It feels like you're just hugging a teddy bear all day. I literally declared for myself, "I'm going to wear this jacket every day in 2018." Obviously, I didn't. But for the first two months, I wore that jacket every day, even onstage, and I would talk about it and be like, "This is Opulent Jenny. I'm going to take my joy back, because this feels so good," even when it was unseasonably warm in LA in February. I'm like, "Fuck it. I'm going to wear this with a tank top and cutoff shorts. I don't care." Turn up the AC.
Anyway. I went on this huge digression, but I talked about this [story] in the interview, and I feel like Busy really related to that. We were just talking about how stressful the current events can be. The news can be so stressful and negative and depressing. In a moment where Julie [Darmody], who's one of the executive producers, was talking about how this is a show that's really about how we make people feel better, even if the world might feel like it's on fire, I just started to tear up.
This is all very relatable.
It's mostly because of the compassion that Julie was expressing in the meeting [that I started to tear up]. It just felt like such a comfortable conversation with these three women for a job interview, which is not very normal. Usually, going to a job interview is some weird, passive-aggressive confrontational mess. But in this context, we were having this really real conversation about how we felt about being women and doing the kind of work that we want to do, and what kind of talk show Busy wanted. When I started tearing up, I was like, oh, my God. For a hot second, I thought to myself, "Oh, my God. I'm crying." And then, the next minute, I was like, "I have to acknowledge it in front of them before they say something," so I was like, "Wow, that was so touching. I'm crying now." Cry at a job interview, check.
They laughed. While I was still tearing up, I made eye contact with Caissie and then Caissie starts tearing up, and then I think maybe Busy started to, and we started just laughing so hard. There was a moment while I was still wiping my tears, and everyone's laughing about this, but Busy was like, "Oh, my God, I love you." When I heard that come out of Busy's mouth, I was like, "Oh, my God, she loves me. Oh, my God, she loves me. Oh, my God she loves me." In that moment, I was like, well I guess [the tearing up] was OK, because I knew Busy was chill with crying in general. But I wasn't strategically trying to cry to stay on brand. It just happened.
I love this, because I'm a big proponent of crying at work. I've cried in front of every boss I've ever had. I just appreciate that being affirmed.
You can feel things and emotions happen, it's not something to be ashamed of. It's just being a person.
Tell me a bit about the dynamic in the writers' room between you and Shantira Jackson and Kelly Oxford? I've seen a lot of cute Instagram posts.
We have this really intimate, all women-identified writers' room. Kelly is amazing because she's a good friend of Busy's and so she's a source for always being tapped into who Busy is. Obviously, Kelly is this incredibly stunning, accomplished writer and in the entertainment industry already. She is just such a good source for knowing what's up in Hollywood.
I don't think that the "Busy Tonight" audience has seen the whole power of Shantira Jackson yet, because Shantira is an incredibly accomplished improviser, trained at Second City in Chicago. She is so quick. Her energy is electric. Whenever she gets onto an idea or she's pitching, you have to just hold on for dear life because she will take it so far in such a short amount of time with her comedy.
I think between the three of us, what's been really nice is that I'm pretty sure this is our first time in an all-women writers' room. Immediately, it was just like, "OK, we're here. Let's get to know each other." It was pretty fast for us to just get very real and talk about what it means for us to do this work as women, and the vibe of the show, which is to be really affirming and to talk about things in a late-night show context that probably most people haven't seen before.
So what's different about being in an all women-identified writers' room versus other less women-centric work spaces you've been in?
I'm a stand-up comedian, and so for any stand-up comedian to develop and grow, especially even just starting in an open mic kind of circuit, you really have to be comfortable in a very male-dominated culture. It's very much like childhood playground politics. For me, a lot of my growth in my work had to be learning what it meant to play in the game of stand-up comedy, with a lot of rude-ass dudes who only make certain jokes, a lot of times at the expense of women and people of color and queer people and homeless people and disabled people ― any group that is typically more vulnerable.
"A lot of my growth in my work had to be learning what it meant to play in the game of stand-up comedy, with a lot of rude-ass dudes."
As someone who cares about human rights and about just basic rights in general, I was very aware that I needed to figure out my way in that kind of an environment. You protect yourself emotionally and also psychologically, and in how you move in terms of networking and getting to know colleagues. Luckily, for me, I built a community of really amazing women, and women of color and queer and differently-abled comedians. That's been the sort of professional foundation that I've been able to develop here in Los Angeles, which is such a blessing.
In the professional setting, when it comes to pitching jokes or pitching ideas, it's so refreshing to be able to talk about issues that if you're a woman, you have to deal with. A lot of our producers are also women. Sometimes, when I've taken a sketch-writing class, it was mostly dudes. When I would pitch something, if people don't understand, they can't play with you. But now, in this context, when you have an idea, everyone can add to that idea.
I have to ask about the phone on set that only Oprah has the number to. Is that real?
How likely do you think it is that Oprah's going to call one day?
We don't know. Oprah has our number. Also, our goal as staff is to be invited to Oprah's Harvest Day, because her tomatoes be popping and we want to see them.
That's a lofty goal and I respect it.
Oprah's one of my personal heroes. [Pauses] It's weird. Shantira and I, as the two women of color on the writing staff, from the beginning we've joked that we really love Busy because, deep down inside, we're white women and we want to be like a fancy white woman like Busy.
It's really fun to write for Busy because she does lean into her feminine side. She leans into her emotional and sometimes sassy attitude side. I think all of that comes together so beautifully. For me to write in that voice that's very casual and there's digressions, because the language we use is sometimes different when we're talking to our girlfriends ― that to me is just so nice, because that's a huge part of me.
When you're doing that writing, who are you hoping to reach?
I really hope that anyone who wants to feel something real and energetic, but also soothing will enjoy our show. With late-night shows, we're used to seeing buttoned-up white guys in suits. What's really lovely about "Busy Tonight" is that Busy undoes a lot of typical late-night talk show host tropes and conventions, to say that hey, we can have a set that looks like a home. The home is not just a woman's [private] sphere. It can be a public sphere. It can be a place where we have late-night talk show content, where we're having drinks while we're talking about our vaginas or sex or period sex, or commenting about the dramas of celebrities and pop culture of the day. And that that is legitimate late-night talk show content, something that people can enjoy to wind down, not get agitated again before they go to bed.
Like, the world is burning, so at the very least, we deserve a space to talk about period underwear.
That's right! This is stuff that we talk about amongst our friends. Why can't we talk about it on the late-night talk show? I talked to a number of people in the "Busy Tonight" audience, and they said that it's nice that we can talk about things that make them feel like they're not alone. I love that. People feel a lot more seen because of our show, and I think that is a good thing.
Support HuffPost
The Stakes Have Never Been Higher
Popular in the Community