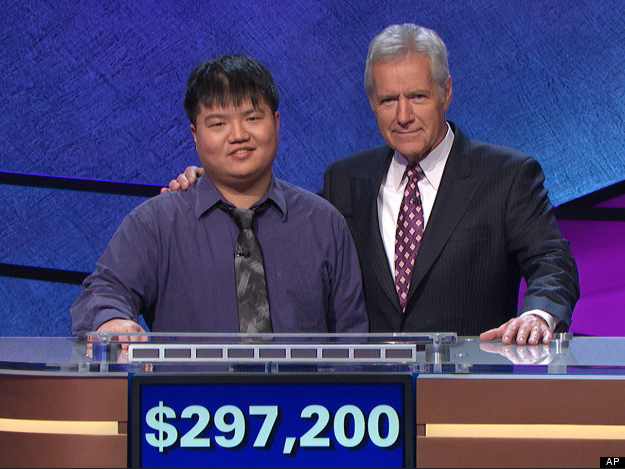 Exactly one week ago, I was sitting in the Millennium Broadway hotel in a room overlooking Times Square, surrounded by empty pizza boxes. I'd just seen off several friends who lived in NYC who'd come by my room to watch me lose my 12th and final episode of Jeopardy!
My flight from Cleveland to New York and my plush hotel room had been paid for by a corporate expense account from Disney/ABC. I was turning in early because the next day I was scheduled to go on a whirlwind media tour with Good Morning America, LIVE With Kelly and Michael, NPR's Here and Now and Inside Edition.
In the weeks previous, I'd seen my grinning mug in full color in the Cleveland Plain Dealer and the Washington Post. I'd been forwarded clips of myself on CNN, Fox News, CNBC, NPR. I'd seen my words published by Slate, the AV Club, the Daily Beast, the New Yorker.
I had not once, not twice, but several times answered the phone with a curt, "Please talk about this with my publicist." I had printed out a stack of color 8x10s to autograph and send out in response to fan mail. I had been stopped and recognized in the gym, at restaurants, in the parking lot of my workplace and in an airport security line. I had accumulated over 11,000 followers on Twitter. People were selling t-shirts online with my name on them for $20 a pop. There was a CGI cartoon of me on YouTube transforming into the Joker and gunning down my critics with an assault rifle.
I was, in short, famous. A celebrity. At the apex of my Warholian 15 minutes. And I'm still not sure how the hell it happened.
If I had to guess, I would say my status as the Viral Villain of Jeopardy! was the result of a perfect storm of Old and New Media colliding.
In the realm of New Media I was one of millions of wannabes posting iPhone-filmed monologues on YouTube, random 140-character-long jokes on Twitter, and generally aspiring to be clever and witty enough to stand out among the ocean of "content creators" that make up Web 2.0.
In the realm of Old Media I was that oldest of Old Media staples, a quiz show contestant, one of an endless parade of schlubby know-it-alls beamed into people's living rooms as part of a decades-old tradition of reassuringly wholesome entertainment wedged between the evening news and primetime sitcoms.
Nobody particularly cared about another snarky wiseass with a Twitter account. And, let's be honest, compared to Ken Jennings a Jeopardy! contestant with an 11-day streak is not headline news material.
But take a guy who happened to be both a successful Jeopardy! contestant and an obnoxious Twitter wise ass and an Asian dude who shows up in the fading afterglow of Linsanity...
And, well, mix those ingredients over low heat and simmer for the duration of February sweeps and you get the #ChuChuTrain.
I couldn't have planned it that way. Becoming a "game show villain" is the most ridiculous, unlikely method to go viral I can imagine. Many people have argued that I somehow masterminded my viral success, that I used the same level of "strategy" in creating my "personal brand" that I did on the show -- and all I can say is I'm smart but I'm nowhere near that smart. I was as surprised by this as everyone else.
I think what this experience has taught me, aside from how tiring and repetitive giving interviews, signing autographs and doing TV appearances really is (I'll never mock the Kardashians for having "easy jobs" again), is that the world is, in fact, filled with surprises.
An old-school game show like Jeopardy can still generate heroes and villains, can produce compelling narratives and roiling controversy, can become a trending topic on Twitter -- all without the benefit of wacky gimmicks, confessional cams or a prime time slot.
And an introverted dorky wannabe actor from Ohio can be famous, if only for 15 minutes, just because he took a trivia test online once and got a high enough score to be called back, just because he googled "Jeopardy Strategy" one night and did what the Internet told him to do.
And people who aren't pretty, or charming, or naturally telegenic can win audiences over, against all odds, just by happening to hit the zeitgeist at a time when homely, awkward, non-telegenic nerds are looking for an icon to rally around.
And... against all odds, long after I'd abandoned it, my childhood dream can come true: The dream that I can spend five minutes recording myself lip-syncing to Weird Al Yankovic, and the next morning professional journalists will report on it as news.
So here's my message to the fans out there: Practice your flashcards. Keep taking the online test. And keep making those YouTube videos and writing those snarky tweets. Be ready for the unexpected.
If it can happen to me, it can happen to anyone.
Arthur Chu is the third winningest Jeopardy! champion in history. He is a voice-over artist, actor, stand-up comedian, improviser, and more. Visit Arthur's website: arthur-chu.com
Related
Popular in the Community