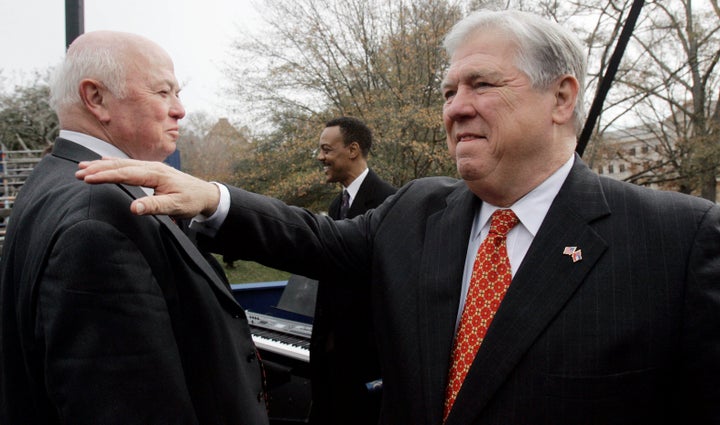 WASHINGTON -- The 1971 book Yazoo: Integration in a Deep-Southern Town by journalist Willie Morris paints a far more complicated picture of Yazoo City's desegregation than Mississippi Gov. Haley Barbour (R) portrayed, perhaps exemplified by the attitudes of Jeppie Barbour, Haley's older brother who was elected mayor in 1968.
As Andrew Ferguson noted in his Weekly Standard profile of Barbour, Jeppie, at the age of just 27, "won on a platform that included the revitalization of downtown, which already was showing signs of decay as stores closed or moved out to the new strip malls opening on the outskirts." Haley was in his third year at the University of Mississippi in 1968 and volunteered on his brother's campaign.
Jeppie was upset about African-American residents of Yazoo boycotting local white-owned businesses and taking charge of their own affairs during the civil rights era. From Morris' book:
We were having some fish for lunch in the back room at Danrie's, and Jeppie complained about the Negro boycott. "South Main Street's dryin' up," he said, and listed the stores that had gone out of business, including one drugstore hit hardest "because it specialized in chitlin' sandwiches and two-dollar pistols." The Negro leaders in charge now "are completely irresponsible. They're determined to destroy the whites economically. That's totally unreasonable. Unfortunately they've got the support of the colored community now." [...]

He described the three new industries that were shortly coming into town. "These are things the local whites have worked to get here. And still they're tryin' to wipe us out -- not wipe us out, but get us on our knees so they can tell us what to do. I'll tell you, when I came into office I intended to get some paving and some sewage improvements for the colored, but now I can't get too enthusiastic about it. We're gonna have to take the attitude that we can't give any help to anybody who supports this group that's tryin' to destroy the city." The time might have come, he said, for the whites to retaliate with firings and other measures.
Additionally, a biracial commission had been in Yazoo for some time, but Jeppie bemoaned to Morris that lately it was getting tougher to deal with:
"Maybe five years ago," he said, "you could've appointed a colored man yourself. Now you simply can't get away with it. They're goin' to have to pick their own leaders. You could've gotten on radio five years ago using these very words, 'George Collins is this ni**er we've appointed,' and could've gotten away with it. I guess they're just goin' through a state of being rebellious and hard-nosed and not listenin' to white people like they used to."

The town has seventeen policeman in all, which struck me as a substantial force for a town of 14,000, and Mace is standard equipment; the policemen carry it on their belts. "You get a drunk," Jeppie says; "you either get him to come with you or you have to manhandle him. You give him Mace and he'll want to go anywhere with you. It keeps that ni**er's head in good shape."

Discipline has likewise been a problem with "the little ni**ers around town. One seven-year-old stole a pistol, but the chief has his own homemade juvenile delinquency kit. He has a belt that's bigger than a Sam Browne belt, and he calls the parents and gets them to come down and take the kid into the basement and use the belt."
Jeppie admitted to Morris in the book that he knew school integration was "inevitable" and was happy the "level-heads" had prevailed and there wasn't any violence.
The desegregation certainly wasn't without its struggles though. Morris spoke to African-American students about their experiences shortly after integration, with responses ranging from how some white students had reached out to them to try to be friends, to other stories about being called epithets and white children washing their hands after touching the African-American students.
At one point, two white students had written Morris asking for advice about trying to establish an integrated coffeehouse for high school students "to meet socially and just get to be friends," but they were discouraged from doing so by white adults. After the students had rented an old building on Main Street, Jeppie "made several phone calls to white parents warning them of the integrated coffeehouse." The City Council eventually condemned the building, and although the students tried to get help renting another building, they didn't receive help.
Popular in the Community